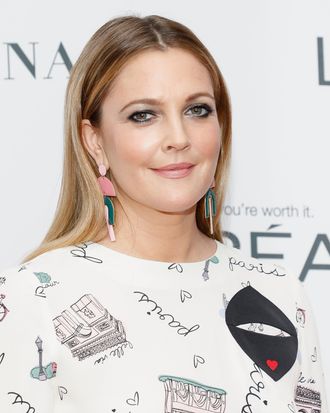 Drew Barrymore.
Photo: Taylor Hill/FilmMagic/Getty
Flowers look delicate, but they're tough, just like Drew Barrymore's warrior look and video for Flower Beauty's new mascara. To mark the release of her brand's Lash Warrior Mascara, Barrymore released a short commercial-like video to show off the dramatic lengthening effects. In the video, she's dressed in camouflage and her cheeks are perfectly bronzed, but the focus is on her eyes. Between poses and giving her best smolder, the focus shifts to her eyelashes, which fall somewhere between wearing three coats of mascara and false lashes on the length spectrum.
The only thing that's missing in that action-themed video is an appearance by Cameron Diaz and Lucy Liu.
The "Spiked Warrior" brush is allegedly the key to getting lashes as long as Barrymore's in the video — the brush is made of bendy plastic so it's easy to pull lashes up and through for a lengthening effect, and the spoolie is curved to add some curl to the straightest of lashes. The brand said the mascara will give lashes 150 percent more volume and 88 percent more length than when they're bare. The brand says that the formula doesn't clump and castor oil keeps lashes conditioned and soft, which means it won't flake when you go in for a second coat. For the woman who said, "In mascara, there is no such thing as too much," the buildable formula makes it an affordable go-to product.
The mascara is available now at Ulta Beauty and comes in three shades: Fierce Black, Fierce Brown, and Fiercest Black (the darkest).