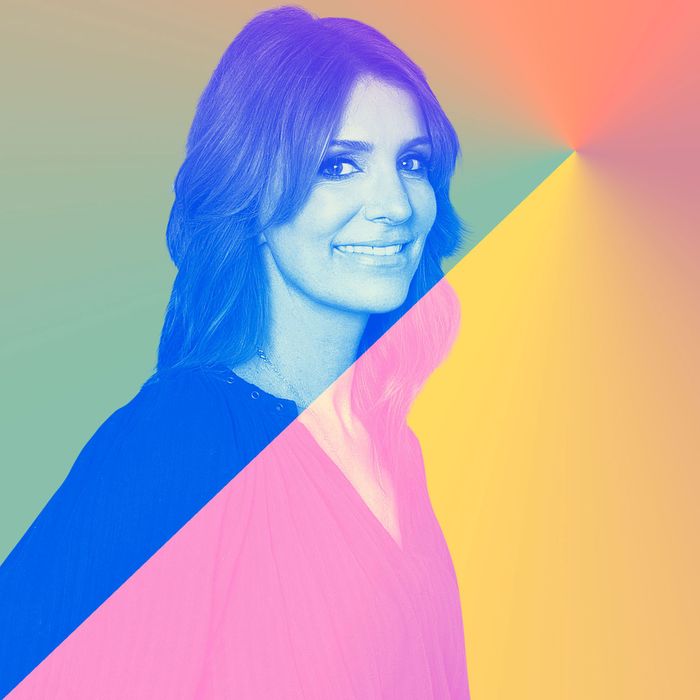 Photo-Illustration: Stevie Remsberg
Drunk Elephant's Tiffany Masterson is challenging the age-old ideologies of skin-care practices, and it all started with a bar of soap. "Everyone's been brainwashed into believing that 'safe' means natural and that synthetic is bad," she says, with more than a hint of frustration in her tone. "It's just not true. Naturals can be great, but a non toxic, bio-compatible synthetic is king!"
In 2009, the founder of one of the fastest-growing skin-care brands in Sephora history learned about a solid soap from Malaysia and began selling it as a facial cleanser to earn some extra cash. When she learned that its claims turned out to be fraudulent, the Houston housewife and mother of four decided to immerse herself in the study of skin-care ingredients. She began creating recipes on her laptop, bypassing certain potentially irritating ingredients (that she now famously calls the "Suspicious 6"), while opting for gentler ones that showed promise. Among them was marula oil, whose inebriating side affect on South African pachyderms inspired her company's name.
Don't get her started on essential oils. "Once I see one on an ingredient list, I stop reading," she laughs. "A non-fragrant, bio-available small-molecule oil is the only oil I'd put on my face. It only takes one bad ingredient to ruin the party."
Masterson also doesn't believe in skin types or toner, which she dismisses as "marketing." If you've ever seen a beauty ad and felt like you were missing something, she suggests reframing your thoughts. "We blame ourselves, but marketing creates the issues, which are perpetuated by brands telling us what our skin needs. Our skin is actually telling us. We just need to listen to it."
"I make what I want to use," she explains. "And my consumer is so in tune with that. If I took the week off and someone else made the product, I'd get calls saying, 'Wait a second. That's not you."
Masterson shared some of her other passions with the Cut, including a penchant for Isabel Marant, the wrinkles she wants to remove (they're not on her face), and why we all need more bright color in our life.
Comfort food: Pizza and spaghetti.
Comfort music: Luther Vandross.
What name did you wish you had as a kid? Jacqueline. I loved Charlie's Angels.
Pets? We have an adorable Sheepadoodle called Bruno Marsterson.
Go-to karaoke song? "With You" by Chris Brown.
What do you wish you had invented? Something that would make cancer go away.
Who do you wish you could meet? Olivia Newton-John.
Secret talent most don't know you possess: I can dance.
Talent you wish you possessed: The ability to sing.
Who cuts your hair? Chris McMillan. Our moms were good friends when we were kids, so he's like a cousin to me. He gave me the craziest rock-and-roll cut in seventh grade.
Scent of choice? Must de Cartier.
Shoe of choice? Isabel Marant boots. I'm often in head-to-toe Marant. That said, I also recently bought these suede Chloé boots that I literally have been wearing every day.
Fashion item you'd grab if the smoke alarm went off: My purse.
Whose purse? My mom gets mad at me about naming brands, so that's why I said "my purse." But, I understand. Okay, I've got a black Givenchy bag that has neon pink handles. It looks like a very Drunk Elephant situation. I carry my computer and all my stuff in that. My other purse is the Céline one that you can snap together and take the top off and use as a clutch, and that duo is the answer to my prayers.
What phrase or word are you known for saying? "Amore." To the people I love, to my dog, when I love something. It's become a habit, thanks to my friend Erin who lives in Italy.
What drives you crazy? A wet sponge in my sink.
What are you afraid of? Loss of a loved one, and public speaking.
What is a lost art? Modesty.
What do you think Pantone's color of 2018 should have been? #812. It's an orangey hot pink that I'm super attracted to and I have no idea why. This is going to sound corny, but I think people need to be happier, and I think a color like this does that.
What have you most recently binge-watched? I don't binge-watch anything, but there are certain Instagram accounts that I think are dramatic and entertaining. It's kind of the new reality TV.
What are you working on mastering? Punctuality.
Preoccupation: My children's well-being.
Favorite Instagram: @unspirational.
What or who makes you laugh? My family, Kristin Wiig, and my best friend Lizzie.
Favorite meal and where? Panjo's Pizza in Corpus Christi.
What product in your domain is misunderstood and should be a best seller? Beste No 9. It can be applied to dry skin, then you add water and it's so good.
What do you foresee as the top beauty trends in 2018? Biocompatible ingredients (free of "suspicious 6"), no foundation, bare skin, supplements; easy, convenient, multi-functional routines. Silicone-free sheer color. Potent antioxidants in skin care to protect against HEV [high-energy visible light] and blue light. And acids, acids, acids.
If you won the Powerball tomorrow, what are the first five things you would do? (after, of course, donating the majority of it to your top charities …) I'd make sure my parents were always taken care of; I'd start a school where bullying was *actually* not tolerated for real; I'd buy a new house with a better floor plan for my family; I'd book a trip to Italy with my family and friends; I'd find a plastic surgeon who could get rid of the wrinkles above my knees.