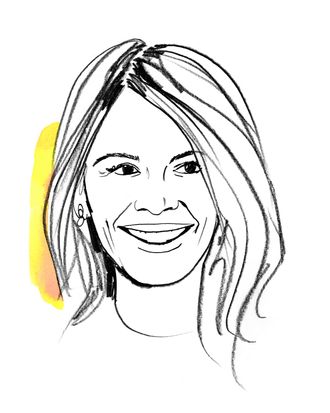 Illustration: Lauren Tamaki
Elle Macpherson is an Australian model, actress, and entrepreneur. After Sports Illustrated made her a five-time cover star in the '80s, she went on to launch her own businesses. Today she oversees a lingerie empire, Elle Macpherson Body, along with WelleCo, a line of dietary supplements she developed with the help of her nutritionist. When Macpherson isn't fielding global calls from her Miami office, she's either on the road or mothering her two adolescent sons. Here's how she gets it all done.
On having the first hour of the morning to herself:
I wake up around 5 a.m. I like to have the first hour of the day without social media, answering emails, or reading texts. It's just a very intimate time to practice some sort of prayer and meditation and take my greens before I wake my son at 6 a.m. Once my son is up, I jump in the shower and get into my workout clothes and make breakfast around 6:30 a.m.
On a healthy breakfast:
It could be a soaked chia pudding that I've made, two poached eggs and avocado, or raw soaked oatmeal. After breakfast I take my son to school and I have green vegetable juice with things like spinach, bok choy, celery, cucumber, lemon, garlic turmeric, ginger, romaine lettuce, pea sprouts, and broccoli sprouts. I have about 32 ounces, so it's quite an alkalizing drink. If I can't stomach the green juice I stick in WelleCo Super Elixir to make it taste better. I have about four doses of greens a day.
On running various global businesses:
I am based in Miami, but the WelleCo office is in Perth, my Elle Macpherson Body Lingerie office is in Melbourne, and my public relations firms that look after these companies are in New York and London. I work from my home office in Miami, but I communicate with various tangents of each business every day. When one country is going to sleep the next one is waking up, so my first calls go to Australia, and the next ones go to London, then I work with the U.S., then back with Australia. From 10 a.m. until 5 p.m. I am on conference calls, doing research, or working on financials, marketing, and strategy, but whatever I'm doing I'm doing it on the phone in combination with other members of my team. It also depends on what time of year it is and what's going on with the various business. When it's time to show lingerie, whether it be in the U.K. or the U.S., I'll be out of the office and selling to the wholesalers.
On working from home:
I like working from home; it suits me. I try to get out of my workout gear and put something else on because it changes my spirit and it helps me switch gears. My office looks like Miami in the 1950s. It's pale green with seagrass on the floor, 1940s couches, and a 1950s table. It overlooks a very pretty garden and it has wicker furniture out on the balcony. It's very peaceful and kind of funky. It's organized with filing cabinets and everything is labeled. People laugh at me, but I have so much to do that I put everything in a plastic envelope with a label to tell me what it is: contracts are labeled, PR, new ideas, conversations I'm in middle of having. I have an assistant named Ashley and she's my right-hand girl. She has a separate office, but she comes in and sits with me and then she goes and does her work and I do mine.
On taking breaks:  
I usually stop once for lunch around 12:30 p.m. and then to pick up my son from school at 3 p.m. I'm back on the phone between 4 and 7 p.m., unless I'm doing yoga at 6 p.m. which is three times a week.
On travel:
I fly to New York every ten days. It's my go-to for business. Every time I'm in New York I stay at the Roxy Hotel. They know me well and I have a great room. They have a record player there and I love to play David Bowie. I do my hair and makeup in my room with an artist, and then I go wherever the work is. I might go to the PR offices and meet with them, or I might be working with marketing, so I'll go to the marketing office. I also have a digital team, so I might go to their office. I run around from meeting to meeting unless I'm doing a photo shoot.
On balancing work and motherhood:
I prioritize my sons. My eldest is 20 and he's in college now, but he's still a priority. If he calls, I drop whatever I'm doing and sometimes we're on the phone for an hour. With my youngest, I prepare his meals and I'm very aware of his study program, so I understand the pressures he's under both socially and academically. I believe when you can talk to your children and understand what they're going through, it's so much easier to be able to help them. I fit in what I can during the day. A business meeting gets the same priority as my yoga class, which gets the same priority as a parent-teacher meeting, which gets the same priority as a dentist appointment or a manicure. Everything goes in the diary, and then everything gets done.
On sleep:
Seven hours is optimum for me, so that means I need to be in bed by 10 p.m. It does happen, but the issue is I have to be diligent with putting my phone down because I like to answer all my emails before I go to sleep. I have this thing of not wanting to go to bed without today's work being complete.
On her advice for aspiring entrepreneurs:
Honesty and courage are two of the values that have really helped me in my business career. The willingness to recognize that I don't know everything, and the courage to ask questions and to work in conjunction with other people who know differently, is really important. I find that co-dreaming with people who understand your your vision is really important. I don't believe in working in isolation. There are no mistakes in this world. It's just learning, and there's no magic bullet or magic formula.