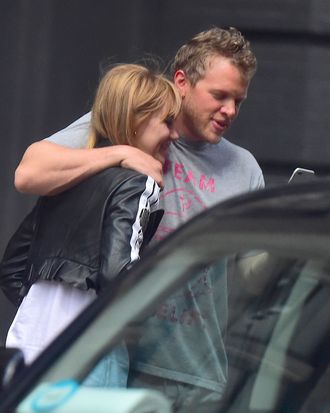 Sebastian Bear-McClard and Suki Waterhouse.
Photo: TheImageDirect.com
The Daily Mail has a blistering set of paparazzi photos on its homepage this morning. The images show Sebastian Bear-McClard — a 31-year-old actor who recently married the 26-year-old feminist model Emily Ratajkowski in a surprise City Hall ceremony — putting his arm around a woman who is not Ratajkwoski. The woman pictured is Suki Waterhouse, the 26-year-old model who used to date Bradley Cooper. I know. The Daily Mail notes that Bear-McClard wasn't even wearing his wedding ring when he put his arm around Waterhouse. What is happening?
You can see more photos of Bear-McClard and Waterhouse carousing outside a downtown gym here. According to the Daily Mail, Bear-McClard also stroked Waterhouse's face, and the two left the gym together in a car. This confusing incident apparently happened on Tuesday. But today, Bear-McClard shared a photo of himself with Ratajkowski on his Instagram story. So maybe everything is fine? Not one of the relevant parties has commented on the situation. If you know why Bear-McClard put his arm around Waterhouse, please, let everyone know.
In the meantime, here is a photo from Ratajkowski and Bear-McClard's wedding, in case you want to meditate on it.