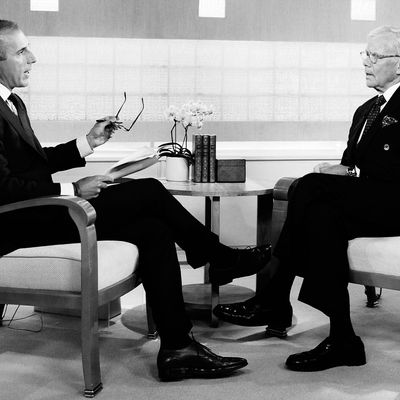 Matt Lauer and Tom Brokaw.
Photo: Peter Kramer/NBC NewsWire via Getty Images
In a disturbing new Washington Post report, current and former NBC News employees say that the network has repeatedly failed to address its major sexual-misconduct problem, and two women bring new allegations against veteran anchor Tom Brokaw.
According to interviews with 35 staffers, respected men at NBC, such as former Today host Matt Lauer, exploited their power and engaged in relationships with female subordinates — some of which were nonconsensual. The Post reports that of these 35 people, 12 women said they were sexually harassed but chose not to report it, and of the 12, three said those advances came from Lauer. (In late November 2017, Lauer was fired from NBC due to "inappropriate sexual behavior in the workplace.")
But while much of the report focuses on Lauer, there emerge new allegations against a man who has not yet been accused: veteran anchor Tom Brokaw, who was allegedly inappropriate with two women on staff. In one disturbing anecdote, former NBC News anchor Linda Vester describes an incident where Brokaw invited himself over to her hotel room in 1994 after she repeatedly tried to convince him otherwise. After showing up uninvited, Brokaw allegedly called Vester over to the sofa in her room and touched her without her consent.
Brokaw leaned over, "pressed his index finger to my lips and said, 'This is our compact,'" she wrote in her diary at the time. "My insides shook. I went completely cold."




Then, "very quickly," Vester said later in an interview, Brokaw put his hand behind her neck and gripped her head. "Now let me show you how to give a real kiss," he said, in Vester's recollection, and jerked her head toward him. She remembers tensing her neck muscles and using all her strength to wriggle free and stand up. She wrote, "I said 'Tom . . . I don't want to do that with you."




Brokaw sat silent for a few minutes, then finally said, "I think I should go." Vester nodded vigorously.
The second accuser was a 24-year-old former production assistant who described an incident where Brokaw put her hands under his jacket and pulled her in before asking about her job search (she was looking to change roles at the time) and suggestively inviting her into his office. The woman says she never went to Brokaw's office.
According to many women on staff, sexual misconduct was pervasive, and NBC did not do enough to combat it. To convey this point, the report reveals new details about what followed Lauer's firing, with specific mention of the promises that NBC News Chairman Andy Lack made to the staff:
NBC also pledged to conduct a "culture assessment" that involved small groups of employees gathering with a facilitator from parent company NBC Universal to solicit anonymous feedback on how employees feel about their work environment, whether they are comfortable raising concerns, and what might prevent employees from coming forward.




The company did not hire an outside firm to conduct the investigation — a step many other companies have taken — but it did bring in a sexual harassment training firm to conduct in-person trainings on workplace behavior and sexual harassment prevention. Lack promised to share publicly the results of their findings, "however painful," at the conclusion of the review. That was five months ago. No announcement has yet been made about the findings but the network said the review is nearing its conclusion.
The Post also features the perspective of someone who knows Lauer's workplace presence better than most: his former Today co-host Ann Curry. She claims that in 2012, she went to management after an NBC staffer "tearfully" told her that she had been "sexually harassed physically" by Lauer. According to Curry, there was "pervasive verbal sexual harassment at NBC."
In her opinion, for victims to feel comfortable coming forward with allegations of sexual misconduct in the workplace, human resources departments cannot report to someone who could be accused. "How are they going to complain about it if they are accusing someone who is overseeing the department that is supposed to protect them?" she asks.
Read the full report here.
Update, 10:50 p.m.: Brokaw has denied the claims against him. In a statement he released to NBC, he said: "I met with Linda Vester on two occasions, both at her request, 23 years ago because she wanted advice with respect to her career at NBC. The meetings were brief, cordial and appropriate, and despite Linda's allegations, I made no romantic overtures towards her at that time or any other."