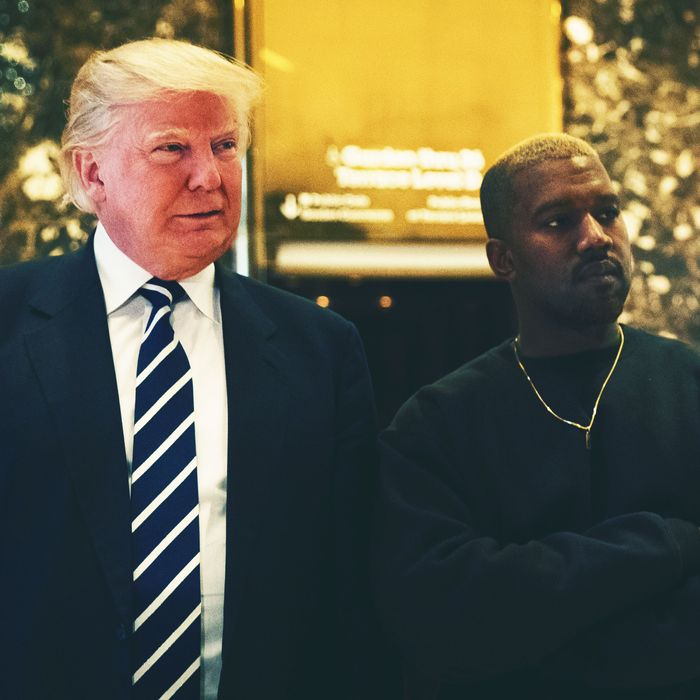 Trump and Kanye.
Photo: Drew Angerer/Getty Images
On April 13, 2018, Kanye West ended his Twitter hiatus and rejoined the social-media platform, accompanied by a warm welcome from Twitter's founder and CEO, Jack Dorsey.
At first, Yeezy stuck with inspirational quotes that sounded like they were pulled from fortune cookies or a stoner college kid, like "get past the past" and "strive for universal consciousness not segregated consciousness." Since then, he's somewhat … expanded his range. This week, West started tweeting about "natural born leaders" and "dragon energy," Donald Trump, Cardi B, Peter Thiel, and more. Here, in order, is a complete list of everything he's mentioned so far.
-Lamar Odom
-The "existing consciousness"
-Louise Wilson
-Gosha Rubchinskiy
-Contractual situations
-Playing chess with life
-#RATBOOTS
-His book
-Anthony Schiller
-Hoodies
-Lauryn Hill
-An upcoming album, with Kid Cudi
-Teyana Taylor
-Pusha T
-Yeezy slides
-Amangiri
-Waterproof silk
-A new Yeezy office in Wyoming
-Candace Owens
-Haruki Murakami
-George Condo
-Elena Filipovic
-David Hammons
-Joseph Beuys
-Elon Musk, and his well-made Tesla's
-Scott Adams
-Nas
-Donald Glover
-Prince
-Rick James
-"Dragon Energy"
-Kim Kardashian
-Emoji
-Michael Jackson
-The 160 positions that Yeezy will be hiring for the brand's world domination
-Michael Jordan
-Fake news
-"Ford Hughes Jobs Disney"
-Harvey Levin
-People magazine
-Charlamagne tha God
-Lady Bugs
-The Sunken Place
-Bart Simpson
-Donald Trump
-Hillary Clinton
-Ping pong!
-Larry from Google
-Peter Thiel
-A signed MAGA hat
-A Nicki Minaj–Cardi B tour
-Tim Cook
-Hype Williams
-Olivier Nusse
-David Joseph
-Scooter Braun
After looking at the list of what he's tweeted about in the past ten days, can you imagine what North's bedtime stories are like?