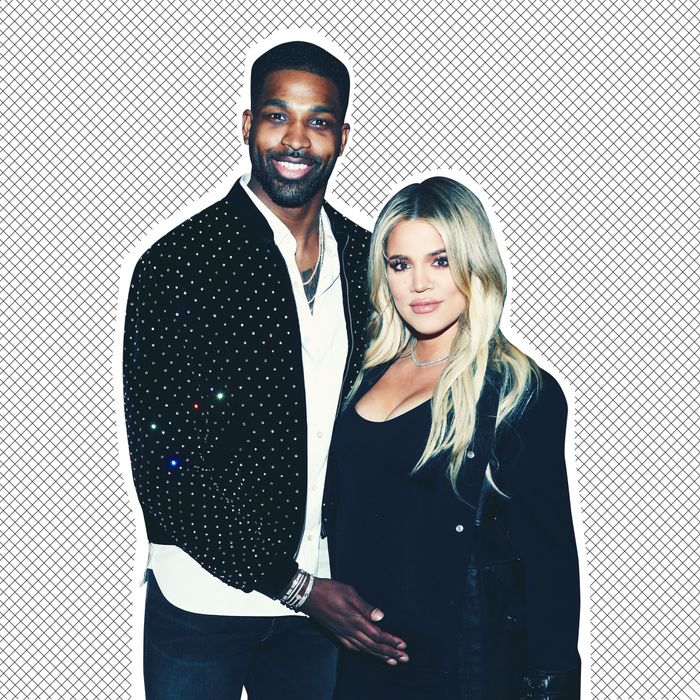 Photo: Jerritt Clark/Getty Images
Congratulations to Tristan Thompson, who's just been awarded Man of the Year in Hell! As evidenced by the whirlwind of damning evidence released within the past 24 hours, Tristan Thompson is hard proof that old habits die hard, or not at all.
While Khloé is most likely crowning in Cleveland as she prepares to deliver her first child, her baby's father TTD (Tristan Thompson, Devil) spent about 16 hours sexing it up with a woman who is NOT carrying his child in New York City. It's a lot to take in, but let me add something else to the mix: As my esteemed colleague Allie Jones mentioned earlier today, this is the second (YES, SECOND) time that TTD has cheated on a significant other in her final trimester of pregnancy. If that doesn't make you want to vomit, I don't know what will. Like a dressmaker, I threaded some of this out for you on Twitter, but let's take a deeper dive right here, and right now.
Tristan's Past
I shan't bore you with a relationship timeline of TTD and Khloé, so I'll give you the Kliff-Notes. In August of 2016, speculation arose about Khloé and TTD's relationship after they were seen exiting (separately) David Arquette's Los Angeles club, Bootsy Bellows. Within a couple of months, Khloé and TTD were coquettes about town, making out in numerous cities and posting photos of their matching sets of diamond rings (his from a championship, hers from being Khloé effing Kardashian) on the 'Gram. They were officially official.
Over the course of their 19-month romance, it's been revealed that a mutual friend of Khloé's and TTD's, NBA player Brandon Jennings, set them up on an "ambush blind date." Apparently, Brandon wanted Khloé to meet a "good guy." So he introduced her to TTD, who at the time was in long-term relationship and expecting a child with model Jordan Craig.
Jordan and TTD's son, Prince Oliver, was born on December 13, 2016, just four months after Khloé and TTD became an item. That should be enough to get you up to speed with the Demon Daddy on Cheat Street.
The Pregnancy Reveal
Right around a year after Khloé and TTD began dating, they announced Khloé's pregnancy to their combined families on Keeping Up with the Kardashians. I publicly remarked how touched I was by the "genuine" moment, which was filmed on August 25, 2017. Early in her pregnancy, Khloé and TTD, whose first child was just under a year old at the time, somehow put to rest uncomfortable feelings about how they became a couple and how quickly they were to become parents. He seemed to love her, and she was head over heels for him. If only we could live in that moment.
About a month and a half after her real announcement on August 25, Khloé told her assistant Alexa that she was pregnant with TTD's baby during a staged scene for Keeping Up on October 9. Holding a pregnancy test (either a prop, or the one she actually used, and kept), Khloé grinned from ear to ear as if this were the real first time she'd told someone that she was expecting. Again, a very sweet moment, but it gets dark. Grab a flashlight!
Shondaland Presents: Scandal(s)
I know I promised to lead you through the October 2017 darkness, but before we get to that, I need to focus on present day. Yesterday, the Daily Mail, as they are wont to do, callously and casually released video footage of TTD making out with a woman who is not Khloé in New York City. The footage, filmed on April 7, shows TTD's infidelity in legit broad daylight — it's him being nasty at a daytime rooftop party at PH-D Lounge. That same day, Khloé, waiting to give birth in Cleveland, Ohio, posted a series of Snapchats proclaiming to be "Bored AF" waiting for her baby to arrive. All while bouncing on a birthing ball.
While TTD finishes up the final games of his season, Khloé's doctor apparently touched down in Cleveland over the weekend in preparation of the birth. As Khloé, the only Kardashian woman who has not delivered at Cedars-Sinai in Los Angeles, waited to have her baby in a suburban hospital in normal America, TTD was cutting it up in NYC. And the damning evidence just keeps flowing.
As the day went on, it was revealed that TTD not only made out with a woman (later revealed to be an Instagram model named Lani Blair) at a club, but he also spent the night with her. In footage obtained by TMZ, TTD and the woman were seen entering and leaving the same hotel, together, and at multiple points heading to and from a series of parties, arriving as late (or as early) as 5 a.m. The woman appeared to be carrying an overnight bag.
In the midst of this reveal, additional footage from months ago surfaced. This brings us back to October.
As seen in more footage obtained by the keepers of my wig, TMZ, TTD apparently has a medical disorder that prevents him from keeping his tongue in his mouth. On October 7, just outside of Washington, D.C., TTD is seen making out with, motorboating, and accepting crotch grabs from two women. Where was Khloé? Well, she was flying back to Los Angeles from Cleveland, alone.
Presumably, she'd just spent time with the father of her child, and the two of them parted ways to work. TTD to play ball and have his balls played with in our nation's capital of D.C., and Khloé to storyboard her romance with TTD in my capital of Calabasas. Here we are again at October 9. Not only did Khloé "announce" her pregnancy to her assistant, but she also admitted that she'd conceded when TMZ threatened to reveal her pregnancy. As we all know, Khloé lost that battle, and on September 26 TMZ announced that Khloé was with child.
In episode 18 of last season's Keeping Up, Khloé's push and pull with TMZ over releasing the news was a main story line. Khloé didn't want them to compromise her privacy or jinx her early pregnancy in any way, so for about a week (from September 22 to September 26), she lived with TMZ's ultimatum: If she didn't disprove the rumor, the outlet would have no choice but to post about it. Choosing not to lie, Khloé said nothing and let the news run free.
One reason Khloé was hesitant to announce was that she was having some minor complications (due to not producing enough progesterone during her first trimester). As she dealt with a severe amount of exhaustion and pain, Khloé told her sisters on October 2 that her worries about the health of her pregnancy were keeping her quiet. That was just days before TTD was caught cheating for the "first" time.
Why Now?
To no one's surprise, nothing is released without the knowledge of the Kardashians. Considering Khloé knew her pregnancy was going to be leaked by TMZ, there's not a chance in TTD's hometown of HELL that no one in Calabasas didn't know this news was coming. So why now?
Again, October and the Daily Mail, which has no form of Kardashian contact to prevent them from releasing stories, have our answers. Had TMZ gotten this scoop, we may not have heard about it until after the baby was born. As it is, the information landed in reckless hands. And since it's such a large story that obviously wouldn't have flown under the radar, TMZ would have looked like fools not to hop on the TTD Train and release what they did have.
So, in September and October, as Khloé and TMZ's teams were hashing out whether or not she'd corroborate their pregnancy announcement, Khloé's concession most likely earned some good faith with the professional team of snitches. Which meant that when TMZ probably obtained footage of TTD making out with a galley of women about two weeks later, Khloé and Krew were able to bury the story, possibly in favor of getting exclusives about the family, like their new $150 million deal with E!, or any number of news items that still could be unreleased. (I suppose the silence could also have been out of consideration for the physical and emotional health of a pregnant woman?) It's also been reported that Khloé's extended family didn't know about TTD's infidelities, which I personally don't buy. If anything, I'd guess they didn't know the extent to which he'd stepped out, but I'm sure there were some whispers. It's not like these people toss someone out after their first offense.
Another theory is that Khloé has had the baby, and this TTD takedown is all a smokescreen to protect her privacy as she delivers (a brief maternity leave, if you will). This is something I don't buy. If Khloé wanted to give birth in peace and planned to expose TTD's infidelity, she would not have decided to give birth in Cleveland, choosing Ohio as her baby's first home. Were this the case, Khloé would have had her baby in L.A., and let this news wash over the media in the comfort of her own home. It's more likely that this was a bombshell and totally unexpected.
What's Next?
The baby. It's currently being reported that Khloé may be in labor. According to TMZ again, Kris is already in Cleveland with Khloé and her doctor. Kim and Kourtney are reported to be on the way from their vacation in Turks and Caicos. Khloé might not be due for weeks, but even I'm getting contractions from this stress. God only knows what's happening with her body!
Beyond having a baby, booking the first flight out of Cleveland, finding a new baby name that works with the last name "Kardashian," and burning all of TTD's belongings, I can only hope someone sends TTD a personal reminder that Khloé is currently producing a show about killer sisters, and I hear they're one episode short.
As always, I'll do my best to keep you updated with my own personal theories, but until then, stay safe out there, Dolls. And remember — you lose 'em how you got 'em!