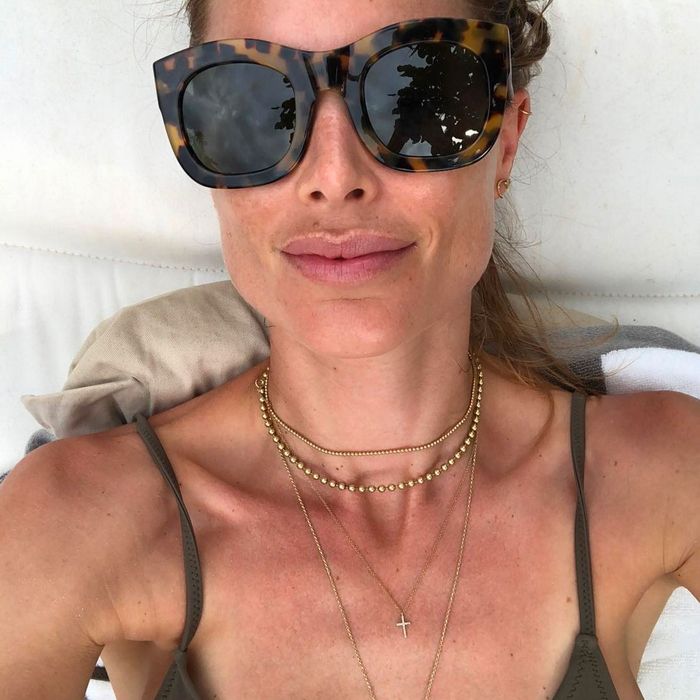 Do you ever see someone on Instagram and think "Why is your skin so good?" We do, so we started asking. Welcome to Why Is Your Skin So Good, a series.
Anine Bing was raised in Denmark and started working in the fashion industry when she was 15. Twenty years later, Bing is now a mother of two who lives in Los Angeles and has a simple, reliable skin-care routine.
"I'm always on the go, whether shooting a new campaign for my brand, picking my kids up from school, or traveling internationally for work," Bing told the Cut. "I've learned these skin-care products are my absolute go-tos for decompressing after a long day." In addition to products, the entrepreneur swears by going to sleep early. "Eight hours, minimum."
"This toner is so amazing and has quickly become a regular on my shelf. It has salicylic acid in it so it really is effective in keeping my skin clear, glowing, and fresh. I swear when you use it, you can see the difference noticeably in a couple days. All the girls in my office have started using it and are obsessed too. It really does keep my skin in check and it's not too harsh."
"I've had to wear makeup for shoots my entire life and this is hands down the most effective makeup remover. I just learned about it last year from my friend the makeup artist Katie Jane Hughes. The micellar water is so gentle on my skin and doesn't strip my natural oils, but it removes everything on my face from mascara to concealer. I honestly can't live without it now, it's with me wherever I go and helps create such a clean slate for any products to put on after."
"As I get older, an eye cream is essential to my routine. I love this one by La Mer because it's creamy but not too thick, and really hydrates the area around my eyes. It's perfect for night but I can also get away with it in the morning for under my makeup, without it congealing or looking obvious under my concealer. There are some products that I reorder regularly and this has become one of them."
"I'm clearly an advocate of La Mer! But it's because their products are so effective and yet not too harsh or intense for my skin. I fully encourage people to just take the plunge and invest in their skin, even if it's with one product. For me, it's this one. I love their signature moisturizer, it always feels amazing to put on at the end of the day as the last thing I put on my skin. It's not too heavy, but really does the trick in keeping me hydrated overnight. I travel so much for work, which can be so drying, and this product is one that I'm never without."
"Caudalie is a brand that I've been learning more and more about over the years. They sent me some of their products this last year and I can't stop using the Beauty Elixir. It's a spray that just freshens up my skin throughout the day and makes me look a little more dewy than before. I keep it in my bag or near my desk in our design studio just to give myself a little spritz, which is so hydrating in dry L.A. weather. I've started loving mists and this is definitely my favorite one I've discovered so far. It's great at night too, just before bed."
If you buy something through our links, New York may earn an affiliate commission.