In early January, the Instagram account @ShitModelMgmt, which has a following of 145,000 for memes about working in fashion, posted a story requesting some "gossip."
"Honestly, I was just bored," the account's moderator, a 20-year-old anonymous former model, said over the phone a few weeks later. She didn't anticipate that in digging for petty dirt, she would soon find herself buried in hundreds of direct messages containing serious allegations of sexual harassment and rape.
Overwhelmed and upset by the nature and volume of these stories, @ShitModelMgmt decided to use her platform to start publicly naming the photographers, stylists, agents, and other industry professionals who'd allegedly acted sexually inappropriately toward models. She posted screenshots of the direct messages she received in her stories (with the permission of the accusers), writing down all the perpetrators in her phone in an attempt to keep a more permanent record — a process that took her many hours over the span of a few days. In the end, she received approximately 300 different names from around the world.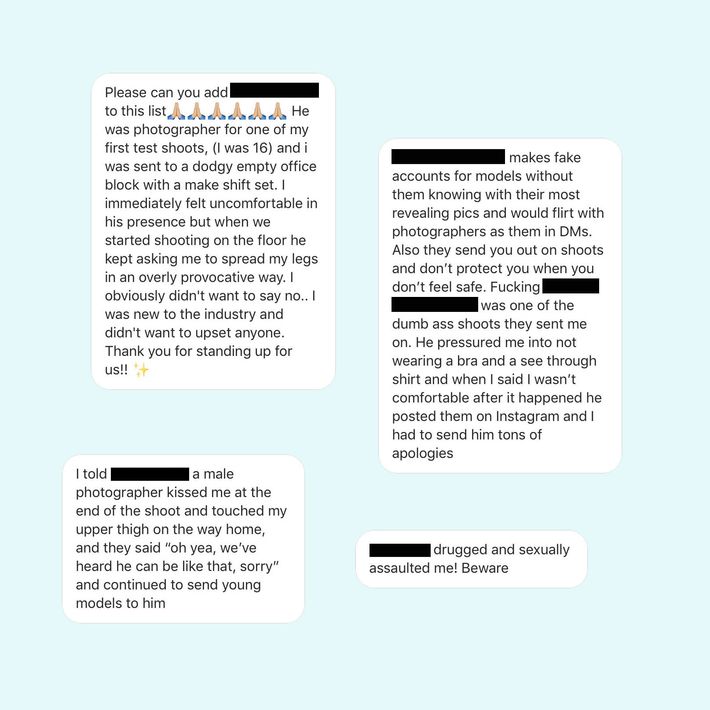 As more stories surfaced, patterns of bad behavior began to emerge. There were stories of modeling agents turning a blind eye when their clients reported harassment, tales of late-night photo shoots in photographers' apartments, nonconsensual nudes, underage bookings, unwanted touching, and promises of fame. Some names were mentioned more than once; @ShitModelMgmt noted that in her phone as well.
@ShitModelMgmt says she was triggered by many of these stories and was motivated to share them partly by her own experiences with harassment. "I know how easy it is to be taken advantage of in this industry and not know what's happening; you think it's your job," she added, declining to go into more detail. "I want all these agencies and photographers to know: You cannot get away with this anymore. It's 2018, and I'm so tired of it."
@ShitModelMgmt is not the first Instagram account to use its platform as a space to share stories of sexual harassment and abuse, nor is it likely to be the last. Over the past six months, the app has become a hub for fashion's "whisper network," the back-channel method men and women use to warn each other about predatory behavior. The results have been disruptive, highlighting the flaws in traditional methods of reporting abuse, as well as those of reporting on social media. But the biggest result is that some of the alleged predators have been been exposed, prompting brands, agencies, and companies to take action as well.
In February of last year, casting agent James Scully used Instagram to call out specific instances of abuse against models. Armed with a litany of allegations in his direct messages, LVMH and Kering — two of fashion's biggest, most powerful conglomerates — agreed to sit at the table with him and ultimately write the "Charter on Working Relations With Fashion Models and Their Well-Being," which was published in September.
In October, eight days after the Times published its explosive report on Harvey Weinstein, model Cameron Russell started the hashtag #MyJobShouldNotIncludeAbuse for those in the fashion industry to share their stories of harassment. Unlike @ShitModelMgmt, Russell shared screenshots of stories she received in over 75 permanent posts, blurring out names and calling upon others in the industry like James Scully to help share as well.
Russell posted that she and others were sharing the stories they received with "well-resourced reporters." In early January, about a week after @ShitModelMmgt started publishing names on Instagram, the Times broke a story detailing accusations of sexual exploitation against Mario Testino and Bruce Weber — two photographers that @ShitModelMmgt also named.
In February, the Instagram account @FashionAssistants, which had a similar meme bent to @ShitModelMgmt's, started posting direct messages detailing stories of abuse — particularly emotional abuse from higher-ups in the industry. "We are not here to ruin people's careers, but to highlight the fact that each assistant and intern is a human being just trying to get experience," the account's moderator told the Cut.
Meanwhile, as of March, the account @DietMadisonAve has publicly named 17 alleged harassers in the advertising industry — all of which were shared with the account via direct messages. According to an interview with @DietMadisonAve in the Times, eight of the 17 men named have since lost their jobs.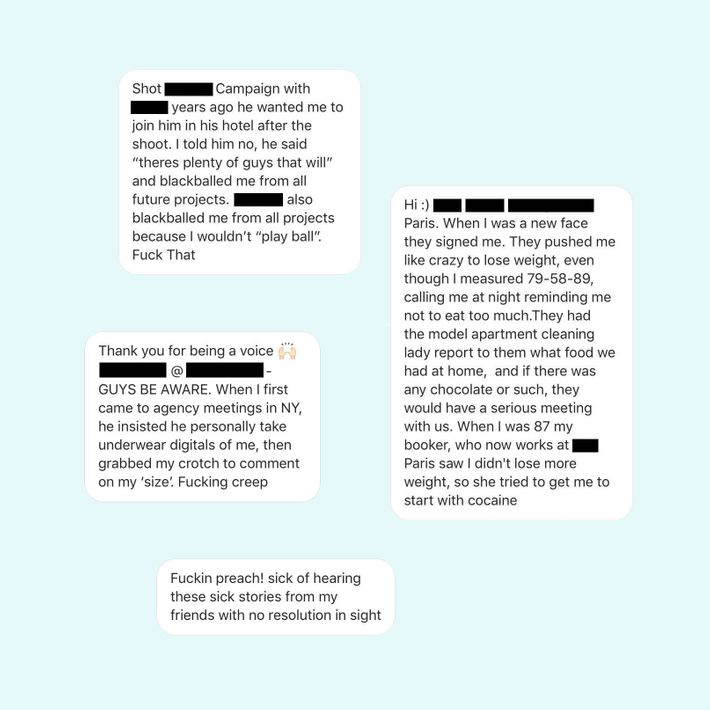 Serious subjects such as sexual harassment and assault may seem at odds with the rest of Instagram's content, but because it is the social network of choice for the visually oriented fashion industry, it makes sense for those with large followings to use it as a soap box as well. If #MeToo has proven anything, it's that there is power in numbers. Clearly, Instagram has become a way to harness said power, and multiply it tenfold.
Technically speaking, Instagram is well suited for spreading sensitive information. Direct messages feel somehow safer and more intimate than emails or texts, allowing survivors to speak among themselves in private. And because Instagram Stories in particular disappear after 24 hours, the stakes feel lower, too. @ShitModelMgmt, for example, feared that naming names in permanent posts would get her account suspended. "I saw what happened with Rose McGowan on Twitter," she said, referring to the fact that the actress's account was temporarily locked after she posted about Harvey Weinstein.
Things get messy, though, when the lines between public and private are blurred. Moira Donegan saw this with her Shitty Media Men Google spreadsheet, which she started at the end of last year, only to have it quickly grow into something much larger and more fraught than any one person could regulate.
At the end of February, @ShitModelMgmt attempted something similar by compiling all the names she received into a "Blacklist" website. She hoped the list would serve as a "warning" for models booked to work with anyone on it. After just a week, however, she decided to take it down. Despite her anonymity, @ShitModelMgmt feared the very real possibility of being sued for defamation, as well as the numerous threats being made her to safety and the safety of her family.
The short life of the Blacklist points to the cons of publicly arraigning those accused without due process. Because @ShitModelMgmt was dealing with survivors as well as their abusers (some of whom claimed innocence), she found herself playing content creator, novice police detective, conflict mediator, and judge, all at once.
"To me, it makes complete sense that people are looking to alternative avenues [of reporting]," says Julie Zerbo, founder of the Fashion Law. "We have so many examples of rape allegations that were not handled in appropriate or timely or fair manners. But as a lawyer, I have to say, the varying claims that both sides allege really shine a light on the need for there to be some kind of jury or fact-finding party involved, other than just the media."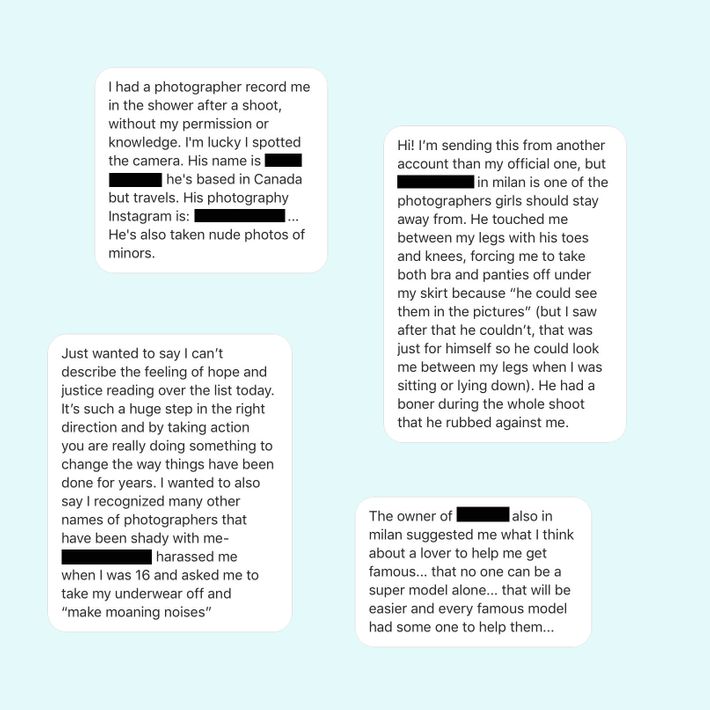 But what would such a third party look like? Since 2012, the Model Alliance has tried to fill this obvious hole in the industry. Many of the stories that have appeared on Instagram are likely also being shared behind the scenes with the Model Alliance's 24-hour reporting service, which helps put models in touch with lawyers and organizations like RAINN. But when the #MeToo movement really picked up steam, the Model Alliance received more complaints than it could handle, underscoring the need for help from the industry at large.
In January, the Model Alliance put forth its "Proposal for Sexual Respect in the Fashion, Entertainment and Media Industries." In it, they argued for creating a code of conduct, as well as a "neutral non-profit arbitrating entity that will guarantee accountability." Essentially, this entity would function as an HR department for the entire fashion industry — a place where models, many of whom are freelancers, could take their claims in confidence, knowing that something would be done.
"If you have the fox guarding the henhouse, then often people don't feel empowered to file a complaint because they don't necessarily trust that it's going to be dealt with impartially," explained Sara Ziff, founder of the Model Alliance and a former model herself. "I think it's really important that there is a centralized resource, not only so that there's a transparent and trustworthy process in place, but also so that there's a coordinated effort. We need to have proper channels of communications with publications, agencies, and brands, so that they can be made aware of what's happening on their watch."
It's a large ask, but it's clear that the distribution of power in fashion needs to shift in order for real, large-scale institutional change to occur. And that communication needs to take place beyond Instagram DMs as well. There's already talk of what agencies, brands, and corporations are doing in-house to clean up the mess they've made. But how will we ensure that these actions aren't just Band-Aids? Who will check up on them in six months? A year?
In the meantime, a culture of silence in the fashion industry seems to have been broken. Because of what's happening on Instagram and behind the scenes, people are speaking to each other and to the public. They're sharing names, information, and holding people accountable. More models know the definitions of sexually inappropriate behavior and that it is not, in fact, a part of the job. They know their rights. They know who to look out for; what to do if they witness said behavior, or experience it themselves; and they know they are not alone.
A "lid has been lifted," said supermodel Karen Elson at a Model Alliance event on on Wednesday night to celebrate her joining the board. "There's been this huge weight of silence in the fashion business where, for 20 years, I've witnessed a lot of negative things. And a lot of positive — but the negative stuff never gets talked about. It gets brushed under the carpet. No one is formally held accountable. For me, personally, I think it's high time that it was."
@ShitModelMgmt has resumed posting memes. But it's safe to say things have changed.