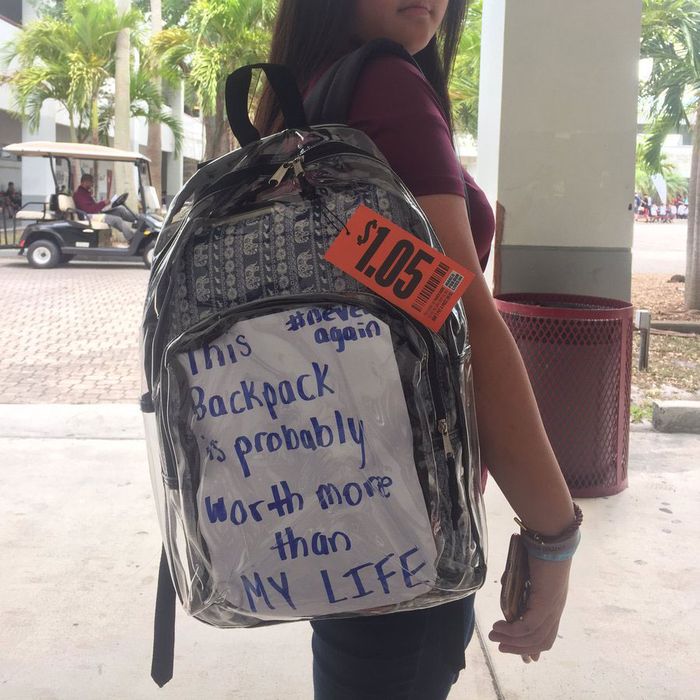 Photo: @xo_karmin_ox/Twitter
The students of Marjory Stoneman Douglas High School are not impressed by their school's new safety measure. Six weeks after a gunman killed 17 people at the Parkland, Florida, school, students were given clear backpacks they are required to wear in order to prevent anyone from bringing weapons onto campus.
Robert Runcie, the superintendent of Broward County Public Schools, announced the new policy last month, after the shooter's brother was caught trespassing on campus, and two students were charged with carrying knives onto school grounds. Runcie also said students would be issued ID badges they must wear at all time while at school, and that the district is considering installing metal detectors.
Students were immediately critical of the decision, with one senior, Kyra Parrow, tweeting, "s/o to America for making my school seem like jail now because legislators don't have common sense gun reform on their agendas." Reactions weren't any warmer when the backpacks were handed out on Monday after students returned from spring break.
Some students used the clear plastic backpacks to broadcast their opinions on the new requirement.
But mostly kids wondered what exactly these bags were meant to accomplish.
Since the shooting, Stoneman Douglas students have been at the forefront of a renewed push for stricter gun-control legislation. The new bags were issued just over a week after millions of people around the world joined Parkland students for the March for Our Lives protest for gun control.
"We're going to make sure the best people get in our elections to run not as politicians, but as Americans. Because this," Parkland survivor David Hogg said at the march in Washington D.C., pointing at the U.S. Capitol, "This is not cutting it."