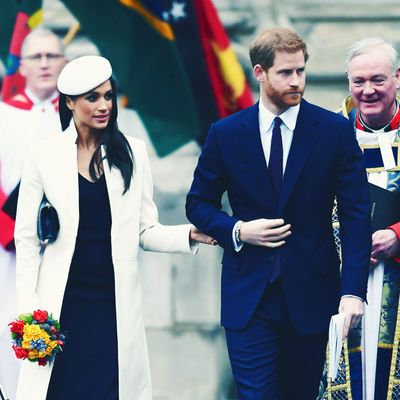 Meghan Markle and Prince Harry.
Photo: Karwai Tang/WireImage
The royal wedding has become an all-encompassing event that has taken on a life of its own. Like with Prince William and Kate Middleton's wedding, there are T-shirts, mugs, and other memorabilia that's making its way into the homes of royal fans. Now Prince Harry and Meghan Markle have their own Lifetime movie, emojis, beer, and soon their wedding have an official scent thanks to luxury fragrance house Floris London.
The brand created a perfume inspired by Bergamotto di Positano, a warm citrusy unisex scent with a romantic history. Bergamotto di Positano, which smells of bergamot, orange blossom, ginger, and green tea, was created in remembrance of Mary Floris, as well as her husband, who left the village of Positano on the Amalfi coast in Italy to travel to England to marry her (what, no Canadian love story?).
Floris London's royal ties go back to 1820 and the house has made fragrances for other members of the family like Queen Victoria and King George VI. Currently, it holds a royal warrant from Queen Elizabeth II and Prince Charles, which means they're big fans and Floris London supplies their fragrance products to their households. The brand also made the scent Wedding Bouquet for Prince William and Kate Middleton's 2011 wedding and makes a new perfume for the Queen every year on her birthday.
The scent and the design of the bottle hasn't been revealed yet. Unfortunately for those who want to smell just like Windsor Chapel on May 19, the perfume is part of the brand's private collection and likely won't be released in mass quantities to the public.