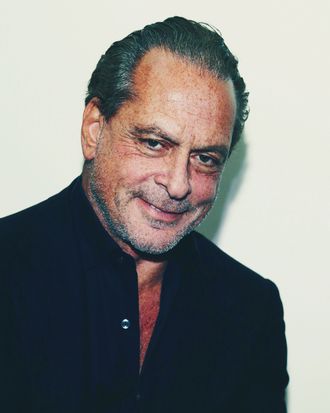 Federico Pignatelli.
Photo: Lars Niki/Getty Images for The Industry Mo
Frederico Pignatelli, owner of Pier 59 studios and Industry model management, had been waiting for months to throw a very important party and make a very important announcement.
"Before, it was so much about 'me too, me too, me too' that I think it would have been diluted, this messaging," Pignatelli said Wednesday evening in his luxuriously sunny office on the top floor of Chelsea Piers, a huge photo of Cindy Crawford in a bikini looming on the wall behind me. He was about to unveil a new "bill of rights" for his models at a party in his studio downstairs.
The bill of rights, which was printed out, rolled up, tied with stretchy black string like a scroll, and handed out to party guests, declares that Industry models will be paid within 60 days of the completion of a job. "I'm not saying all agencies don't pay but they pay whenever they want," he said.
Pignatelli wants you to know that his bill of rights has nothing to do with the #MeToo movement. "To be clear, I feel that sexual harassment is a very, very serious issue, but is also one that has been exploited very badly," he said. (In 2010, he himself faced and was cleared of sexual-assault charges.)
He explained that he believes the #MeToo movement has led to an outpouring of damaging, unverifiable accusations, largely on the internet. "How can you defend yourself by someone that doesn't have a face, doesn't have a name, doesn't produce any evidence of anything?"
He added, "I think that there's been a lot of abuses related to sexual-harassment accusations, because how do you control if a model is or not getting revengeful against a client or a photographer because she was not booked for a certain job?" He also thinks models bear the responsibility of speaking up. "If they feel that something is wrong, and the agency's not protecting them vis-à-vis photographers or whatever, then they need to complain. And they need to complain immediately, not five years later."
Pignatelli, who also represents photographers and stylists through his Industry MGMT agency, said he works to educate everyone signed with him about what constitutes appropriate behavior on set, but acknowledged things will still go wrong. "Like Weinstein is the monster in Hollywood, there are the monsters here in this business. We all more or less recognize who the monsters are and so we have to deal with that. But it's very much about, in my opinion, education of the models," he said.
"Moving the knee of a model to fix a position of her legs because she doesn't understand what a photographer says — so the photographer moves the knees because photographically it makes sense, to help her understand so he touches a knee — I would not consider that sexual harassment," said Pignatelli, demonstrating by placing his palm on one of his knees and moving it to meet the other. Sexual harassment "is something that clearly has to be [done] with the intention of literally sexually harassing a girl, with a different scope than taking a picture."
Pignatelli said he was surprised by the list of photographers who have been accused of sexual assault and did many shoots in his studios without "one single hint" of anything like that going on. "I esteem Mario Testino. I have no idea if he did anything wrong. I only know that he is a great photographer. To me he is a kind human being," he said.
Pignatelli reviewed the contracts of about 15 agencies before drafting his bill of rights, and said none of them had any language mandating a deadline for payment. Though he represents all kinds of talent, he's focusing on financially empowering models because they tend to be much younger, much less experienced, and much more ill-equipped to deal with contracts than photographers. He also felt like it was an issue where he could, true to his reputation, exact real change. "I revolutionized the studio industry," he said, explaining that, for instance, his studios were the first to remain open seven days a week without imposing an addition charge for shooting on weekends. And again, by standing up for models getting paid, "I'm doing something that nobody has ever done."
An hour or so later at the party, Pignatelli took the stage, where he read off the topline highlights of his bill of rights to the audience, many of whom broadcasted his remarks on Instagram live. He concluded, "I want to be a voice of necessary change in this industry." And the audience applauded.