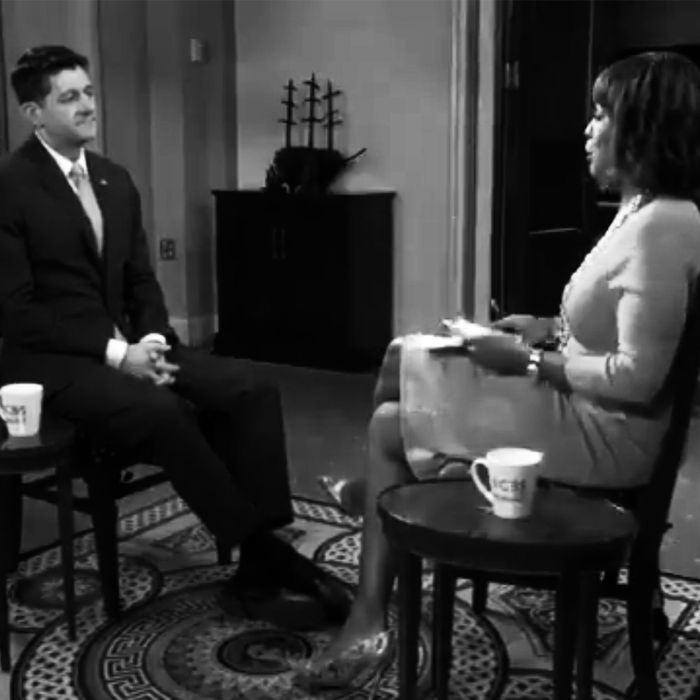 Paul Ryan and Gayle King.
One day after announcing that he'd be stepping down from Congress, House Speaker Paul Ryan sat down with CBS This Morning co-host Gayle King for an interview — during which she called him out for a lack of women and minority representation in the Republican party.
In the interview, King referenced a picture that President Donald Trump had tweeted (of course) on Tuesday night, featuring Ryan and an array of other white male leaders of the GOP (including Vice-President Mike Pence) at the White House, each giving a thumbs up to the camera. She asked Ryan, "You had dinner with the president last night. There was a big picture … with the thumbs's up, very celebratory. What were you all celebrating?"
The conservative politician replied that the men were celebrating "just the accomplishments we've had heretofore and then the rest of the agenda we're working on." Ryan went on to list health care (as he's repeatedly tried to repeal the Affordable Care Act) and infrastructure as some of those supposed "accomplishments."
King then grilled Ryan on the utter lack of diversity in the photograph (and in conservative politics generally). "You know, when I look at that picture, Mr. Speaker, I have to say, I don't see anybody who looks like me in terms of color and gender," she said to Ryan. "You are one of the main people who said you want to do more for the Republican party. You wanted to expand the base … so when I look at that picture … I don't feel very celebratory. I feel excluded."
The speaker replied, "I don't like that you feel that way. We need more minorities, more women in our party," and said he's been "focusing" on that sort of recruitment (hmmm). But of course, Ryan also failed to mention that he's also been actively working to diminish women's rights and exacerbate income inequality, oops!