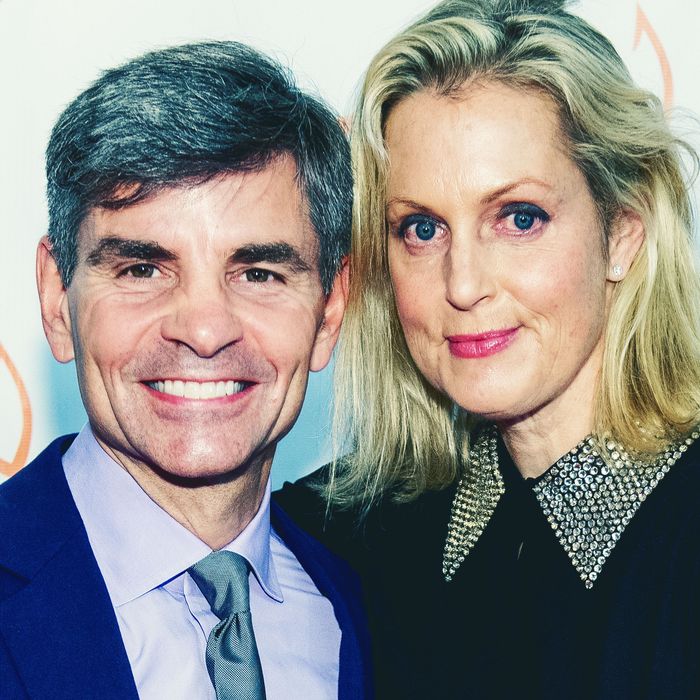 George Stephanopoulos and Ali Wentworth.
Photo: Roy Rochlin/FilmMagic
One consequence of the sex positivity movement means that we're constantly learning more about other people's sex lives, whether or not we asked. Case in point: journalist and former member of the Clinton administration, George Stephanopoulos.
On the heels of his sit-down with former FBI director James Comey, "Page Six" chose to publish some lines from wife Ali Wentworth's new book, Go Ask Ali, in which she reportedly discusses how much she and her husband do it.
She recalls, "The absolute lowest moment for me is when the time arrives for the fateful question: 'How often do you and your husband have sex?' I have lost friends with this question."
And another bit, which is very Ayelet Waldman–on–Michael Chabon–in-2005:
She writes that before answering, she "takes a deep breath" and "spit[s] it out. And then the women gasp and scream like I've confessed that I shot my dog. One of them always slams her fist down on the table; a woman's wine glass once smashed in her hand. I'm sorry! We're hot for each other. Jesus!"
Wentworth has discussed her and her husband's sex life before, notably in the early aughts, but we appreciate the 2018 update on how much George Stephanopoulos is getting laid.