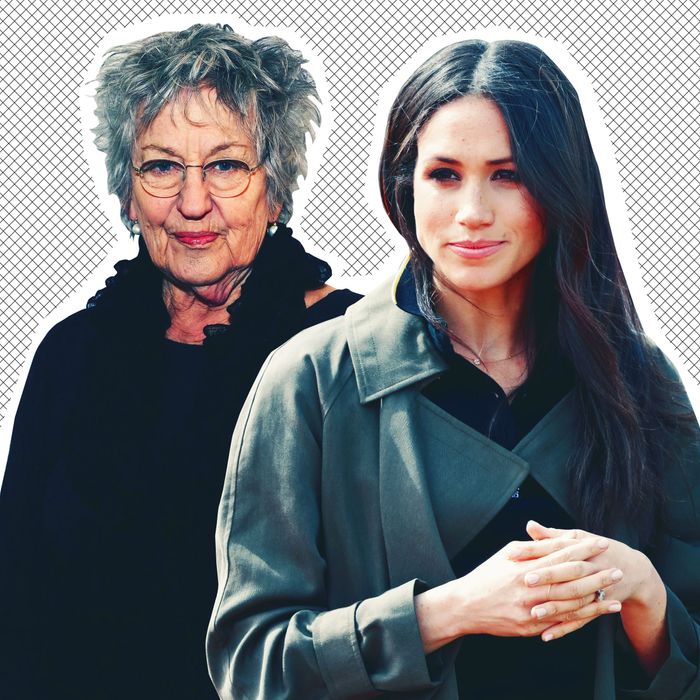 Germaine Greer and Meghan Markle.
Photo: Dave Benett/Getty Images/Max Mumby/Indigo/Getty Images
The much-anticipated wedding of Prince Harry (fifth in line to British throne) and Meghan Markle (Suits star) is just over a month away, and while many people are thrilled about the union, others aren't getting their hopes up too high.
During an interview with 60 Minutes Australia this weekend, outspoken and controversial feminist author Germaine Greer said she thinks Markle "will bolt" as soon as she gets a sense of what life in the British royal family (which Greer refers to as "the firm") is really like.
"Let's hope they're in love. If they're not it's going to be totally unbearable," Greer told journalist Tara Brown. "She will see vistas of boredom that are unbelievable. I think the pressure to escape from the firm is crushing."
When Brown asked what she predicted for the couple's future, Greer answered, "I think she'll bolt."
"She bolted before. She was out the door," she said, referring to Markle's 2013 divorce from Trevor Engelson. "I think she'll bolt. I hope in a way that she'll bolt but maybe she'll take Harry with her."
When asked why Markle, already a successful television star, would give up her career to marry into the royal family, Greer quipped: "Why would a girl born in poverty marry a man with 53 million quid? I can't think of single reason."
Still, she conceded. "She probably is in love with him. He's glamorous despite having red hair."
Watch more of Greer's comments in the clip below: