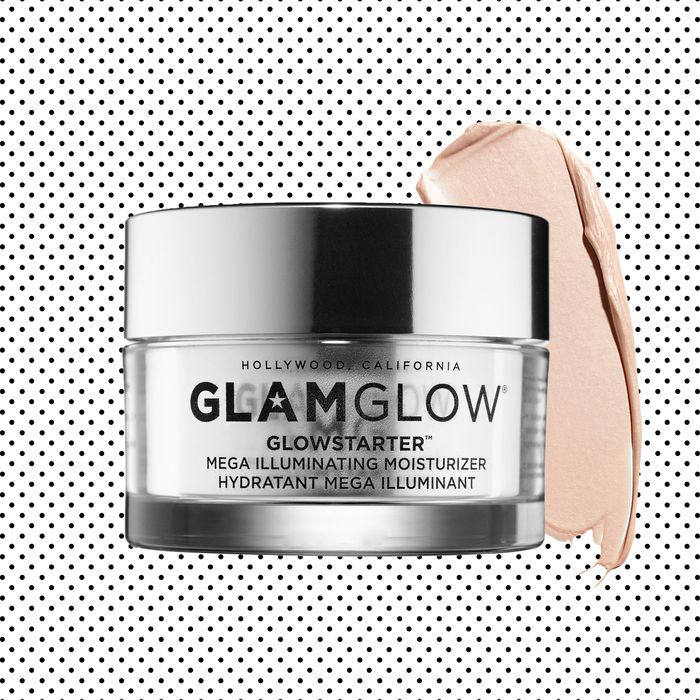 Glamglow glowstarter moisturizer
Photo: Courtesy of the Retailer
Of all the skin-care tenets, I find "glow" to be the most vague and elusive. "Moisturized" and "soft" are tangible. "Smooth" is visual. "Fresh" is in the eye of the beholder. But what in the world does "glowy" mean? I've been equally fascinated and frustrated by the term. Yes, I want my skin to be glowy, like it's "lit from within," and "filled with light." But aside from injecting LEDs into my cheekbones, I'm at a loss at how to achieve it without light-reflecting glitter. Like a sucker, I had bought many many glow-promising serums and products before I found one that works. Fittingly, it comes from Glamglow.
I got my first Glamglow Glowstarter moisturizer with my extra Sephora points. Since it was so tiny, I ignored it until I worked my way through their Supermud mask and other, more popular, samples. When I first tried the sweetly citrusy lotion, I decided I could forgo concealer and foundation and left the house. A friend told me, "Your skin looks good today." I didn't attribute it yet to the Glowstarter, until I decided several weeks later to use it again and was told the same thing. Then, like the type-A person I truly am, I decided to do A/B testing with the lotion. I didn't wear it for a few days, and got fewer comments on my skin looking vaguely "good." I put it on again, and the compliments started again — from a Trader Joe's employee, from my favorite workout instructor, and from my mom. The result of my scientific experiment? I'm sold.
The moisturizer comes in three shades — Pearl, Nude, and Sun.
I use nude, which is supposedly universal, but have tried both of the others. All are a shimmery lotion that doesn't look like an all-over, Giambattista-style highlight on the skin. It sits well under makeup, as well, but that dims its glow-y powers in my experience. When I wear it, it looks like someone hit the "enhance" button on my skin. It just makes my skin look a bit healthier and a bit more vibrant — maybe that's the "glow" I've been chasing.
Two caveats if you, too, are looking to glow up: The iridescence is definitely visible right out of the box, and it smells very strongly of a Creamsicle. I quite like it, but some sephora.com reviewers most definitely do not. If you don't like shimmer or delicious Popsicle smells on your face, this may not be the one for you.
If you buy something through our links, New York may earn an affiliate commission.