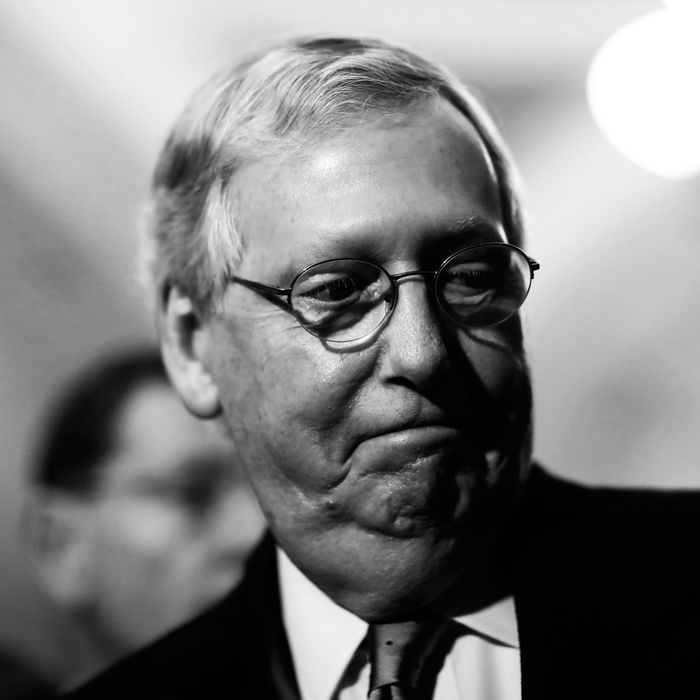 Mitch McConnell.
Photo: Aaron P. Bernstein/Getty Images
The men of the Senate are reportedly joining their female counterparts in calling for an overhaul of Congress' outdated workplace harassment policies. Well, some of them are.
Last month, all 22 female senators — on both sides of the aisle — signed a letter condemning the way Capitol Hill handles allegations of sexual harassment. The current rules require victims of harassment to take part in a month-long counseling session, forced mediation, and a 30-day "cooling off" period, and also allows legislators accused of misconduct to pay for settlements using taxpayer funds.
According to Politico, this week, the men of the Senate Democratic caucus showed their support by submitting a letter to Senate Majority Leader Mitch McConnell, and Minority Leader Chuck Schumer in which they call for a vote to rewrite Capitol Hill's harassment rules. The effort was organized by Democratic senator Jeff Merkley, whose spokesperson told Politico that although the letter was sent to all senators, Democrats and Republicans, no GOP member has signed on so far.
That is likely to change. Republican senator Ted Cruz is a co-author of the overhaul bill, along with Democratic senator Kirsten Gillibrand, which would require lawmakers accused of harassment or discrimination to pay for potential legal settlements out of their own pockets.
"Senator Cruz appreciates Senator Merkley's efforts to urge a vote on Gillibrand-Cruz, and he told Senator Merkley last week he'd be more than happy to sign a letter," said Cruz's spokeswoman, Catherine Frazier. "In fact, Senator Cruz has personally urged GOP leadership to mark up Gillibrand-Cruz, and he is working to get additional senators to sign the letter in support of the legislation."
Still, hopes are not high that the reform bill will be passed. It was originally supposed to be part of the omnibus spending bill, which was being negotiated last month, but Mitch McConnell reportedly stalled. According to the Atlantic, he had concerns about making legislators financially responsible for settlements against them.
"More specifically," wrote reporter Michelle Cottle, "McConnell was said to be more-or-less OK with putting members on the hook for harassment, but discrimination liability was too much for him to swallow. And so the omnibus left the station sans a reform package."
As of Wednesday night, McConnell's spokesperson said negotiators from both parties were "continuing to work on harassment legislation."