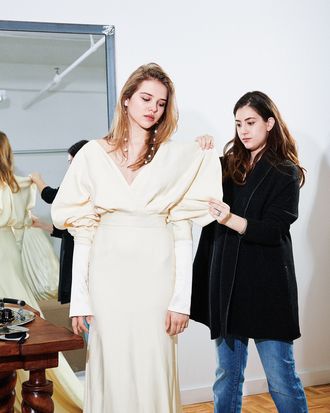 Danielle Frankel fits a client.
Photo: Kyle Dorosz
In our Ask the Experts series, New York Weddings gets tips and advice from professionals in disciplines from dress design to speechwriting.
Danielle Frankel
Founder of Danielle Frankel
After designing for Marchesa and Vera Wang, what made you launch your own line last October?
I know this is going to sound like every bridal designer's story: "Oh, I got married and then decided there was something missing from the market." But I already knew something was missing from the market, because I'd been taking on some private clients and chatting about their needs. When I got engaged, I designed a silk-faille coatdress with an off-the-shoulder collar that I based on one of my fiancé's button-down shirts and a vintage trench. For the reception, I changed into this perfectly tailored '90s-era silk-duchesse coat that I bought at a Brooklyn flea market. I was like, "This is what women need to be wearing to their wedding today." It was the jumping-off point for my entire line, which is now available in stores like Mark Ingram and Bergdorf Goodman. The dress I wore for the ceremony is in the collection — it's called the Lou ($10,995).
What was it about the coat that resonated?
I love the idea of the perfect jacket — not too masculine, not too beautiful. You can wear it with a flowy jumpsuit or a slip dress, and it creates this tailored silhouette. I'm working with a bride right now who's having a big church wedding but wants a sexy option for the reception. I recommended wearing a silk-chiffon A-line dress called the Rena ($6,590), which is super-lightweight and airy, and covering up with a single-breasted coat (Jean, $5,990) for the ceremony. That way, you can have both moments; plus, the two designs work well together because the dress has a center slit that aligns with the jacket opening.
Any advice on going custom?
Only do custom if you have a very specific vision, because it can be hard to communicate what you're thinking to a designer if you're all over the place. It's also a much longer, potentially stressful process. Some girls see the muslin fitting and are like, "Oh my God, I'm not happy with this," because it's difficult for them to envision how it will actually look in the end. An easier option is to research my line and ask if we can modify an existing design to create a custom look — like redoing a silk-chiffon slip dress in all lace. We've charged an additional 25 percent for those types of customizations in the past. If you want a fully custom design, you can email me to set up an appointment at our studio in the Garment District.
You offer a bra in the collection. How would you style that?
It depends. It's a pearl-colored reembroidered-lace bra ($550) with Chantilly-lace trim and grosgrain straps — we recently had a bride whose idea was to wear it with a super-high-waisted lace skirt (Eleanor, $5,890) and sheer chiffon top (Clara, $1,290) tucked into the skirt. I never thought of that combination, and that's what's cool: Two people can shop the same collection and look like two totally different brides. Because you don't want to spend all this money on a dress that looks exactly like what your friend wore.
info@daniellefrankelstudio.com
"Most people think they should wear chiffon for a hot summer wedding, but don't discount lace, like a lightweight Chantilly — the pattern makes it harder to see the sweat."
*This article appears in the summer 2018 issue of New York Weddings.