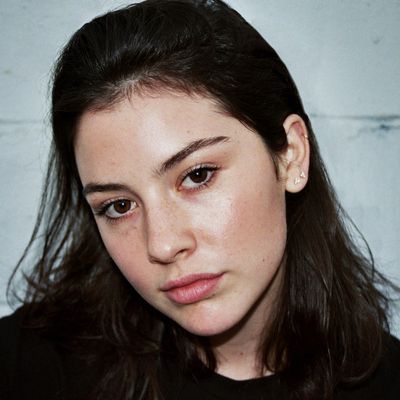 A few hours before I'm supposed to meet 18-year-old Gracie Abrams she texts me, "Hey can we move this a little earlier? I have to be home in time to babysit my brother after school." I'm sitting outside of Gjusta in Venice, California, when I see Gracie pull up in a black minivan, which she calls her "soccer mom car." She jumps out wearing a Time's Up T-shirt and a huge smile, and hugs me like we've always known each other.
Gracie is the daughter of J.J. Abrams, the blockbuster film producer and director, whose most recent work includes Star Wars: The Last Jedi. "My parents are strict," she points at her phone. "I couldn't have a phone until eighth grade. My Instagram wasn't even allowed to be public until two years ago." But as her love of songwriting developed, the rules changed. "I think when they saw I was really passionate about music, they kind of knew it wasn't about people hearing me, it was about the potential of other people having the possibility to do it."
Now, she has 10,000 followers on Soundcloud, over 120,000 followers on Instagram, and a comment from Lorde saying, "Send me this mp3." Instagram is how Abrams and I connected last fall, over DMs about crocheting and Tyler the Creator's Converse collaboration and music playlists. Instagram also allowed Abrams to connect with the producers she's been working with for her music release. "The thing that has been the coolest part about social media is that I get to connect with complete strangers from different parts of the universes … It's just been nice to talk to real people. Even if it's not in person."
Scrolling through her Instagram, you see photos of her current journal, where she scribbles down poetry that later become songs. Keep scrolling, and you see bedroom walls taped up with photo-booth photos, Glossier stickers, Coachella bracelets, Polaroids, and love notes. It's just like all of our high-school bedroom walls, but then she puts music to it.
"I started music when I was 8," Abrams told me in between bites of roasted cauliflower. "I started playing rock drums, and before that, since I was 6, I kept a daily journal — which I still do." And then she paired feelings with journaling, "I remember being pissed off in elementary school at someone not wanting to sit with me. I started yelling and sat at my drums and was banging the shit out of them … I remember feeling so powerful that this was the greatest moment of translating my journal that I could create."
Though she claims to have serious stage fright, Abrams stares right into her iPhone camera lens, dreamily singing bold and vulnerable lyrics about love, and love lost, in her videos. In one, Abrams smirks at the camera and sings, "Don't think I'm stupid, oh I know this is wrong / You got a girlfriend and I'm writing you a song." As she sings softly, Abrams also strums her acoustic guitar (or ukulele, or plays the piano), playing music that she writes. The characters in her songs are relatable: tripping in stilettos, being walked home, getting nerves before moving to New York City.
In another video posted on March 30, she lip-syncs to a produced version of a song she originally posted last August, melodically explaining the frustrations of high-school relationships in Los Angeles: "Your house is Glendale, or somewhere far / I would drive all night to get to you / But my curfew is early, and mom's up at home / I would run for miles to get to you, but you got to understand I can't, cause M-I-N-O-R I'm minorly stuck and it's not your fault, it's just how things are.
But her social-media feed isn't all songwriting. She eats bagels with her boyfriend, she fangirls over Timothée Chalamet, and goes into an emotional funk after seeing Call Me by Your Name. It's all normal teenage girl stuff, except that her friends include Rowan Blanchard and Yara Shahidi (which gives me the feeling their group texts are far more engaging and purposeful than mine were my senior year of high school).
Abrams has also used her platform to talk about politics and social justice. Her mother, Katie McGrath, the co-CEO with her father of their production company Bad Robot, is one of the founding volunteers of the Time's Up initiative, an advocacy group for women in Hollywood. The Abramses are also major donors to the group's Legal Defense Fund to subsidize legal support for women who've experienced sexual harassment. Earlier this year, it was announced that Time's Up raised $20 million in just over a month.
"Being outspoken has always been one of the more important aspects of growing up with my parents. Whether it's art or politics you feel passionate about, it's about not oppressing that — be vocal about it. Even if it's not popular." And it hasn't been the most popular choice — Instagram analytics show far more engagement on photos of her face than posts about what she thinks of the current political climate.
I asked her what she thought of Grammys president Neil Portnow's statement the week prior about women needing to step up in music. "It was a gut punch and I'm not even in the industry. I'm an admirer of the women who continually work their asses off. I listen to their music and I know what they do behind-the-scenes. The problem isn't the women. The problem is the lack of inclusion. It was firmly disappointing."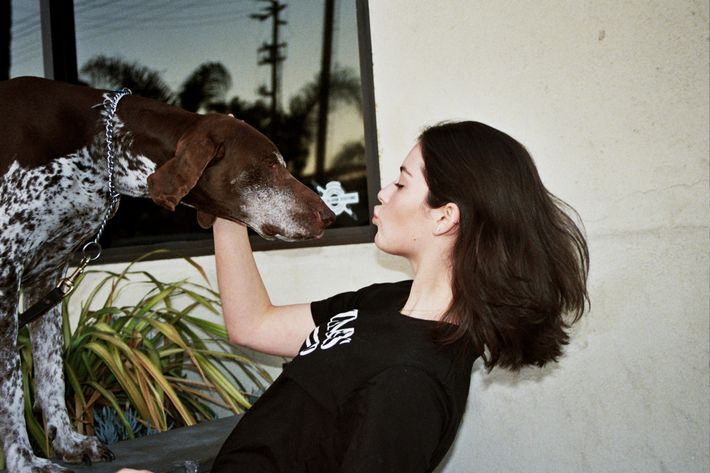 This fall, Abrams will enter Barnard college as a freshman. "I want to major in international relations, which could not be more unrelated to music. It's not like I'm going to start writing songs about the Middle Eastern conflict, but I really want my education to inform my art, so I think that that will add another dimension." I told her how my freshman year in the city was so strange, and magical, and lonely all at once. Her eyes light up. "I want to feel that!"
Before flying across the country, leaving behind her curfew, and getting a random roommate, Abrams will self-release an EP of songs (all of which she's shared with her followers over the past few months on Instagram). The project has been homegrown: her friends have helped her with photo shoots, her boyfriend Blake Slatkin produced one of the songs, and her manager up until last month, Sarah Ferrie, found her through Instagram. "It's been a lot of young women involved which for me has been super important, just because I feel like that really matters in terms of advertising for women in these creative roles … I think part of that was having a really great female manager instead of a dude … there are really great dudes, but there are also some shitty dudes."
By now the sun is starting to set, and Abrams grabs her keys to head back to her brother. We're staring at the sky and I remember one more question. When you scroll through Abrams's feed, her room appears in all different colors from a lamp in her room. I asked her what was up with that. "They're genius. I adjust them to my mood, like a mood ring." I go home and relisten to the lyrics while looking at the colors in her room, and I think she might be on to something.