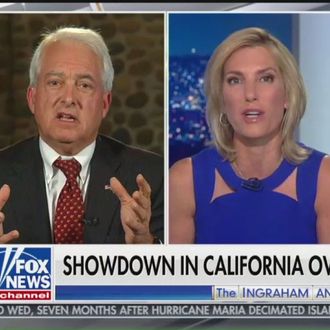 John Cox, Laura Ingraham, Enrique Morones.
During a Wednesday night argument, a guest on Laura Ingraham's show just went for it and brought up the flood of advertisers that have dropped the Fox News host.
John Cox, a Republican candidate in the California gubernatorial race, and Enrique Morones, an immigration activist and the founder of Border Angels, were on to discuss opposing viewpoints on sanctuary cities. After Morones said he had no idea who Cox was, Ingraham scolded him for being "rude and nasty" — at which point, Morones jumped in with an insult of his own.
"Where's your sponsors?" Morones asked her. "David Hogg got rid of half of them. High-school kids shut you down." He was referring to the fall-out that resulted when Ingraham mocked Hogg, a Stoneman Douglas shooting survivor, for not getting in his choice colleges; since then, over two dozen sponsors — including Honda, Johnson & Johnson, and Hulu — have pulled ads from her show.
Morones's appearance predictably was cut after that jab, but it did make it on live TV — and will live on forever in video clips.