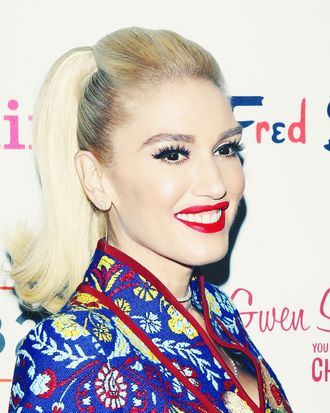 Photo: Michael Tran/FilmMagic
Last year, Gwen Stefani said she'd take a break from The Voice to pursue other music projects, but a trademark filing under her L.A.M.B. (Love.Angel.Music.Baby!) brand name suggests otherwise. Turns out, in March Stefani applied to trademark a new cosmetics brand, P8NT (pronounced "paint"), which seems like a natural career path for the singer who has gone from lime-green hair to platinum blonde and who manages to pull off any beauty look she tries. TMZ noticed she trademarked P8NT, P8NT Beauty, P8NT Cosmetics, and P8NT by Gwen Stefani, and the number of products she registered to trademark is bananas.
According to the United States Patent and Trademark Office, she registered to trademark at least 50 different items, including lipstick, mascara, eyebrow gel, concealer, false eyelashes, fake nails, shaving cream, and anti-wrinkle cream. Of course, she might have just registered all of those products so no one else could sell them using her company's name, but there is a good chance she might make most of them and create a beauty empire.
Since Stefani is known to rock a fiery red lipstick one day, and a barely-there neutral the next, she'd probably include a variety of shades for every mood. This shouldn't be too difficult for Stefani, considering she already runs her own businesses and collaborated with Urban Decay for a makeup collection in 2016. As long as she makes an icy highlighter called "Cool," P8NT will be off to a good start.
The trademark filing also mentioned that Stefani might launch a website that would include videos, articles, and tutorials. Stefani hasn't commented on when we can expect her products to launch, but hopefully it won't be long.