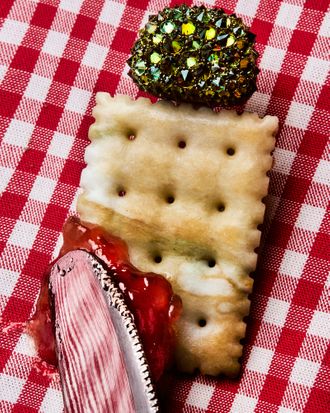 Photo: Bobby Doherty/Getty Images
Finer Things is a photo series with a playful approach to elusive, glamorous fashion items we're fixated on right now.
Munich-based jewelry house Hemmerle has been creating whimsical accessories for over a hundred years. The brand is known for its use of unorthodox materials, from earrings made of pebbles and sapphires to bracelets formed from moonstone, aluminum, and nutwood. These earrings look like Leibniz biscuits (a beloved German dessert), but they're made out of something arguably more unusual: carved ancient jade. Capped with spiky reverse-set pavé demantoid garnets set in bronze, they're a delightful accompaniment to tea — much like the biscuits they resemble.
Hemmerle earrings with demantoid garnets, jade, bronze, and white gold, price on request, more information at Hemmerle.com.