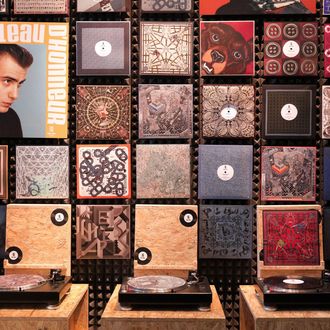 Silk Hermès scarves are made to look like vinyl records at the 690 Madison Ave. men's boutique.
Photo: BFA NYC
This week in New York, the Hermès men's boutique at 690 Madison Ave. is featuring the art installation "Silk Mix," displaying a medley of silk ties and scarves styled to look like vinyl record sleeves on the store's walls. It's a creative idea for repurposing pieces from your own wardrobe as home accents, and worth a look before the installation closes on Saturday.
Inspired by alternative record stores of decades past, Hermès creative directors Véronique Nichanian and Christophe Goineautors partnered with Thierry Planelle, an artistic director who has mixed playlists for every Hermès men's show over the past 15 years — to combine their love of music in a showcase of the maison's signature silk scarves.
The boutique's walls are covered with acoustic foam like a recording studio. Hermès ties and scarves hang alongside Hermès fashion photographs that have been reimagined as nostalgic '70s album covers, with youthful French titles like Tableau D'Honneur ("Honor Roll"). Each "album cover" is stamped with the fictitious Hermès record label, "Silk Mix." At the center of the space, crates of records are sorted into various French music genres, each corresponding to songs played at past Hermès men's shows.
The installation opened last Thursday at a cocktail party hosted in the store, with editor Dorian Grinspan, Alex Assouline, and Hermès CEO Robert Chavez among the high-profile guests. They sipped cocktails and flipped through the record crates, while DJ Patrick Vidal played alternative music from previous Hermès sets.
The "Silk Mix" installation is open at 690 Madison Ave. until this Saturday, April 21.