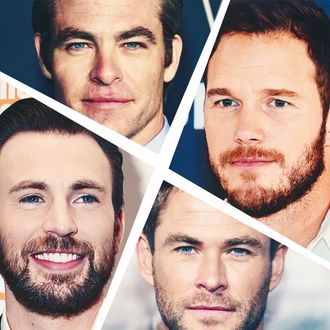 Clockwise from top left: Chris Pine, Chris Pratt, Chris Hemsworth, and Chris Evans.
Photo: Getty Images
If you're like us, you've spent the past few weeks struggling with a very personal and difficult crisis: There have been so many changes lately in the Hollywood Chris relationship statuses, it's nearly impossible to keep up.
We know that Chris Pratt is getting divorced from Anna Faris … but is he seeing anyone now? And Chris Evans has been on/off with our dream best friend Jenny Slate for a while now — so what's the deal there? What's the latest with Chris Pine and Chris Hemsworth's love lives? But perhaps most importantly, do these Hollywood Chrises know we're available for dating and/or friendship that turns into dating and also that we always wanted a fall wedding?
So, from Hemsworth to Pine, here's the latest relationship status updates on the Hollywood Chrises.
Chris: Pratt
Relationship status: Mingling
What's going on there?: Since announcing his split from Anna Faris after eight years of marriage last summer, there have been a ton of rumors about Pratt's love life — many of which seem completely baseless. He's not dating Jennifer Lawrence, which many people speculated about, and he's also not dating Olivia Munn, which we did not know people were speculating about until she told us that people were speculating about it. Last we heard, he's been hanging out with an "unidentified blonde" (per Lainey Lui). So we'd say he's dating, at least, but maybe (hopefully) not tied down yet.
Chris: Pine
Relationship status: In one, it seems!
What's going on there?: The fact that Pine is apparently in a relationship has been in front of our faces for two-ish weeks … we were just too blinded by his overalls to notice. At the end of March, Pine was photographed at the airport in the aforementioned overalls — and with actress Annabelle Wallis, who previously dated another Chris (Martin, of Coldplay and Gwyneth Paltrow, not of Hollywood Chrises). Then, Pine and Wallis even ate dinner together in Malibu (check out the pic below). So, according to People, they're "dating." US Weekly has some info about how the coupling came to be, courtesy of an "insider": "She was seeing someone else when they met. They kept it casual for the beginning. Chris was very attentive and wooed her to get her attention away from the other guy." Wooed!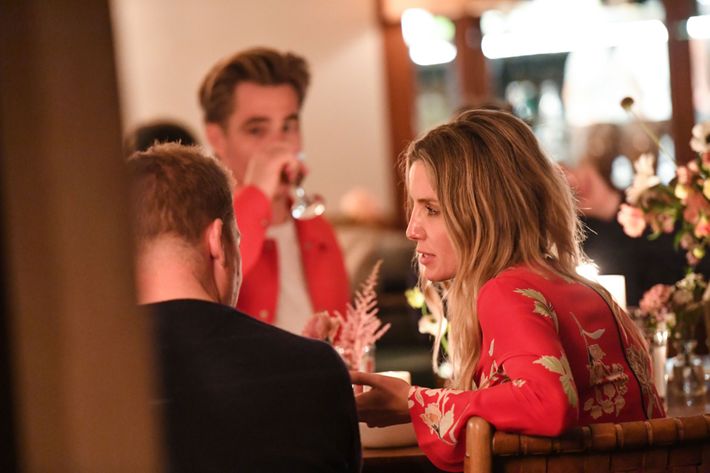 Chris: Evans
Relationship status: Single :( and mustached :(((
What's going on there?: Unfortunately, Chris Evans's on/off relationship with the delightful Jenny Slate is back in the off position. The pair first dated for around ten months while filming the 2016 movie Gifted, then they broke up (and the whole world fell deeply in love with Slate when she got real about their split to Vulture). After that, she went to a movie with Jon Hamm, and next thing we know, Evans and Slate were back together and spent the holidays with his family. Love was real again! But sadly, by March, the pair split once again. What a rollercoaster!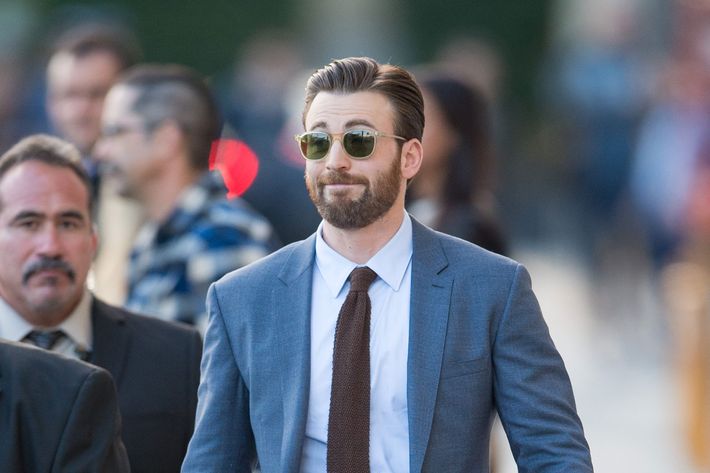 Chris: Hemsworth
Relationship status: Still married, nothing to report
What's going on there?: While there are always the inevitable rumors of potential marital strife here and there, it seems that Hemsworth's marriage to Spanish actress Elsa Pataky is still going strong. They have three cute kids together and live in Australia. No updates. Everything's just fine and attractive between them. We mean, look at how freaking romantic they are — they had a dang picnic on a cliff!! (See below).
Here he is with a koala, too. Just for your records:
This post has been updated with additional Chris information.