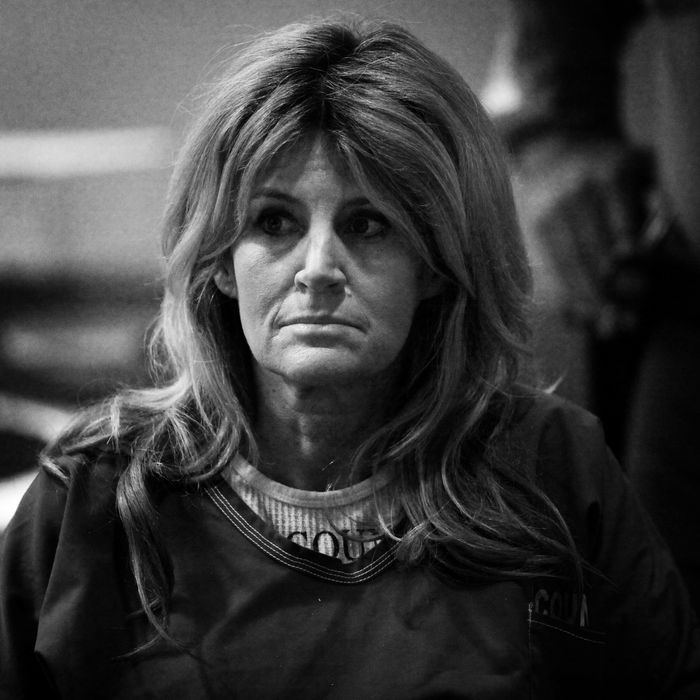 Dawn DaLuise.
Photo: Irfan Khan/LA Times via Getty Images
A Hollywood facialist once accused of hiring a hit man to off another beautician is reportedly back in business, baby, and making "murder" part of her new brand.
Before Dawn DaLuise spent ten months in jail in 2014 for allegedly plotting to kill rival Gabriel Suarez, her clients included Jennifer Aniston, Sarah Michelle Gellar, and Nicki Minaj — though that last relationship has since soured. While DaLuise was later acquitted in January 2015, "Page Six" reports that she wants to embrace the past charges against her, so she'll be working under the new name "Killer Facials."
"The story was very, very widely reported — it was everywhere," a source said. "So as soon as potential clients Google her, it's going to come up. So she figured she may as well take ownership of it."
Apparently, DaLuise's new clinic is already up and running on San Vincente Boulevard in Los Angeles.
Would you let a woman accused of plotting murder zap your face with tiny electrical currents or give you a lymphatic massage or stick needles into your face? Personally, if she could give me ageless skin like Aniston, I'd definitely be open to at least talking to her.