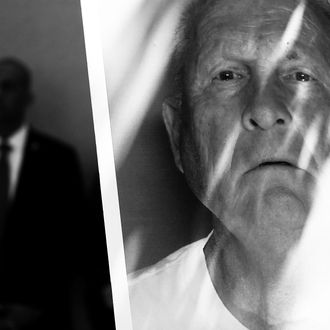 A photo of accused rapist and killer Joseph James DeAngelo.
Photo: Justin Sullivan/Getty Images
Decades after a serial rapist and murderer terrorized California, police arrested a suspect in the case who they believe could be the man known as the "Golden State Killer." According to the New York Times, detectives got this major break in the case through 2017's hottest holiday present: at-home DNA testing kits.
The suspected killer is 72-year-old ex-cop Joseph James DeAngelo, who was arrested on April 24 and is accused of committing more than 50 rapes and 12 murders. According to the Times, investigators submitted DNA from crime scenes to popular genealogy websites (e.g. 23andMe, Ancestry.com), and they discovered DeAngelo through his distant relatives who had submitted DNA to the sites.
"We found a person that was the right age and lived in this area — and that was Mr. DeAngelo," Steve Grippi, the assistant chief in the Sacramento district attorney's office, told the Times.
After making the link, Sacramento district attorney Anne Marie Schubert says they picked up DeAngelo's "abandoned" DNA samples, which matched more than ten of the Golden State Killer's murders. They later matched the full DNA profile.
While the Times doesn't explicitly state which genealogy websites investigators used, the report singles out 23andMe when stating that multiple websites denied their involvement in finding the alleged killer. So, it would appear that 23andMe was at least one of them.
Unless these websites are telling the truth, this is a very curious PR move — marketing your genealogy website as "the one that identified the Golden State Killer" seems like it'd lead to a major boost in sales.