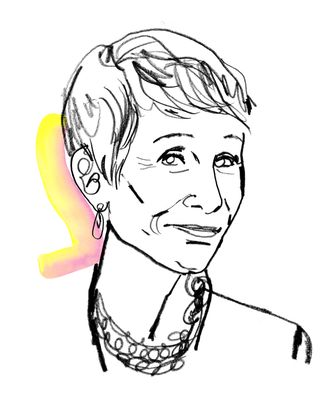 Illustration: Lauren Tamaki
Barbara Corcoran may have sold her namesake real-estate empire, Corcoran Group, in 2001, but the 68-year-old entrepreneur shows no signs of slowing down. Some of her latest projects include writing a book, commissioning a screenplay on her "rags to riches" story, and appearing on the reality-TV series Shark Tank. Corcoran lives in Manhattan with her husband, Bill Higgins, and together they have two children, Tommy, 24, and Kate, 11. Here's how she gets it all done.
On a typical morning:
I get up at 6:30 and fill myself a really hot bath. Then I make my daughter breakfast, pack her lunch for school, and make sure her bag is at the door. She has to get out for school at quarter to 8. Whatever breakfast I'm cooking for Kate, I eat too. I can't say we're the healthiest eaters. I either make pancakes and bacon or scrambled eggs and toast.
I have one hour and 15 minutes to get her fed, packed, and out the door and then I get my precious ten minutes. I have a rope swing in my kitchen, and I sit there in the morning light from 7:45 to 8:05 a.m. and have my cup of coffee. That's the best part of my morning. Then my trainer Margaret walks in the door — thank god, or I would never work out. We do the mat downstairs for an hour, and then I throw my clothes on and walk over four blocks to the office.
On her system for staying organized:
It's very easy. I have a to-do list on my desk, which is a culmination of everything that has entered my mind with no regard to category. It will be everything from Get Kate's blood tested for iron deficiency — something as personal as that — to a call with an entrepreneur who's getting jittery about closing a deal with me from the last season of Shark Tank. It's anything that enters my mind.
When I make my list, I use a method to rate things. If it has an A next to it, it is always something that will make the biggest change in my life, whether it be business or personal. Until I put an A next to it, it doesn't get it done. And I generally don't enjoy doing them, honestly. They are the things like, Call Mark Burnett, the big Hollywood producer, and ask him who I can hire to write a screenplay. I usually have five to seven A's on any given day and I do them first. I don't finish my week without getting rid of my A's. Once I label it, it's a commitment.
On her team and office space:
I have five people in my office. I have two people who work offsite — finance people, they don't have to be here with me. With those five people in the office, we have three suites. I don't think you could find a more pleasant office in New York if you searched high and low. I bought this space and did a gut renovation. We have high ceilings, gorgeous windows, great sunshine. It's just a delight to be here and everyone responds to it.
On 14-hour days filming Shark Tank in California:
We go for two weeks in June and two weeks in September, and we get it all in the can. It's a long day. It's very hard work, but when you consider how well we're all paid and how little taping we do to get a year of great showmanship, we have no right to complain.
I get picked up at 5:30 a.m. The men get picked up at 6:30 a.m. But my hair is shorter than most of the men, so I've argued against that, like "Come on, my hair is easier than Robert Herjavec's! Robert's so fussy with his hair. I can get up at 6:30!" [Laughs.] Before hair and makeup starts, I always have my boom box and I play Nicki Minaj. For whatever reason, she gets my blood going, so I play her loud in my trailer and get ready with Tommy, my stylist. And then we're on set at 9.
Oh, and I can't forget the most important part of my morning, which is stopping at a bagel place in L.A. on my way in. I buy Oscar an everything bagel toasted with extra cream cheese, and you might ask who's Oscar? He's the guy in charge of lighting. Boy, do I know who to butter up [laughs].
Typically, we hear ten to 12 pitches a day. They're anywhere from 45 minutes to an hour and 15 minutes. It's amazing the editing job they do. We get 45 minutes for lunch, then we get a half hour to touch up makeup and hair, but other than that, they don't let us leave our seats. They ask us not to go to the bathroom if we can hold it. I'm good at that.
Once the day is over, we are headed home at roughly 7:30, 8 o'clock at night. When I get back to the Beverly Hills Hotel I take a hot bath and then I have a masseuse come and give me a massage. I'm either snoring within a minute or I will not sleep because I'm too wired.
On making Shark Tank deals:
You're spending your own real money, and I value money, because I know how hard I've worked for every buck I've ever made. When you say to an entrepreneur, "I'll give you $200,000," it's not just a line. Two-hundred thousand dollars would put a kid through Ivy League school for four years. Would I rather put a kid through an Ivy League school, which is a kind of charity I do for myself, or would I rather give it to this entrepreneur? Are they worthy? So, I think long and hard about that.
On liberating herself from email:
I removed my business email from my phone and now everyone gets an automatic reply: Thank you for reaching out. I'll not be answering your email, but if you would please forward this to [my assistant] Emily, or if you need immediate attention, please call her at the office.
I have my personal email on my phone, so my assistants forward an email to me if it's important. I used to get about 700 to 800 emails a day. Yesterday I had three. Today, I've had none and it's the middle of the day.
You know what it's like? It's like returning to the days when I had 1,000 people working for me at the Corcoran group, and I actually had a secretary who would vet what came across. With email, the whole world comes across at you, and it's terrible. I don't know why it took me so long to see the enemy as clearly as I did.
On managing stress:
Most of my friends have expensive shrinks. I don't spend a dime on that. I work out and it gets rid of all my problems. The other thing I do is I garden. I pot plants on the terrace. I'm a potter. Nothing is better than pulling up weeds, potting bulbs. I just find that my stress melts away. And most importantly, I yell at my husband Bill. That's how I get rid of my stress.
On how becoming a mother ultimately inspired her to sell the Corcoran Group (for, reportedly, $70 million):
All my top sales people [at the Corcoran Group] were nut jobs and I was their mother and their shrink. They needed me constantly. The moment I had my son, I realized I couldn't be the best at both. I had an infant, and I was breastfeeding, and I was 46, so I was an old mom.
I started thinking, how do I exit? You know in hindsight, if I were to have had children earlier, I could have never built the Corcoran Group. You're too divided. I put 500 percent into my salespeople; they were the queens and kings of the universe. I would have nursed them if they asked me to. [Laughs.] I adored them, and they adored me back, and that's why we did so well in the end. But once my son entered the equation, I knew I couldn't do both.
On being a working mother now:
It's much harder. Here I am again, in business for myself and even worse, being the talent — so I'm the salesman and the manager, and I have a young daughter. I never feel like I'm doing enough for her. I second-guess myself every day of the week.
She has special needs, and I'm always trying to reinvent new ways to teach her. I'm always on it, and yet I feel like if I didn't work, I could do a better job. But I also think I'd be miserable making one child my entire focus because I get bored easy. So, I don't know. It's difficult. I have to say, it was easier to get rid of my phone [laughs].