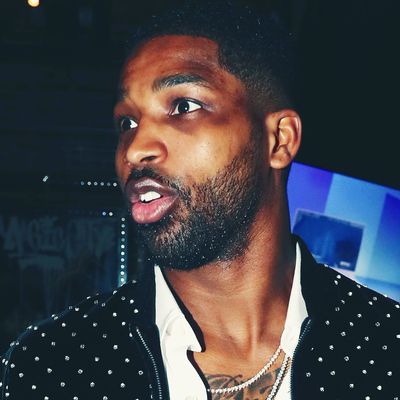 Tristan Thompson.
Photo: Johnny Nunez/Getty Images for Remy Martin
While Khloé Kardashian should be basking in the glow of first time motherhood with her NBA-star boo Tristan Thompson, the recent birth of her baby girl happened in the middle of a media firestorm about Thompson.
Footage of him allegedly cheating on Khloé surfaced days before the couple had their first child together which makes this the second time Thompson has been caught stepping out on a girlfriend while she was expecting. The story goes that Tristan started dating Khloé while expecting his first child with his long-term model girlfriend Jordan Craig. So in light of this footage being shared by TMZ and rampant accusations that Thompson cheated on Khloé many times with many different women throughout their relationship, it's worth asking: exactly how many children does the NBA star have?
The answer, surprisingly, is only 2.
Tristan Thompson's first and only son, Prince Oliver, was born on December 13, 2016. Nearly a year later, Khloé announced she was pregnant with Tristan's second child, a girl, with a simple black-and-white Instagram pic posted December 20, 2017. In the caption she explains how carrying her first child has brought her "the best bundle of feelings I've ever felt in my life! ❤️❤️❤️". Their daughter, True Thompson, was born on April 12, 2018. True came in weighing 6 lbs, 13 oz. Tristan was present for the birth of his second child although Khloé's older sister Kim Kardashian West reportedly wasn't happy about sharing the joyous moment with him in light of um … everything.