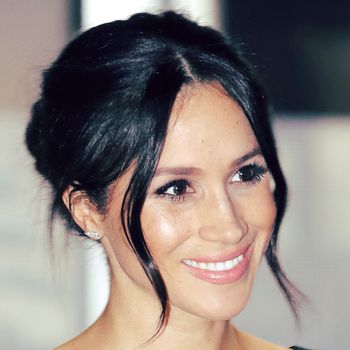 Meghan Markle.
Photo: This content is subject to copyright.
Before Meghan Markle was engaged to Prince Harry, she was just a regular girl starring on a TV show and trying to impress the Queen. We've all been there, right? In Vanity Fair's latest issue dedicated almost entirely to the royal wedding 2.0, biographer Katie Nicholl reveals just how much the Queen was reportedly impressed by Markle. An aide close to the Queen said she was "genuinely delighted" that Harry had found Meghan and gave her approval for the two to wed "without hesitation."
While the Queen trusts Harry's judgement, it doesn't hurt that Markle has wooed those in her inner circle — specifically Prince Philip and the Queen's corgis (RIP). She reportedly used ancestry to charm the Duke of Edinburgh, who called her "bold" and "confident." As for the dogs, Harry has said that they like Meghan more than they like him. They "took instantly" to her.
As a result, the Queen keeps inviting Meghan over and is more than happy to lend out her favorite estate for their wedding. Markle has been over to Buckingham Palace for tea and even got to go to Sandringham for Christmas. Though she and Harry were engaged at the time, going to their Norfolk estate for Christmas is normally reserved for the spouses. But the Queen doesn't mind when it comes to Meghan!
The royal wedding will be held at Windsor Castle in St. George's chapel. The castle is Queen Elizabeth's favorite residence and she frequently escapes from Buckingham Palace's 775 rooms to Windsor's 1,000 rooms on weekends. Nicholl takes the location as symbolic of the Queen's approval. The couple has also been told that they can get as crazy as they want to on their wedding day. Per Vanity Fair's royal source, "Harry and Meghan have been told there is no template they need to stick to. They can invite who they want, and the day is theirs to plan as they choose." That explains the hipster cake.