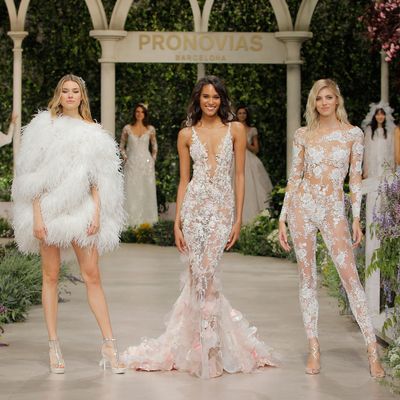 What started out as a family business in 1922 has amassed into dominating the global bridal market. With a physical presence on five continents, 155 stores in more than 105 countries, and over 600 dresses designed each year, if you haven't already heard of Pronovias you're bound to very soon.
Pronovias has simultaneously become the haute couture brand in the bridal market and has the ambition and grandeur of the Victoria's Secret Fashion show. All of the dresses are made by hand, and take up to 120 hours to finish — the detailing and embroidery are intricate enough for each bride to feel that she has a unique dress. Yet the shows are an impressive production of 50 looks in a massive venue with over 2,000 people from all over the world, Irina Shayk sitting front row, and models like Romee Strijd, Devon Windsor, Cindy Bruna and Tian Yi walking in the show.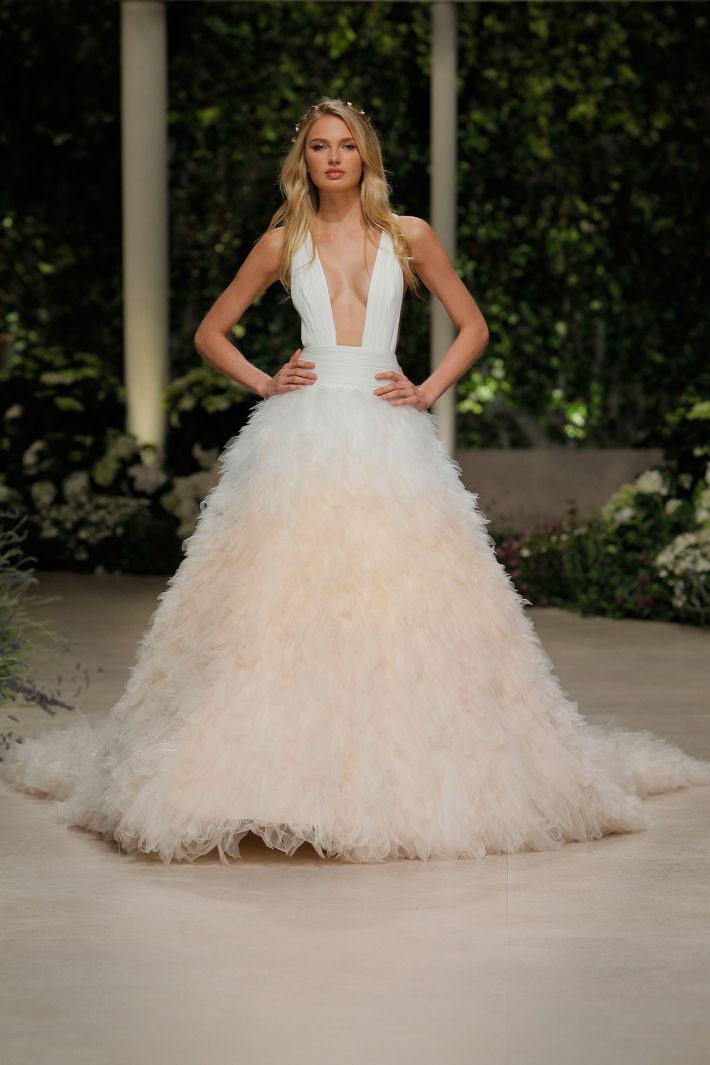 Barcelona is the second biggest bridal market next to China, and the Spanish brand has recently upped the ante in the European and U.S. markets. According to Reuters, last year founder Alberto Palatchi Ribera sold most of his stake in the company to private equity firm BC Partners for an estimated $627 Million. And with a new CEO, Amandine Ohayon, who was formerly Managing Director for L'Oréal, they're serious about this new chapter for the brand and reviving a market that can be incredibly competitive and repetitive each season.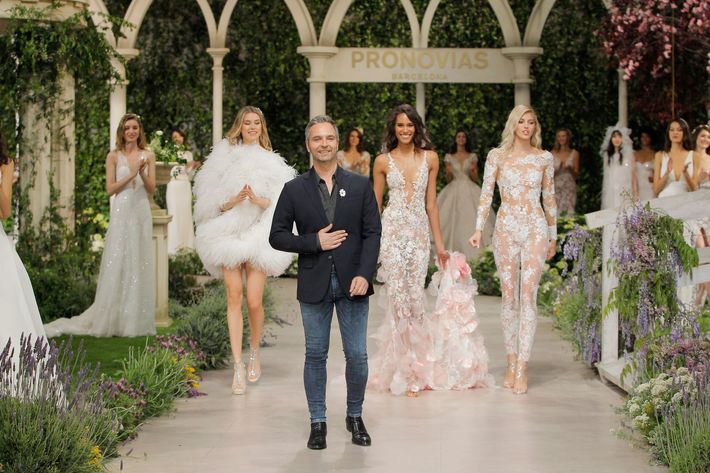 Creative Director Hervé Moreau previously worked on ready-to-wear collections under Stéphane Rolland among other designers, but admits, "I've been drawing bridal gowns since I was very young, I was fascinated by them." Moreau has been with Pronovias since 2013, and has expanded the brand to evening wear and bridal collections, totaling seven separate brands under the house of Pronovias.
For the atelier spring 2019 collection titled "In Boom," Moreau wanted to go in a contemporary direction, with fluid movement, natural elements, and color. Using the gardens of France and impressionist paintings from Monet as his starting point Moreau says, "I approached it in a new way because I wanted something different. I wanted to use color, new laces, new crepes, and new textures."
Moreau also took a practical approach of adding modern updates, like lighter fabrics, hybrid dresses with detachable capes, sleeves, and trains so brides can get multiple looks out of one, and thinking about all-day comfort, no-fuss silhouettes.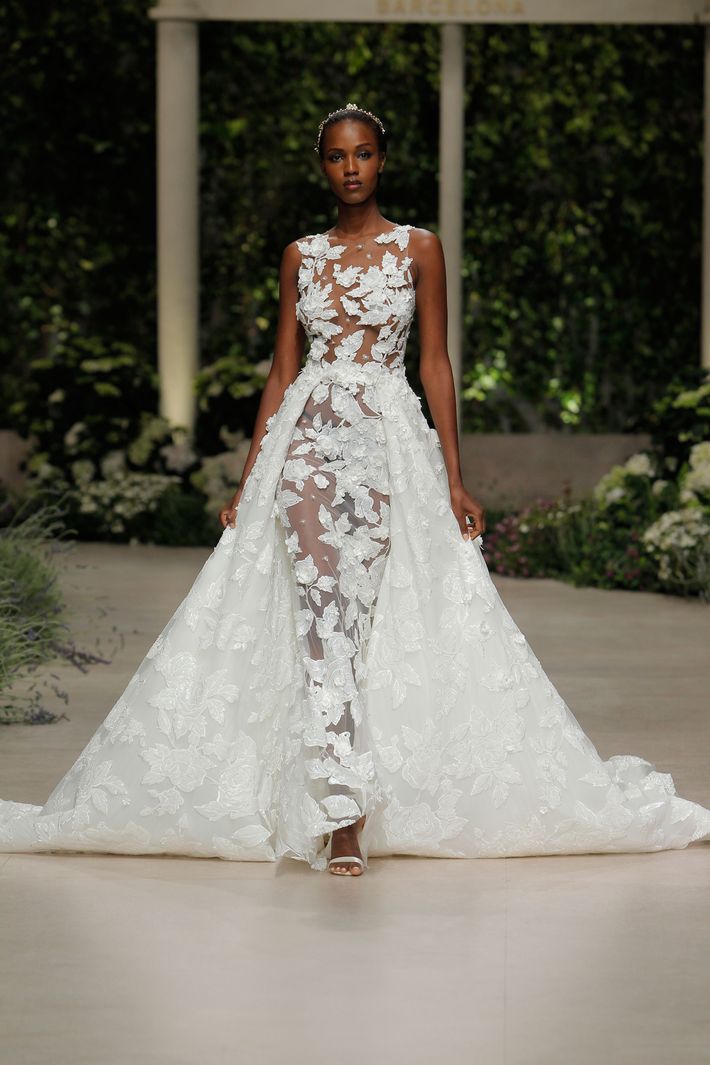 From custom feather creations to high slits and innovative transparency panels on mermaid gowns, it was refreshing to see Moreau's expanding definition of what bridal is today. All the little details like the the hair, the club music, and energy of the models hinted toward a glamorous note instead of the overdone bridal violins and sweetness.
So what is Pronovias getting right that others can't seem to in such an oversaturated yet in-demand market? Listening. Pronovias' signature aesthetic has always leaned toward a sexy, flattering fit. But Moreau isn't trying to reinvent the wheel, he's just giving brides exactly what they want: a wedding that hasn't been done a million times before.