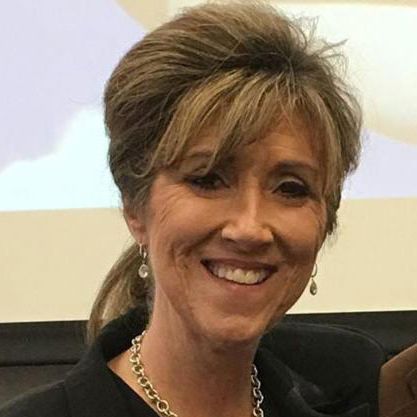 Tammie Jo Shults.
Photo: Kevin Garber/MidAmerica Nazarene University
CNN is reporting that Tammie Jo Shults, a Navy Veteran, was the pilot on Southwest Airlines flight 1380 — the plane that blew an engine yesterday, leading to one woman's death after she was partially sucked out of the aircraft. The flight, which was traveling from New York to Dallas, safely made an emergency landing in Philadelphia.
Southwest has not yet confirmed Shults's identity, but the passengers who identified her have hailed the pilot for her quick thinking, expert maneuvering, and "nerves of steel" while dealing with an engine failure at 30,000 feet in the air.
Shults joined the Navy in 1985, and according to a Navy spokeswoman, she became one of its first female fighter pilots before retiring with two Navy Marine Corps Achievement Medals and a National Defense Service Medal. That experience showed in her handling of a very dire situation: In newly released air traffic audio, Shults can be heard very calmly saying horrifying things like "We have a part of the aircraft missing." She regained control of the plane after it dropped dangerously low, and quickly assessed the needs of her passengers, alerting airport personnel that some would need medical attention. She also walked the aisles to calm the nerves of those who were very nervous about the whole possible plane crash/imminent death situation.
After all that, you'd think Shults might take a minute to bask in a job well done. But, as passenger Amy Serafini told CNN, once the plane had landed Shults turned around and hugged all of her passengers and told them they were the ones who did a good job. A classic hero move.