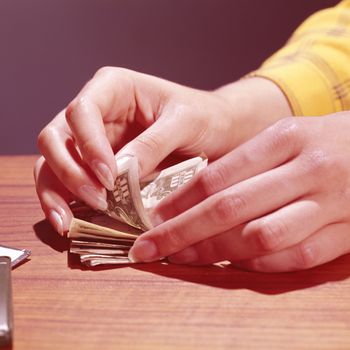 Photo: H. Armstrong Roberts/Retrofile/Getty Images
Abby, 27, lives in St. Louis and works as a waitress while she attends school part-time for her master's degree in social work. She lives paycheck to paycheck and doesn't have any savings. One of her friends recently got an abortion and had to pay over $1,000 for the procedure at a local clinic. Abby hopes she'll never be in that situation, and is generally responsible about birth control, but her friend's experience — and the current political climate — make her nervous about her options going forward. She's in a semi-serious relationship, but definitely isn't ready to start a family. What could she do, if worse came to worst?
An abortion is like a fire department — you never think you'll need one until you really, really do. You're smart to map out an emergency plan, Abby, especially at a time when the future of reproductive rights is so uncertain.
I've been polling friends all week, and it appears that most people have no idea how much an abortion costs. In my early 20s, I naïvely assumed that if you could get yourself to a Planned Parenthood — not an easy or inexpensive feat, in many states, but doable in New York City — they'd "take care of it," money being no object. Then a friend of mine got pregnant by accident, went to Planned Parenthood, and still had to come up with $500 for the procedure. Her experience woke me up to the fact that an abortion is far from free, even in a relatively high-access area like Manhattan.
According to Planned Parenthood itself, an in-clinic abortion (also known as a surgical abortion) can cost between $400 and $1,500 in the first trimester, whereas a medication abortion (also known as the abortion pill) usually costs between $400 and $800. The price also depends on where you seek care (hospitals are often more expensive), and how long you've been pregnant — the longer you wait, the fewer options you have, and the greater the expense. A second-trimester abortion can top $2,000 — not including related costs like travel or taking time off work (which, in certain industries, could jeopardize your employment altogether).
If you have private health insurance, then you may be in luck: There's a good chance it'll cover at least part of these costs — if you want it to, that is. "We've found that the majority of women with private health insurance still pay for abortions out of pocket," said Dr. Rachel Jones, a principal research scientist at the Guttmacher Institute, which collects data to advance policy on sexual and reproductive health. "Research has shown that it's due to a variety of factors. Some plans don't cover it, and some women just didn't want to go through the process of trying to find out if it theirs did. Other women didn't want it on their insurance health-care records. And if a woman gets her health insurance through a parent or a spouse and doesn't want that person to know about her abortion, then she'll pay out of pocket." Even if your insurance does technically offer coverage, many women of childbearing age have relatively high deductibles — you're still left with the bill.
If you aren't covered, you have a couple of other options, which I'll get to in a minute. But first, I strongly encourage you to do whatever it takes to create an emergency fund. If you have insurance, these savings will mean you can choose whether you want to use it — and if you don't, this money will make sure you can still afford an abortion if you need one. Aim to sock away about $1,000, gradually. Go through your paychecks and set a weekly goal. It won't be easy, and might involve taking on extra shifts or getting a(nother) roommate, but the grim truth is that your access to reproductive rights in the coming years may become much more dependent on how much money you can pay for them.
In the meantime, what happens in the worst-case scenario — if you need an abortion, insurance isn't an option, and you don't have enough saved to afford one?
Women grappling with these questions are in good company: The majority of abortion patients in the U.S. can't afford the procedure at all. Nearly half (49 percent) of them live beneath the federal poverty level, and another quarter (26 percent) fall under the federal definition of low-income, according to a study by the Guttmacher Institute. When you factor in surveys showing that nearly 70 percent of Americans — including men earning 100 cents to our 70 — have less than $1,000 in savings, then it's obvious why most women wouldn't be able to pony up the $400 to $1,500 that a first-term abortion costs. The money just isn't there.
If you find yourself in this situation, you can turn to a hodgepodge of financial-assistance channels, but be aware that these options are limited, particularly in certain states where abortion laws are more restrictive. One option is Planned Parenthood, which charges patients on a sliding scale. However, as Planned Parenthood gets whacked with more anti-choice legislation, their clinics may become fewer and farther between, and less accessible to the financially disadvantaged women who need and use their services the most.
Another channel is Medicaid, but in most states, you'll only qualify for coverage if your pregnancy is the result of rape or incest, or poses a threat to your life. (This is according to the 1976 Hyde Amendment, which recently made headlines when President Trump pledged to write it into permanent law.) Fifteen states supplement federal Medicaid dollars with their own funds to help cover abortion costs where needed, but Missouri is not one of them. (You can see a map of those states, here.)
Which brings us to the National Network of Abortion Funds (or NNAF), which consists of 70 local abortion funds, spanning 38 states, that help women cover the costs associated with getting an abortion. The NNAF provides a comprehensive guide to its resources by region, here. They also recommend calling around to your local clinic — listed on the National Abortion Federation's website, here — to see what they offer in terms of financial assistance.
Unfortunately, these funds are consistently swamped. According to NNAF's director, Yamani Hernandez, they receive over 100,000 requests a year, but they only have enough money to help a fraction of them. "Our funding doesn't allow us to support two-thirds of the people who contact us," she told me over the phone.
NNAF also pitches in with related expenses, like gas money or a bus ticket; Hernandez says that the women who contact them travel an average of 140 miles to get the procedure. Volunteers might offer car rides, a place to stay, or even child care for the 59 percent of abortion seekers who already have kids. "A lot of people don't realize that most people who get an abortion are already parenting, and cite that is the reason for their abortion — they're trying to be the best parents to the kids they already have," she said.
Luckily, Abby, you're not in this position right now, and part of your game plan should involve keeping it that way, especially while you're in school. When you're researching local clinics, see if they can subsidize an IUD or other long-term contraceptive — some receive grants that allow them to do so. I also want to remind you to be mindful about guarding your privacy when it comes to your internet searches and digital communications about abortion. Here's a comprehensive guide to how to protect your digital records. Do everything you can to build your own safety net, Abby. Your career may depend on it, as well as your ability to support yourself and a family if (or when) you want one.