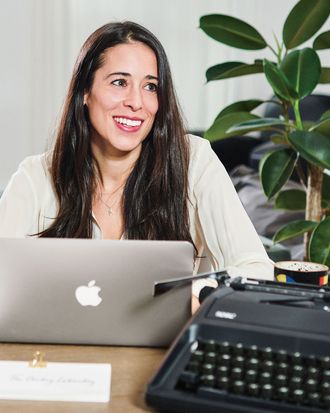 Victoria Wellman.
Photo: Kyle Dorosz
In our Ask the Experts series, New York Weddings gets tips and advice from professionals in disciplines from dress design to cake-making.
Victoria Wellman
Co-founder of Oratory Laboratory
What's new in the wedding-speech world?
There was a time when clients would explicitly not want to talk about the fact that they met online. But now, nine years into when we launched the Oratory Laboratory, couples who have origin stories tracing to apps like Tinder or Bumble know it's good speech fodder. Plus, those dating-app stories lend themselves to visual elements the speechwriter can use, like throwing up a slideshow with profile pictures. Another more recent development is that brides are speaking at the reception a lot more these days, whereas traditionally it would just be the groom.
What's the process like with your clients?
We first meet with you — whether you're the bride or groom or best man, whoever it is that needs the speech help — over the phone and then do a customized questionnaire we base on that conversation. If you said yoga is your future husband's favorite activity, we want to know what studio, what days, and if he brings his own mat because he's afraid of germs. After that, we write a draft, ask for very specific feedback on it, and make changes. We can also do a session where we go over delivery: how to land the jokes and where the pauses are. Prices start at $750.
What's the biggest mistake wedding speakers make?
They make it too much about themselves. If you're telling a story about that time the two of you were running through the airport for an international flight that left in ten minutes, skip the part about how you ran track in high school; focus on the details of what the other person was doing — how he or she was unflappable while trying to barter with the unsympathetic airline attendant. When the speech is over, you don't want the takeaway to be about you. And you don't want it to be any longer than seven minutes.
Any other general speech guidelines?
In terms of the emotional note you want to strike, you can think of a great TV commercial — like that Samsung one where the ostrich gets the virtual-reality goggles stuck on his head. It's a little funny, a little weird, but also uplifting; your speech should capture a moment through an anecdote that is all three of those things.
How do you handle writing vows?
One option is that I write two sets of vows that mirror each other in structure but differ in specific content about each person. I can add jokes that speak to each other. The fun thing about couples keeping their vows a secret is that when they're there in the moment on their wedding day, the echoing of their words will be a surprise. In general, amid all the sincere promises, I'm all for including some that don't feel so earnest. Like: "I promise to keep our fridge stocked with cheese sticks."
646-820-4807; theoratorylaboratory.com/.
"A wedding speech should be 70 percent humor, about the first two-thirds. You can get sweet toward the end, then funny again for the wrap-up."
*This article appears in the summer 2018 issue of New York Weddings.