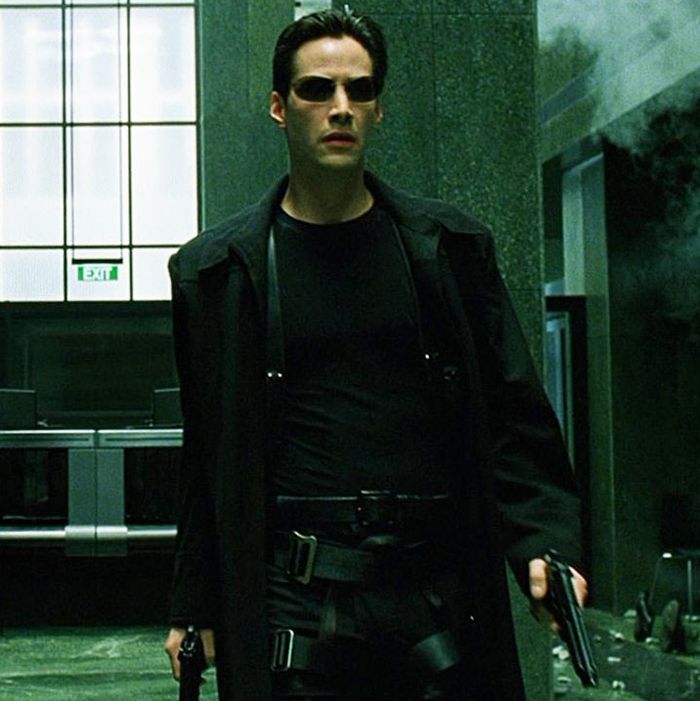 Trinity and Neo in
The Matrix
.
Photo: Warner Bros
You ever have that feeling where you're not sure if you're awake or still dreaming?
If you live in the United States of America today, I'm going to assume the answer is yes. But this feels particularly true in the fashion world right now, with celebrities, models, and street-style stars all looking like they just walked off the set of The Matrix. Last week, a headline in the Daily Mail read: "Bella Hadid looks like she stepped out of The Matrix in all-leather outfit and dark shades in NYC."
It's a trend that arguably began when Kanye West sent Kim Kardashian a memo telling her she could only wear tiny sunglasses. But designers like Demna Gvasalia of Balenciaga and Vetements, Alexander Wang, and Olivier Rousteing of Balmain all recently gave the look a modern update as well. When celebrities like Bella and Gigi Hadid paired their tiny sunglasses with vinyl coats this winter, the similarities to Neo and Trinity were impossible to miss.
Fashion designers are always looking to the future, but the trend speaks to current cultural phenomena too, despite the fact that The Matrix was released in 1999. Just look at any front page today: Christopher Wylie, the Cambridge Analytica whistle-blower, dresses like he could be a member of Morpheus's platoon. Meanwhile, teenagers talk of "finsta" accounts; our fashion influencers are computer generated; and virtual reality is becoming more tempting than real life. Keanu Reeves is also making a bit of a comeback himself with a Squarespace ad running during the Super Bowl and a meme account dedicated simply to him doing things.
At this point, the Matrix is so ubiquitous in 2018, it's almost a joke. Which is exactly why I decided to take things one step further: Do tiny sunglasses and latex coats hold up in reality? I popped a proverbial red pill to find out …
Day 1: Escape From Reality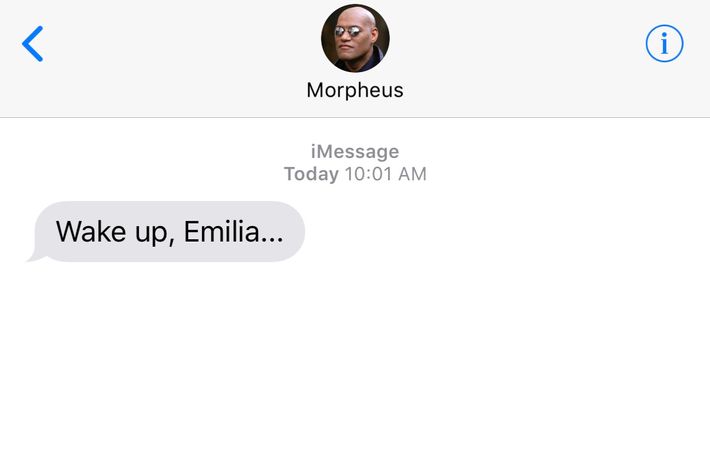 It's Monday morning and I'm dozing off at my cubicle when suddenly I'm contacted by a guy who calls himself "Morpheus." I tell him he has the wrong number, and that he should be more careful about butt-dialing people. But now I'm awake, and still desperate to escape from reality.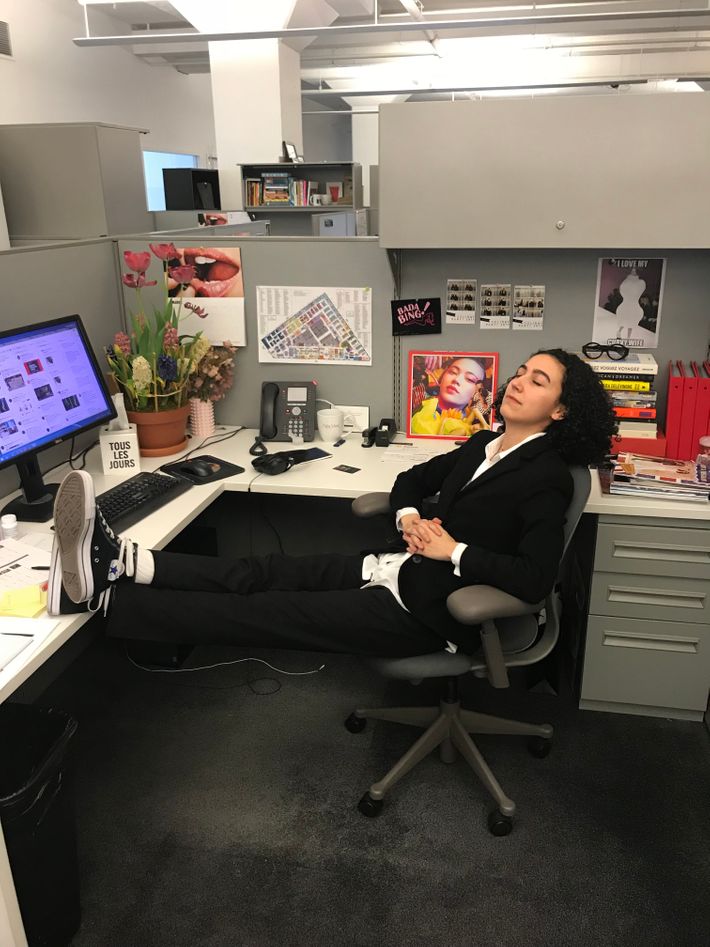 Strange things continue to happen through the afternoon. My co-worker, for example, comes up to me and offers me a red M&M or a blue M&M. She tells me that if I eat the blue M&M, "the story ends." I'll wake up in my cubicle wearing my same boring corporate uniform, believing whatever I want to believe. But if I eat the red M&M, I'll "stay in Wonderland," and she'll show me "how deep the rabbit hole goes."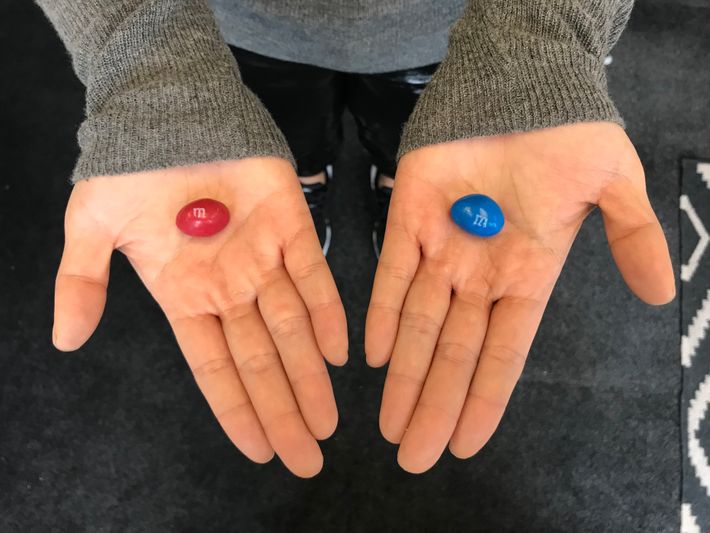 I don't know what she's talking about, but ask if I can eat both M&M's because I'm hungry. She says no. I take the red M&M and contemplate emailing HR.
Day 2: Down the Rabbit Hole
The next morning, I go about my daily routine: I put on my Uniqlo black turtleneck and blazer and head down into the subway to commute to work. But something is off. I miss my stop because I'm distracted by a woman in a red dress. I feel like I'm walking against the tide — like I know something everybody else doesn't. I couldn't say what, though …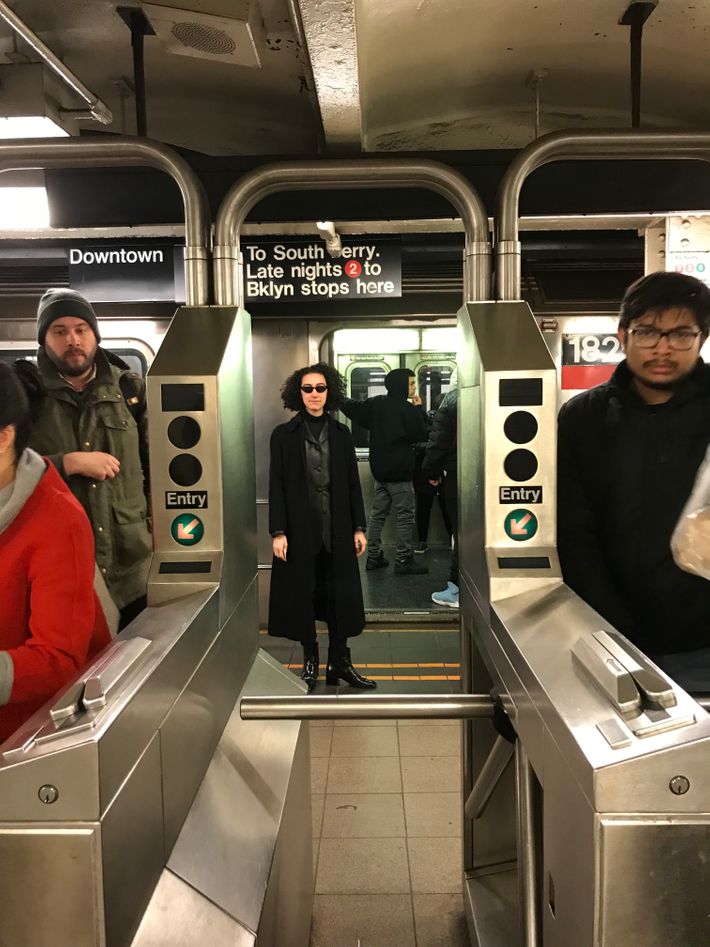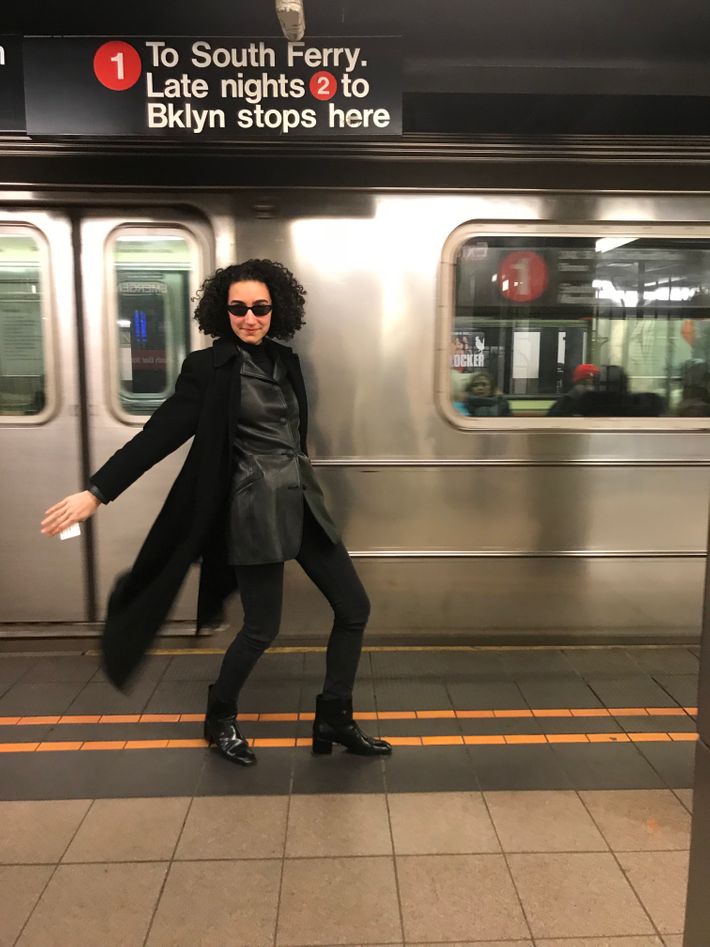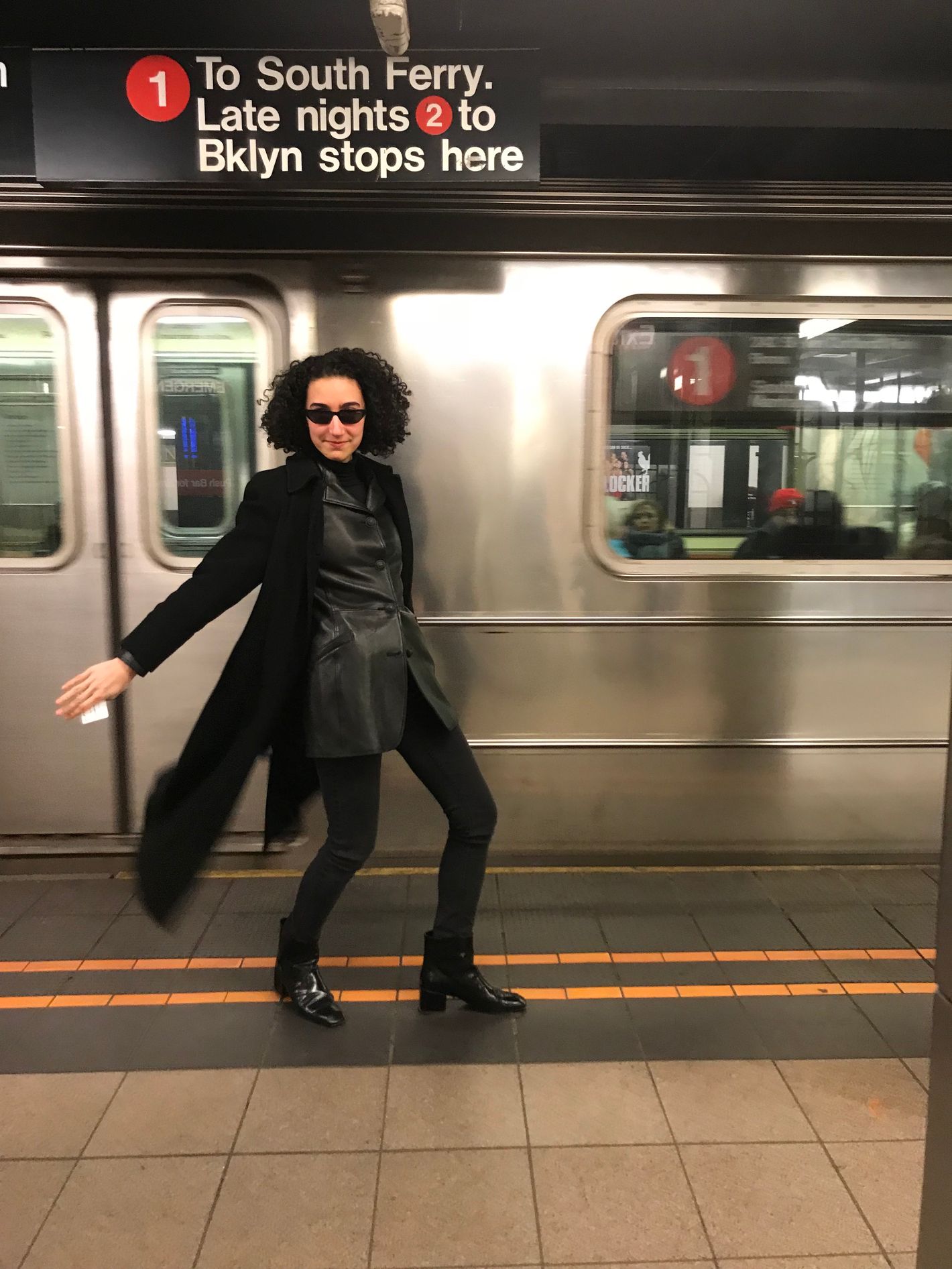 Day 3: Training Begins
Something tells me that if I push the limits of my body and mind, I'll find what I'm looking for — and perhaps unlock my full potential. During my lunch break, I do some cardio in the park across the street. I learn that it's actually very hard to jump in combat boots.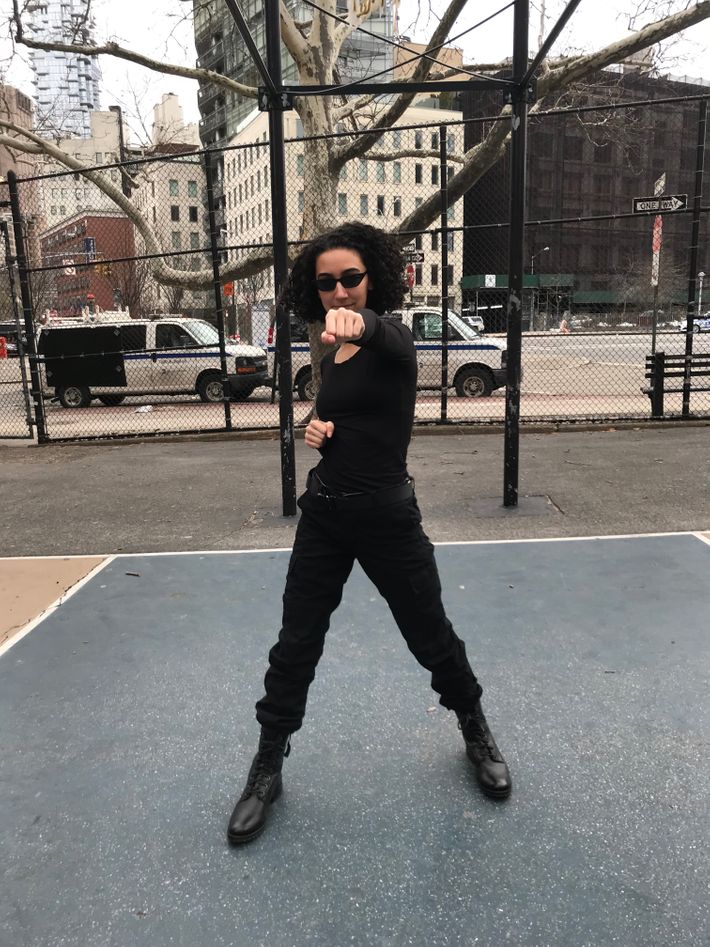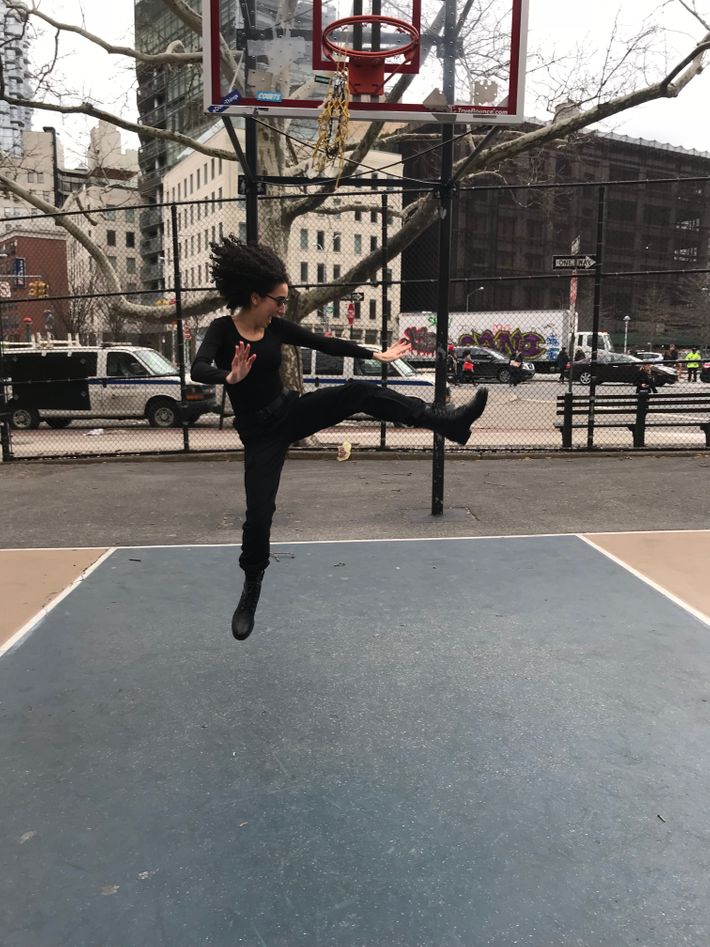 Day 4: A Glitch in the Weather
After a day of working from home in hacker sweatpants, I discover that latex is actually perfect for venturing outside in a snowstorm, as it wicks off water. (I would advise against layering latex, however, as it sticks together and makes very awkward farting noises.)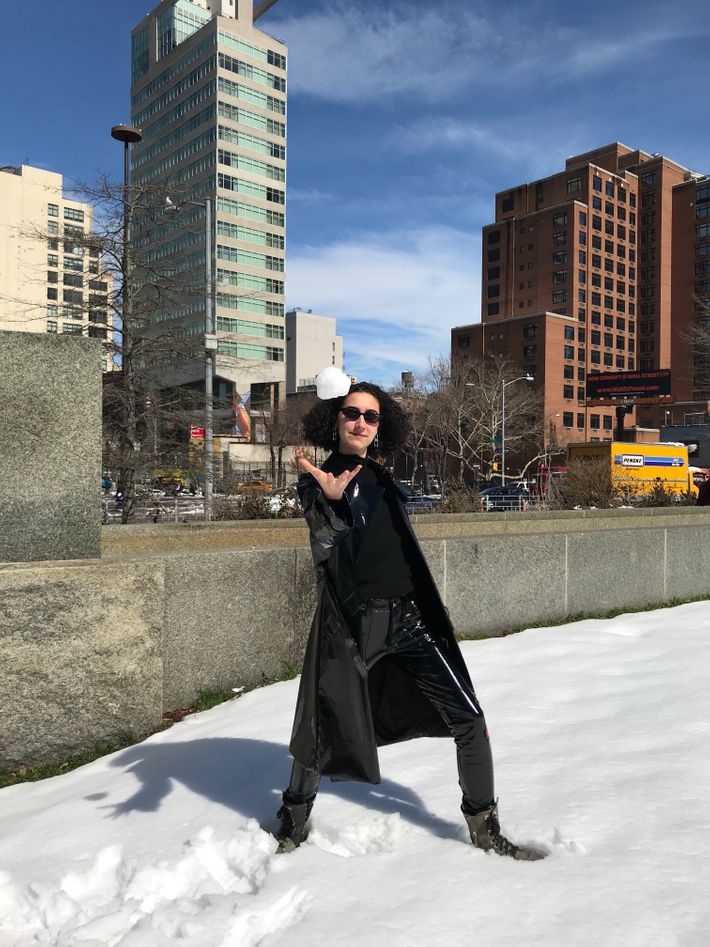 When I go to make a snowball, I tell myself that the debilitating cold I'm feeling in my hands isn't actually real; it's all in my head. There is no snow. "Dodge this," I say to no one in particular.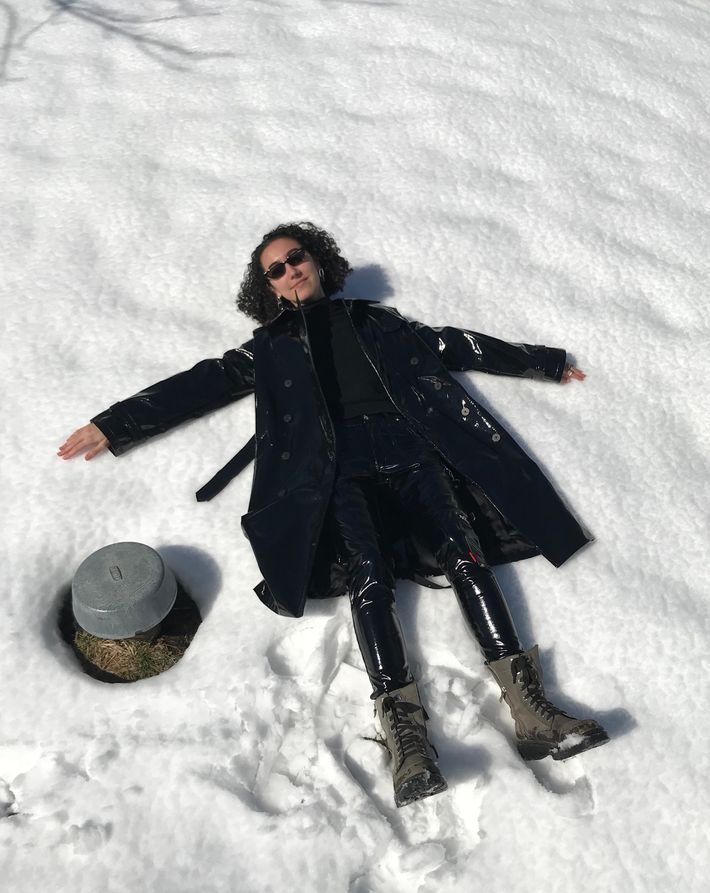 Now that the clouds have parted, I'm starting to see things more clearly.
Day 5: I'm the One
It's not easy being a hero, but it is actually pretty easy to dress like one. If I've learned anything from my Matrix fashion journey it's that the film's costumes aren't that out of place in 2018 — especially in New York City, where everyone has always worn black. No one blinked an eye at my antics. But now I understand that all the wardrobe choice I've made in my life have led me to this moment: It's destiny. I'm the one, too.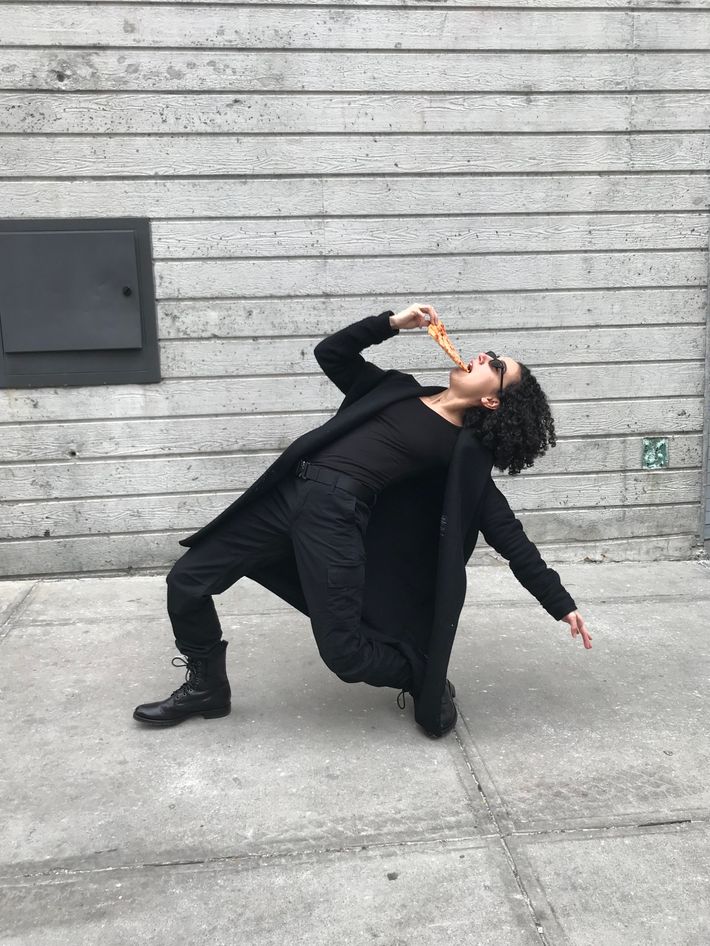 Special thanks to Emily Sundberg, Diana Tsui, and Lindsay Peoples Wagner for photographing/styling/art directing.