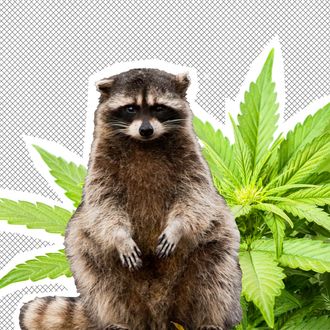 Just in time for 4/20 (which is Friday, mark your calendars!) comes the unfortunate tale of one woman, her pet raccoon, and some weed.
Last week, firefighters at the Wayne County Fire Station 82 in Indiana were woken up at 2 a.m. by the sound of a frantic woman repeatedly ringing their doorbell, the fire department shared in a Facebook post. The woman, whose name has not been disclosed, was holding a furry animal in her arms, which turned out to be none other than her pet raccoon. The fire department's spokesman Michael Pruitt told the Washington Post that the raccoon appeared to be quite "lethargic."
And you know why? Because that raccoon was super stoned.
The woman told the fire department that her pet raccoon must have somehow gotten into some weed — not hers (since marijuana is illegal in Indiana), but someone else's (sure, okay). "We typically love to help, especially when it comes to animals. We have a lot of animal lovers in the fire service," Pruitt told the Post. "But in this case, they just recommended, 'Hey, the raccoon is going to have to sleep it off.' "
But because having a baked raccoon in a fire department is apparently pretty rare, the Indiana Department of Natural Resources ended up getting involved, wanting to know whether the woman had a permit to keep a raccoon as a pet. The firefighters, however, didn't have any of that information or even seem to care (how cool of them).
Pruitt explained, "We're not in the business of policing who has permits for their animals and who does not. We do not expect her or the raccoon to come out of the woodwork to claim credit for the story."
We guess animals are just really into edibles nowadays.