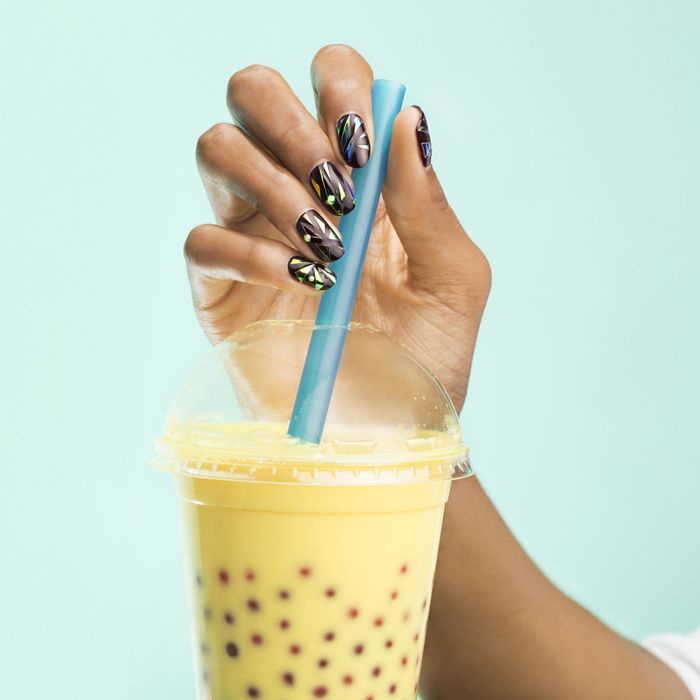 Photo: Courtesy of Sally Hansen
Last week, nail polish brand Sally Hansen debuted a new set of nail appliques called K-Design, a limited-edition collection meant to "capture the style and essence of Korean beauty." Instagram and its influencers noticed that the products bore a striking similarity to designs produced by Seoul's biggest nail artist, Eun Kyung Park. Better known as Unistella, Park has been heralded as the creator of the shattered glass and wire nail trends; the new products from Sally Hansen are named Glass, Diamond, and Wire.
Over the weekend, Diet Prada (@diet_prada), Aimee Song (@SongofStyle), and Irene Kim (@Ireneisgood) posted Instagram Stories and posts accusing Sally Hansen of copying Park's work. Park herself posted on Instagram, "You approached me last year to propose a collaboration, which was incredibly exciting as I thought this could perhaps be the beginning of a true partnership. Instead, decisions were simply made without my involvement. I found out after the fact that #glassnail #wirenail designs were being sold without my knowledge."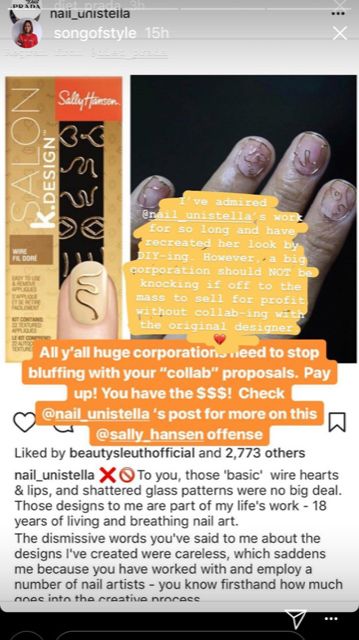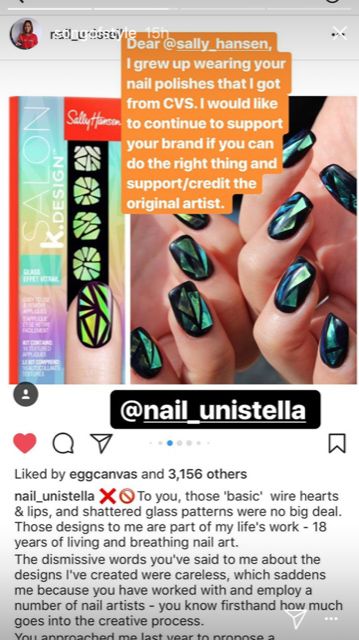 Park's supporters took to the comments section of Sally Hansen's latest Instagram post, with up to 800 messages. Some asked for retailers such as Target to stop carrying the design. In the latest development, K-Designs sales appear to be halted at the store, with a recent search for them on Target.com returning: "Product not available." Last night, Park posted a new Instagram crediting her fans for the move, writing, "So many of you called, sent dm's [sic], and emailed them on my behalf. I couldn't have done this without all of your support." Target told the Cut they were unable to comment on the situation.
When reached by the Cut for comment, Sally Hansen sent over this statement: "Recently, we launched a K-Beauty Design Kit, a trend-driven product we're proud of and one that has been in the making for quite some time. Any time we develop a new product, we look for emerging trends and at many sources. We consult third-party trend forecasts, work with internal and external creative teams, seek the advice of suppliers, and employ extensive social listening methodologies. As a top nail design influencer, Eun Kyung was certainly an inspiration, as she is for the entire nail art world. But she was not the only, nor the first, source of excitement around these trends that have more than 125,000 references on Instagram alone, with posts dating as far back as 2012. We admire Eun Kyung's talent and are sorry if she feels anything less than our admiration for her work."