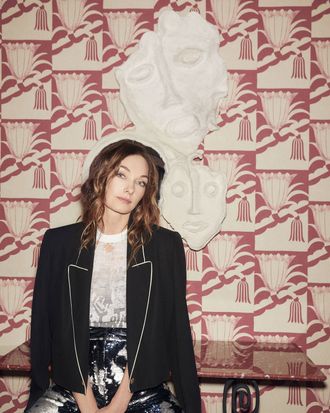 Kelly Wearstler.
Photo: Olivia Malone
Interior design powerhouse Kelly Wearstler is all about balance. It's the philosophy behind her eclectic, sophisticated interiors — which mix edgy pieces with vintage treasures. "I love historic design, I love things that are vintage, I love antiques; but, I also love super cool emerging art and sculpture," she says. "When I design, there is always something old and something new, and that's also how I dress."
Growing up in Myrtle Beach, South Carolina, Wearstler accompanied her mother, an antique dealer, to auctions and flea markets. At age 18, she headed to Boston to pursue degrees in architecture, design, and art history, scoring apprenticeships on film sets and with Milton Glaser, the iconic graphic designer and New York Magazine's co-founder, along the way. Her big break came when she refurbished a residence in Venice Beach, California, which led to more high-profile commissions, and soon Wearstler's eye earned her a reputation for taking risks and transforming ordinary rooms into over-the-top spaces.
Today she runs the global lifestyle brand Kelly Wearstler, putting her glamorous spin on everything from boutique hotels to Bergdorf Goodman's iconic BG restaurant in New York and curated lines of furniture, fine china, home accessories, lighting, rugs, and wall coverings. Her most recent string of transformations is an ongoing project for Proper Hotels, spanning San Francisco, Hollywood, Austin, Los Angeles, and Santa Monica, and she was at the center of Westfield Century City's one-billion-dollar mall makeover last October. "I like that one day I'm problem solving and designing a hotel, and the next day I'm working on lighting or a new fabric collection. I love, love what I do."
Below, the designer discusses her favorite books, salon stylist, and the fragrance that brings her back home. Read on for the full Q&A.
What's your guilty pleasure?
A triple espresso macchiato from Urth Caffé. It's strong and it's probably the closest thing to a true coffee you'd get in Italy. It's really delicious.
How do you thank people for a gift?
A handwritten note.
Color or no color on your nails?
I wear Chanel Le Vernis in Garçonne.
What are five coffee-table books you'd be proud to display?
Goodbye Picasso by David Douglas Duncan. It's a bunch of photos of his different work, and the book is cool, and it just pays homage to his life.
SEX and Seditionaries by Punk Pistols. It's filled with cool T-shirts. I love the '80s, I love punk, and it's just a really cool book.
On the Edge: Images From 100 Years of Vogue. This is a great out-of-print book, I think done in the '90s. It is fashion in all the different eras, and really incredible photographers, fashion, just a really great stylish book.
Victor Vasarely. Another amazing artist who is a little more [of a] graphic artist. He's one of my favorites. The cover of the book is beautiful, and the content — there's a lot of different types of paper, and pullouts, and it's a three-dimensional book.
And Dubuffet. This is another great graphic book that has graffiti on the cover, it's a really beautiful book to have out. And I love his art, it's incredible.
Heels or flats?
I honestly like both and I wear heels to work sometimes, and I also wear flats. It just depends on what I have on. I'll wear a cute little dress to a party at night and have flats on. When I wear heels, I stay in them all day, even if I'm going to a construction site. I've been to so many I know how to maneuver around pretty well. I stand all day, it doesn't bother me.
What is something you'd never wear?
One designer head-to-toe. I always mix old and new.
If you were a car, what kind of car would you be?
Aston Martin Rapide.
No-makeup makeup, or actual no makeup?
No makeup. I wear SkinCeuticals tinted sunscreen every day and then I also have a jasmine face spray, it's called, May Lindstrom the Jasmine Garden Botanical Mist. I spray that on my face all throughout the day. It feels so refreshing. Sometimes I'll wear a little mascara, but it's very light.
Go-to salon and stylist?
Cassondra Kaeding at Mare Salon.
What is your fantasy vacation?
Traveling the world for a year with my family. We just went on a trip this summer. We went to three different, distinctive places. We went to Africa, to Tanzania, then we went to then Maldives in the Indian Ocean, and then we went to Lisbon, Portugal. And we had three different experiences each week and it's so nice switching gears: new culture, new food, new environment, new everything, and of course being with your family is the best thing in the world. Just having a year with them of not working, and us all educating our eye and our palette and our brains, that would be a dream. A fantasy.
Dream luggage?
Goyard Rolling Luggage.
What's your favorite…
Pair of jeans?
Ksubi, Re/Done, and R13.
T-shirt?
Vintage or Re/Done.
Flower?
I love all flowers, but my favorite floral stylist is Metaflora in New York City.
Fragrance?
Nymphaea Caerulea by Régime des Fleurs. It reminds me of Myrtle Beach where I grew up. I can't quite put my finger on what it is, but it is a scent that was around our house. My mother always had flowers, and we lived on the beach. I don't know if it's the combination of the beach and the flowers but it just smells like home.
Chocolate maker?
Compartés. It's a family-owned company, and it's actually been around since the 1950s and I love that because it's like old and new. It's an old grandma who started this company [and her] great grandson is bringing it back and dusting it off and making it relevant and cool. We do the packaging for a line of chocolate bars with them. All the ingredients are organic and they have interesting flavors like Tequila Lime Chocolate and Tortilla Chips & Cayenne Bar, which are my favorites.
Bedding?
Sferra Giza.
Lip Balm?
Dr. Haushka. I don't really wear lipstick. I always like having something hydrating on my lips and I like that it's natural.
Olive oil, coconut oil, or face oil?
Olive oil. Once a month I actually put it in my hair. I leave it in for a few hours. It's amazing, it just gives it a nice sheen. I'll put it on my hands, too.
If you buy something through our links, New York may earn an affiliate commission.