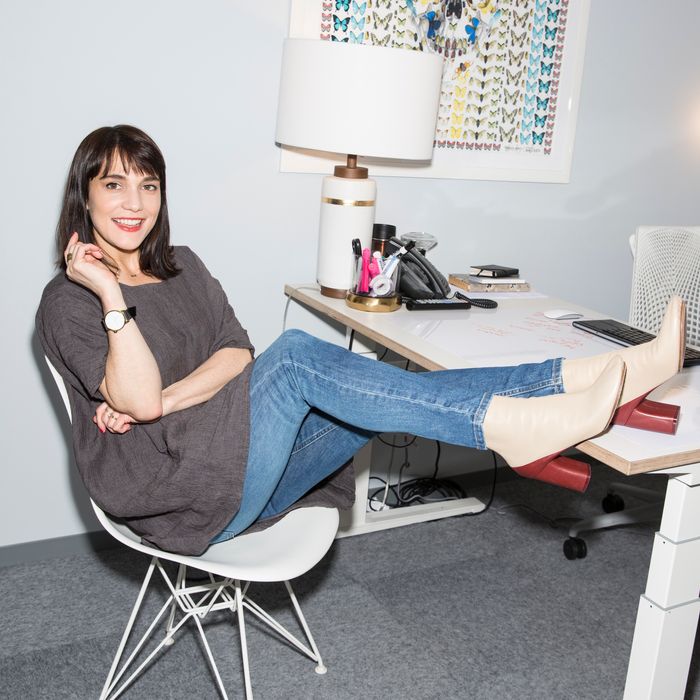 Amanda Kludt wears Céline ankle boots.
Photo: Victoria Stevens. Produced by Biel Parklee.
In Her Shoes is a column about what real women wear when they need to get things done.
As the editor-in-chief of the restaurant site Eater, Amanda Kludt oversees 24 city sites, directs the brand's video and social-media channels, and manages a staff of 80. Under her leadership, Eater has run everything from award-winning city guides to takedowns of racist restaurant reviews to exposés of sexual harassment in the food industry. Somehow, Kludt also finds time to write, most recently publishing a defense of restaurant sundaes.
After graduating from New York University, where she studied politics and journalism, Kludt got her first job as the office manager at Metro, the free city newspaper. From there, she moved to Gridskipper, Gawker's defunct travel site, before joining Eater in 2008. She rose through the ranks, becoming editor-in-chief in 2014. The Cut caught up with her at Eater headquarters, where Kludt talks about how she tries to remain comfortable but professional in her casual office.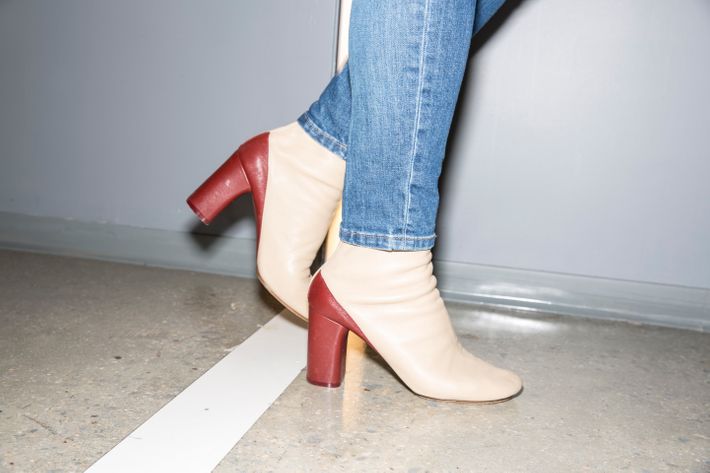 On her shoe uniform: I pretty much wear the same shoes all the time: Bensimon sneakers that I wear through and then replace. I also love Rachel Comey's mules and booties, plus I'm a fan of Everlane loafers and sneakers. In a dream world, these luxurious Céline boots are a stylish option without being too avant-garde for someone with simple fashion tastes working in a casual office.
On her big meeting outfit: I always choose some combination of black pants with a silk shirt under a blazer plus heeled mules. It's easy, looks good, and always works.
Shop Silk Blouses
On her go-to Monday outfit: I have this long patterned COS sweater that I love so much I only let myself wear it once a week. So on a Monday, it's probably that with some sort of jogger pants. I also love this Elizabeth Suzanne cropped top. I find that it's easier to ease into the week by picking your favorite pieces.
On going out: I go to drinks or events two or three times a week, and I wear this 7115 by Szeki jumpsuit with heels probably more than I'd like to admit. If I really need to dress up my outfit, I like to throw on a blazer, usually from the same brand, though Aritzia is another favorite too.
The reality is that I'm never going to be that person at the party or dinner in a cocktail dress because that wouldn't fly at the office and I have no time to go to Brooklyn to change. Luckily, these days the hot restaurants are never that fancy, so I never feel too underdressed.
Shop Heeled Mules
On dressing for a casual workspace but still remaining professional: While in the office, I'm usually either working on writing, editing, or other projects, or meeting with my own staff or colleagues from other departments. I don't need to dress to impress clients, so my goal is to be comfortable but not so casual that I look sloppy or embarrassing. We have an extremely relaxed office environment, but I do need to be somewhat professional even though I'm wearing hole-y jeans and sneakers much of the time. I like to project a cool, sophisticated, laid-back vibe.
Amanda Kludt wears Céline soft ballet ankle boots, $1,100 at Céline boutiques.
If you buy something through our links, New York may earn an affiliate commission.