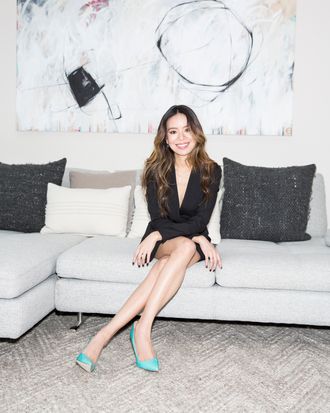 Photo: Victoria Stevens. Produced by Biel Parklee.
In Her Shoes is a column about what real women wear when they need to get things done.
Growing up in Malaysia, Kimberley Ho never thought she'd wind up working in the same field as both of her parents. After graduating with an economics degree from Stanford, Ho took a cue from her financier father and went straight into banking at Goldman Sachs. After two years she was poached by Oaktree Capital, a famed investment fund, that manages over $100 billion in assets. But being the one of the few women in a traditional, non-creative environment made her unhappy and so she left after two years to form her own company, a lesson she learned from her entrepreneur mother.
Now she's the CEO of Evereden, a non-toxic personal care product line, that will simultaneously launch both in the United States and China later this year. Ho's newest venture requires her to split her time between the two countries, and her hours are anything but ordinary: she'll be up at 7 a.m. to answer the previous day's emails from Asia before ending her night with conference calls at 11 p.m. The Cut caught up with Ho, who talked about how her style has adapted from corporate to start-up life.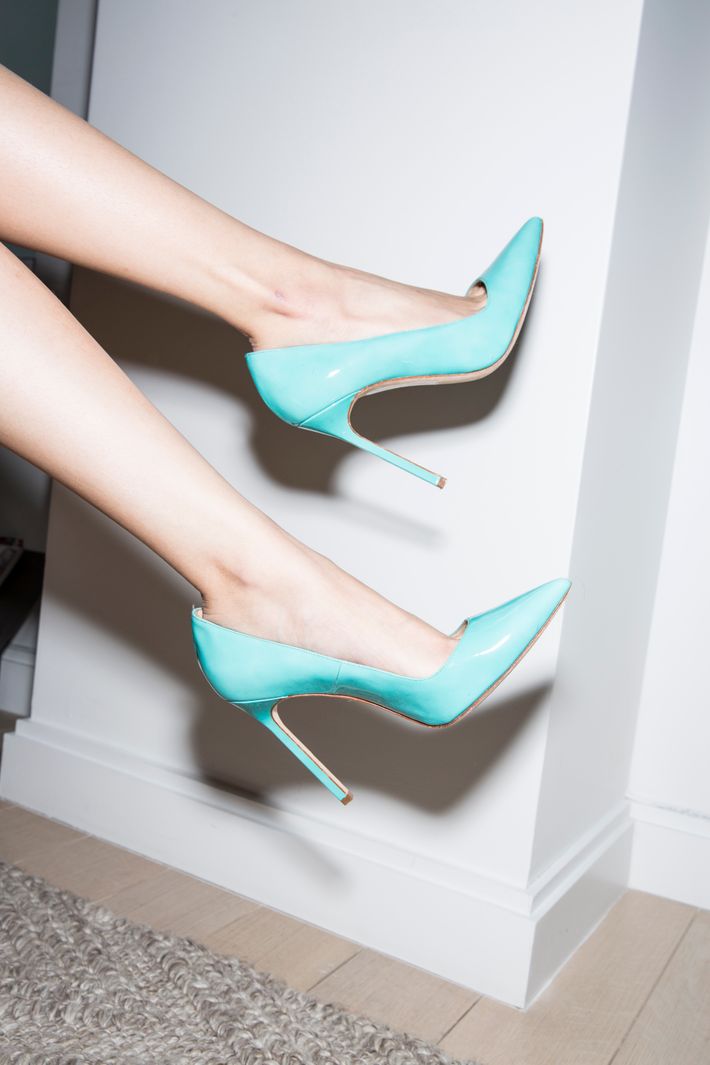 On how her former corporate life affects her style now:
When I was an investor and investment banker, I wore only safe, boardroom-appropriate black, nude, or navy pumps. Most of my meetings were with C-level executives of some of the largest companies in America, and fashion was just not part of the agenda. Now that I run my own start-up, I gravitate toward colorful shoes whenever I can. I love red, turquoise, or any kind of embroidery. I love a strong patent-leather bootie or anything with an interesting heel. My favorites at the moment are Rejina Pyo or Acne mules or if I'm keeping it classic, pointy Jimmy Choo pumps.
Shop Interesting Mules
On what she wears to a big meeting:
I like to keep it simple with a Theory wool open jacket over a shift dress from Roland Mouret or Antonio Berardi. I'm also a big fan of jumpsuits, or high-waisted, wide leg pants with a long, white ADAY button-down shirt. For shoes, my meeting pumps are Jimmy Choo pointed black heels. They're the ultimate boardroom heel.
On the four types of shoes in her desk drawer: 
I'll have ballet flats for the commute, slip-ons or mules for everyday office comfort, and when I need to get cracking on work. There are also classic black heels for the big meetings, and finally a fun evening heel for going out. I'm really into. Victoria Beckham's Dorothy Pump — it makes me think of Oz and costume parties, candies and cocktails.
On what she wears for post-work plans:
I'm into sleek '90s minimalism these days, and I love bias slip dresses like the ones by Fleur Du Mal. I'll wear them under a black leather trench or a classic leather jacket. Leather jackets are one of my favorite pieces — a good one can be like armor, and they work with almost any outfit. I'm also in a big jumpsuit phase, and a good one can easily take you from office to evening!
Shop Leather Jackets
On letting her hair down, literally:
When I was younger, I dressed for my bosses, colleagues, clients, and executives of companies I invested in — I was new to the industry and often the only female investor in the room, so I wore tough suits and conservative heels. I never strayed from neutral colors and I'd put my hair up in a bun to seem more serious. These days because I'm running a start-up in two different countries I don't have time to worry about what other people think! The people I see all day are my team and business partners and we're all working toward the same goal — and these days I wear my hair down.
If you buy something through our links, New York may earn an affiliate commission.