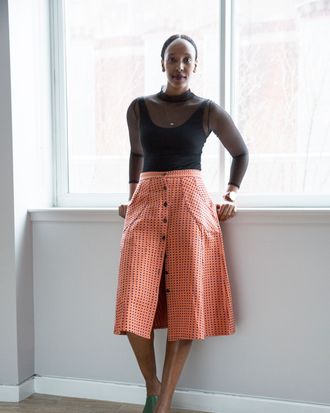 Hawa Hassan wears Rachel Comey clogs.
Photo: Victoria Stevens. Produced by Biel Parklee.
In Her Shoes is a column about what real women wear when they need to get things done.
Hawa Hassan isn't your typical model multi-hyphenate. Born in Mogadishu, Somalia, during the country's brutal civil war, she escaped to Kenya along with her mother and four siblings. They lived in a refugee camp for a year before moving to an apartment. When Hassan was 7, her mom sent her to live with a family friend in Seattle, where she was eventually discovered as a model.
After working in the industry for 14 years, Hassan decided to move on. Inspired by her mom, she created Basbaas sauce, a spicy relish that features flavors common in Somali cuisine and takes its name from the Somali word for chili. The Cut caught up with the hot-sauce entrepreneur at her home office, where she talked about her love of bodysuits, athleisure, and wearing head-to-toe black.
On why she's usually in sneakers:
I wake up at 6:30 a.m. every day and spend the first hour doing things for myself. Cardio makes for a great start — it tones the body and clears the mind for the challenges to come — so I try to squeeze in a quick class or a Brooklyn Bridge run. I'll wear Nikes but I also love Chuck Taylor All Stars for running to the green market or demoing my sauce. They are comfortable, stylish, and easy to move around in.
On her day-to-night uniform:
If I have to go anywhere after hours, I'll keep the same look. I live in skinny black pants, a black V-neck sweater, and black Acne booties — it works!
On what she wears to big meetings:
I love tucking black bodysuits into colorful skirts. Sometimes I'll add booties with a heel. I'm tall but I don't mind being even taller — it makes me feel more confident. I'm also a big fan of Rachel Comey's shoes like these green clogs. They're so easy and cool.
On her typical Monday outfit:
I work from my home office so I get to wear athleisure until late in the afternoon. That means you'll find me in black shapewear tights, gray V-neck shirts, and Nikes.

On emphasizing comfort:
I understand the need to be put together, but most of my days are spent running around to meetings with potential clients, farmers, store managers — it's the life of an entrepreneur. If I'm not comfortable, then nothing gets done. You can be kind, graceful, and worldly without being in pain.
Shop Colorful Skirts
If you buy something through our links, New York may earn an affiliate commission.