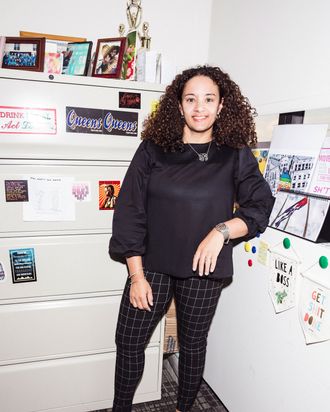 Ann-Gel Palermo.
Photo: Victoria Stevens. Ann-Gel Palermo wears Longchamp shoes.
In Her Shoes is a column about what real women wear when they need to get things done.
As the chief program officer of the Office for Diversity and Inclusion at Mount Sinai, Ann-Gel Palermo has a daunting mission: to help the next generation of doctors learn to confront racism and other forms of bias in medicine. "Each day is different," she says, "so there is no average day." But her job might find her teaching medical and graduate students about social issues, or leading community-based public-health outreach around Mount Sinai medical school's East Harlem campus, or attending staff meetings about how to make the school more inclusive.
Palermo was born in Spain to Puerto Rican parents, and grew up between Europe and upstate New York. She went to the University of Michigan's School of Public Health for a master's degree, then attended Hunter College for a doctorate in public health. (Public health is a theme in her household: her wife, Esmeralda Gaton, is the chief of staff of the NYC Department of Education's Office of School Wellness.)
She says she's "moved and inspired" by Mount Sinai's anti-racist approach to education, explaining that it's a shift away from the older, flawed "cultural competency" method, which relied on cultural stereotypes to instruct future doctors about working with patients of color. "We are boldly taking on the responsibility of teaching our students, house staff, and faculty how to mitigate racism in ourselves and our profession," she says. The goal: a more just medical system.
Read on for Palermo on dressing to be heard, projecting a sense of confidence, and bringing her "curly hair action" to big meetings.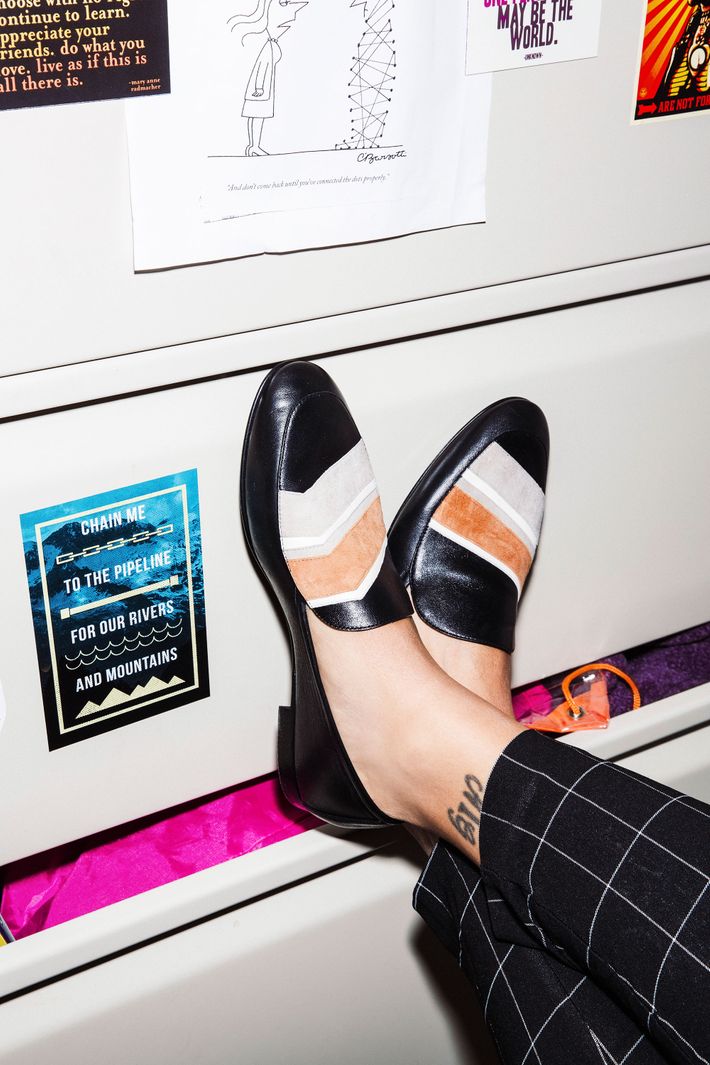 On the look she's going for at work: Confident, powerful, and complete — "I got this."
On her shoe uniform: My daily shoes are most definitely comfortable but classic like boots or flats. These loafers are what I would call "fiercely comfortable," with the right amount of style to fit my personality.
Shop Stylish Flat Loafers
Photo: Courtesy of the Vendor
Photo: Courtesy of the Vendor
Photo: Courtesy of the Vendor
Photo: Courtesy of the Vendor
On how she dresses for big meetings: I definitely prefer slacks and a statement blouse or blazer that compliments my green eyes, with my curly hair action full-on. My shoe selection is definitely important for big meetings, as it allows me to make an unspoken statement of boldness, confidence, and power.
On her practical selection of desk shoes: I usually have two pairs: "go with anything" flats in case I need to switch out of my "big meeting" shoes, and sneakers for the times I go running around the Central Park reservoir.
On going out after work:
I tend to be nimble. My shoes are always comfortable but ready for dancing (just in case!). Although I often wear slim pants with a statement blouse, I do love to wear a great sweater dress (given the weather) and my leather Timberland riding boots.
Shop Statement Blouses
Photo: Courtesy of the Vendor
Photo: Courtesy of the Vendor
Photo: Courtesy of the Vendor
Photo: Courtesy of the Vendor
On her go-to Monday outfit:
I like to start the week off comfortable, then rev up for the rest of my week. I usually wear slacks, a sweater with a blouse underneath, and boots (given the weather). I see it as a slow rise to the week.
On the most important thing about her work wardrobe:
I dress for myself and totally for comfort first. I know that if I'm comfortable, I am confident, assertive, engaging, and effective in my communication (verbal and nonverbal). I also dress to look "professionally tight" so that I'm heard, because I know I represent a scope of work — that being diversity and inclusion affairs — that can make people uncomfortable, confronted, and resistant. The people I see all day are students, faculty, staff, and community colleagues — all of whom are connected to the work of diversity and inclusion.
Photo: Courtesy of the Vendor
If you buy something through our links, New York may earn an affiliate commission.