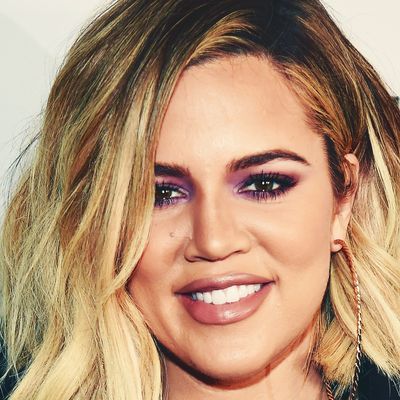 Khloé Kardashian.
Photo: Kevin Mazur/Getty Images
In the weeks since Kim Kardashian and Kylie Jenner welcomed their 2018 babies, we've been eagerly anticipating the arrival of the third Karbaby of the year: Khloé Kardashian's first child with boyfriend Tristan Thompson. Now, it seems as though the baby girl may soon be here.
On Monday, TMZ reported that it's received "tips" that Kardashian is in labor in Cleveland. (Thompson plays for the Cleveland Cavaliers, so Kardashian has been staying at their home in Ohio as she gears up to give birth; according to her Snapchat, she's been "bored AF" lately.) The gossip publication also followed up its claim with some social-media investigations.
First, TMZ noted that Kardashian Instagrammed a pic of herself and Thompson kissing on Monday morning, with her pregnant belly exposed and the caption, "We are ready whenever you are little mama."
Another potential clue: Kylie Jenner's Los Angeles–based OB/GYN Thais Aliabadi posted a picture of herself traveling for work over the weekend alongside the caption, "I have the best job in the world…. #mysaturdaynight #lovemypatients #allbymyself #doctorswhotravel." The hospital name is blurred out in the image, which has since been deleted (though you can still see it on TMZ).
So, is the Karbaby on its way? TMZ notes that Kardashian's due date is the third week of April, but it looks like the baby could be making an early entrance. We'll update this post as we learn more.
In the meantime, we can't wait to see whether the baby will be an Aries, for the sake of our Kardashian Cousin Compatibility Chart.