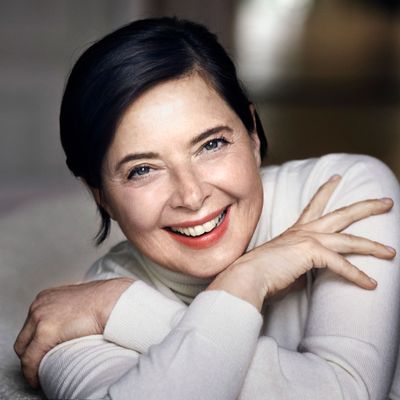 She's back after 23 years. A few days after her 40th birthday, Lancôme told Isabella Rossellini she was "too old" to be the face of a beauty brand after being at the time, the highest paid model in the world. "They fired me because I was strong," she said.
Then at 63, she got the call she never thought was coming — they wanted her back. She took the meeting. And now this year, Rossellini will appear again in campaigns for the brand, beginning with Rénergie Multi-Glow, a version of the same product she advertised decades ago. The Cut talked to Rossellini about why she didn't tell the brand to bugger off after being publicly fired for ageism, what's different now, and why she likes feeling invisible.
You're back at Lancôme after they ended your contract due to ageism. It's incredible, but did you feel resentful at all about the past?
No, I was delighted! More than anything, I was surprised. My contract ended at 42, they told me I was too old. While the marketing research people told me that women were responding to me, the client didn't seem to be happy that they had a woman in their 40s representing their product. The executive at the time told me that advertising is about dreams. And the dream allegedly was that women dream to be young.
When they called me 23 years later, I was surprised. I had only grown older. I asked to meet the executives, and there was a wonderful, new woman executive. That was a big change. I said, "The dream is to be young. Now I'm older. How can I represent?" She said, "I want to do a campaign that is very inclusive. Things change."
Lupita [Nyong'o], Penelope [Cruz], these are all women who may not have been faces of the brand 20 years ago, including Julia [Roberts.] She's younger than I am, but I would have been long gone at her age.
There was so much media attention after they ended your contract. I think people wouldn't fault you if you had told them to get lost.
I said to them, "Why don't you get Helen Mirren? Or Meryl Streep, why me?" If I come back, the controversy will come back. She said, "I'm not afraid. It is the right thing to do. You are the right person to tell the story of inclusiveness."
The story I have with Lancôme feels like a romance or a novel. It's a beautiful new chapter. Then, when we were discussing what product to be assigned, we came upon Rénergie. I did the original ad for it many years ago. It was an anti-aging cream. I spoke to them and we talked about anti-aging. I understand some women want it. To me, it seems like waking up, looking in the mirror, seeing everything that is wrong and hiding. The definition of glamour is to assume who you are. Some women dream to be younger, but I don't know if that is the universal dream.
The new version of this cream called Glow. I love the glow. It is glamorous, elegant, and sophisticated. This is what I want. I don't want a cosmetic company to tell me what I should be. But give me the instrument to be who I want to be.
What happened after your Lancôme contract ended?
To be honest, Lancôme got the brunt of it, but I wasn't working with anybody. I didn't work with editorial, magazines and even roles started to dwindle. I had a lot of time on my hands. My kids were adults. I thought, What else was there? I was always interested in animal behavior. That's why I went back to university and got a master's [Editor's Note: Here's Rossellini talking about blowhole intercourse].
I started to do my short films, a combination of film and fashion. First, I dressed myself up in comical costumes like animals. I certainly didn't expect these short films of mine to be so popular on the internet, and that then led to the monologues and books. It led to a new period. It was still very engaging even if it wasn't the big Hollywood movies. It gave me the feeling that there are new chapters. You can live in a different way.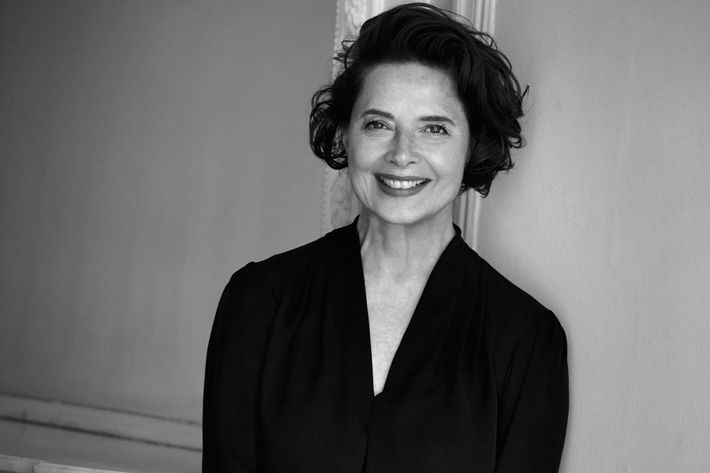 Some chapters close not because you want them to. Of course, I was sad, and I was for a while. But I was resilient in thinking, What else is interesting to me? I follow my curiosity. That's what helped me to have an interesting life.
The worst is waiting by the phone. I recently saw a documentary in France done by one of the great French actresses who interviewed Catherine Deneuve and others with long careers. A lot of them said that they wished to be a director they just didn't know how to get there. It surprised me. I also only thought I could act, that was what was available. Now I direct my own show, I make my monologues.
I came in through another door. I think this is a powerful moment for women. We can really write our own destiny.
You said being eternally youthful used to be the dream. Do you think that's still the dream?
That is one of the dreams. But more than anything, women don't want to be told what to do. Before there was this idea that you had to create an ideal woman and she was blonde, blue eyes, with a certain shape. We all had to try to be as close as we could to that woman. That is gone. Maybe it exists for some, but it's old fashioned.
With Lancôme, the new ones are in control. They're very strong actresses. In Barbarella, Jane Fonda was the creation of Roger Vadim. As she says, she was a female impersonation. Then she became a person. None of the Lancôme actresses are the Barbarella story. All of them are the "Jane" who produced her own film, acts, continues to produce, and is her own woman. That one is a much more modern approach. If you want to do it the other way, it's your choice. Before it was the only choice.
It feels like a continual shift.
Lancôme has been around for 85 years. The evolution of women in this century is the strongest. This century is the best one to be born to. In the beginning of Lancôme, women couldn't have a bank account, a job, contraceptives, or have any rights.
I'm not saying Lancôme is at the avant-garde or a political moment. They have to respond to women's dreams. Now I've been with them 40 years and that's half of their time. I can see that change. I can see the way things are changing for women, it is for the better.
There's often a fear associated with aging that it renders women invisible. But you've said you welcome the invisibility. Why?
Sometimes. Frankly, when I was young in Italy and you would walk down the street, men would constantly make comments. "I like your ass. If you could be in my head, you could know what I want to do." They thought it was a compliment. It was a cultural convention that the purpose of a woman was her beauty, she was a sexual object to be desired — and only that. That is not true.
I am a little shy and uncomfortable. I tend not to go to too many parties because of this but I'm glad I am liked. But it is also slightly intimidating to go to a party and be looked at. It feels a bit like when I was young and walking in the city of Rome.
Occasionally, you want the attention of a man but not all of them. If I like a man, I like to be visible. I like to walk in the street and not have everybody look at me constantly comment, "I like you, I don't like you, your tits should be here, your tits should be there." Forget about it.
If you buy something through our links, New York may earn an affiliate commission.