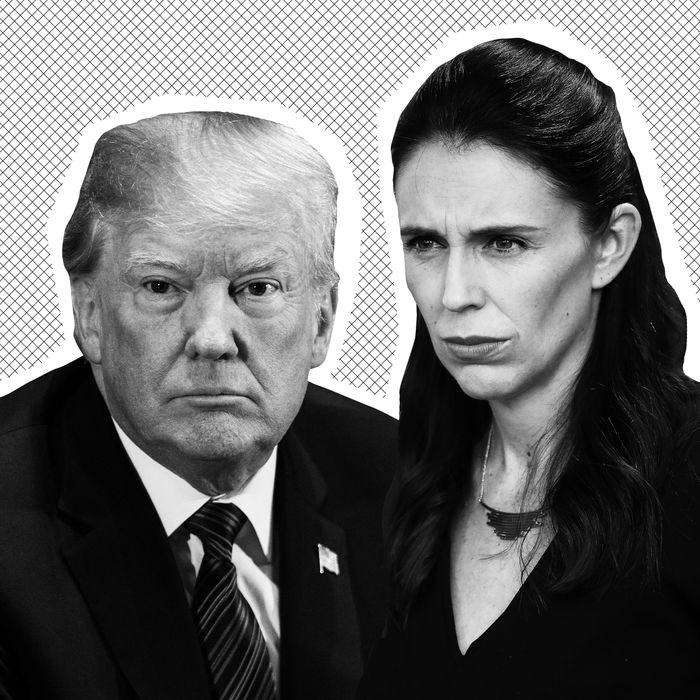 Donald Trump and Jacinda Ardern.
Back in September 2017, The Wall Street Journal tweeted that Jacinda Ardern — then head of New Zealand's Labour Party, and candidate for prime minister — was like Canada's Justin Trudeau "except she's more like Trump on immigration." Ardern, 37, went on to be elected prime minister, making her the youngest female world leader in the world, and in January, she announced her pregnancy, which will make her only the second elected official in modern history ever to give birth while in office. But she is still angry about that tweet.
In an interview with the Today show which aired on Tuesday, NBC News' Cynthia McFadden asked Ardern about the tweet, and the comparison to Trump.
"That infuriated me," Ardern said emphatically, adding:
We [the Labour Party] are a party who, at the same time, were campaigning to double our refugee quota. We are a nation built on immigration. I'm only a third-generation New Zealander. The suggestion in any way that New Zealand wasn't an open, outward facing country — the suggestion that I was leading something counter to that value — makes me extremely angry.
While the article the WSJ linked to did not reference Trump specifically, it noted that Ardern's "rapid ascent owes much to tapping into growing unease about affordability, particularly among young voters, and feeding off a global backlash over immigration."
Ardern and her accused doppelgänger have met once before. In November, she and President Trump both traveled to Vietnam for the East Asia Summit. 'This lady caused a lot of upset in her country," Trump reportedly said, pointing at Ardern.
"You know," she told him, "No-one marched when I was elected."
Watch her full Today show interview below.