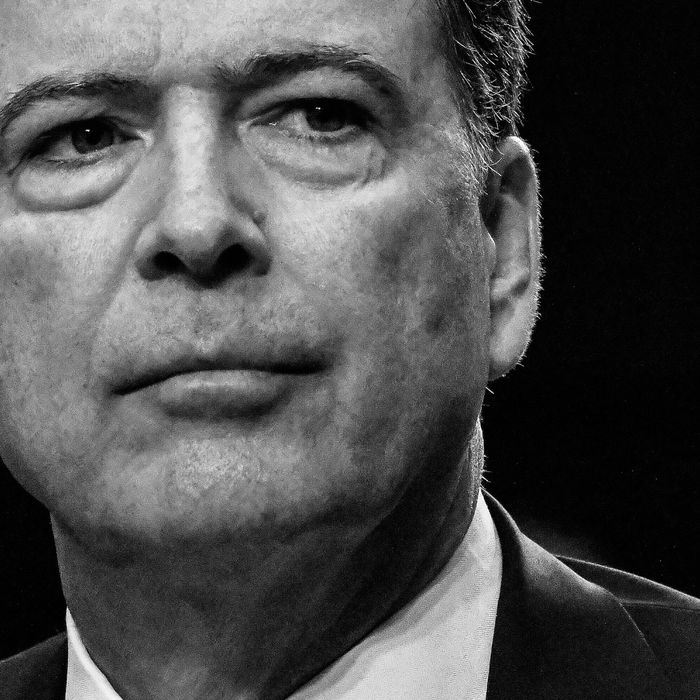 Former FBI director James Comey.
Photo: Mark Reinstein/Getty Images
People are no longer thirsty for former FBI director James Comey's tall stature and square jaw — they're thirsty for his inside knowledge, or to be more specific, whichever details about Donald Trump and the 2016 presidential election that he has decided to divulge in his forthcoming book, A Higher Loyalty. While the book isn't out until next week, multiple media outlets have obtained copies, and related reports are dropping. Below, the best revelations of which we've learned so far:
Trump reportedly asked Comey to investigate the infamous "pee tape"
Yeah. Trump, the president, asked Comey to investigate the incredible allegation that Vladimir Putin possesses video footage of him engaged in some erotic urine play in Moscow. And why? Because he wanted to prove to his Melania that it was fake news.
According to Daily Intelligencer, the former FBI director writes the following passage in reference to Trump: "He brought up what he called the 'golden showers thing' … adding that it bothered him if there was 'even a 1 percent chance' his wife, Melania, thought it was true. He just rolled on, unprompted, explaining why it couldn't possibly be true, ending by saying he was thinking of asking me to investigate the allegation to prove it was a lie. I said it was up to him."
And Trump is as obsessed with it as we are
The president reportedly brought up the pee tape to Comey on four separate occasions. During one of his follow-up calls, Trump reportedly told Comey, "I'm a germaphobe. There's no way I would let people pee on each other around me. No way."
Comey knows the size of Trump's hands
According to AP News, Comey said that Trump's hands are "smaller than mine but did not seem unusually so." Okay fine, but tell us this: Why are Trump's hands always making the vagina symbol?
John Kelly reportedly wanted to quit after Comey was fired
Apparently, the current embattled chief of staff (who was then the Homeland Security secretary) was so disgusted at how Comey was fired that he offered to quit in protest. He definitely facepalmed at least once during this period.
Trump gets raccoon eyes from his spray tans
At one point in the book, Comey reportedly describes Trump as follows: "His face appeared slightly orange, with bright white half-moons under his eyes where I assume he placed small tanning goggles, and impressively coiffed, bright blond hair, which on close inspection looked to be all his. I remember wondering how long it must take him in the morning to get that done."
Comey thinks Trump is 'unethical'
"This president is unethical, and untethered to the truth and institutional values," Comey writes in his book, according to The Guardian. "His leadership is transactional, ego driven, and about personal loyalty."