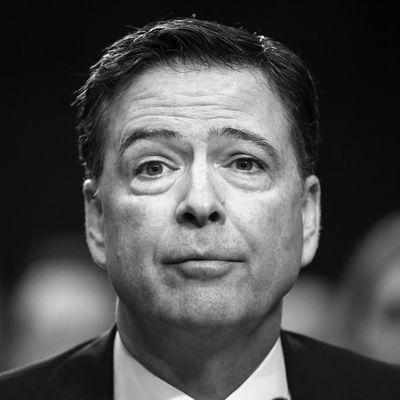 James Comey.
Photo: The Washington Post/The Washington Post/Getty Images
Oh, my God. It's all happening.
In one of the first clips from his upcoming interview with ABC's George Stephanopoulos, his first interview since being fired as FBI director in May of last year, Comey confirms to Stephanopoulos that President Trump asked him to investigate the infamous pee tape, and whether Vladimir Putin does in fact have video of Trump engaging in erotic urine play with some prostitutes in a Moscow hotel room, as alleged in the Steele dossier. He also expresses his surprise at the president's reason for wanting to investigate the rumored tape:
He said, 'If there's even a one percent chance my wife thinks that's true, that's terrible.' And I remember thinking, how could your wife think there's a one percent chance you were with prostitutes peeing on each other? I'm a flawed human being, but there is literally zero chance that my wife would think that was true. So what kind of marriage to what kind of man does your wife think there's only a 99 percent chance you didn't do that?
When Stephanopoulos asked if he believed the president's denial about ever having taken part in the alleged golden showering, Comey responded with a sentence that will surely go down in history as the moment our republic began to crumble:
I honestly never thought these words would come out of my mouth, but I don't know whether the current President of the United States was with prostitutes peeing on each other in Moscow in 2013. It's possible, but I don't know.
Ahh!!
The rumored pee-player, meanwhile, has vehemently denied the allegations, and on Friday morning, he posted a series of angry tweets about Comey, in which he chose, rather unfortunately, to capitalize the word LEAK:
Is Comey sensationalizing facts to promote his upcoming book, A Higher Loyalty: Truth, Lies, and Leadership? Maybe. Have we been forced to consider the president's sexual proclivities far more than one would ever hope for? Definitely. But do we need to cling to the possibility of the president's pee tape existing right now because the current state of geopolitics is so uncertain and terrifying that laughing about something as base as urine feels almost comforting? Yes, absolutely.
Watch the full clip below.