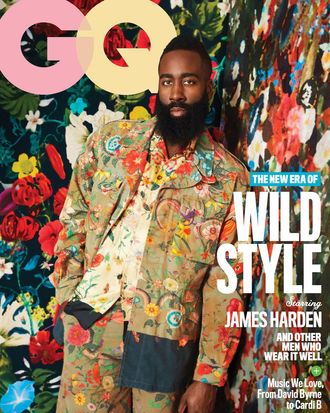 James Harden photographed by Erik Madigan Heck for GQ magazine.
If there were ever a reason to care about sports, it's NBA player James Harden wearing a pair of bright pink Comme des Garçons basketball shorts inside GQ magazine's May issue, revealed Thursday.
Before today, I truly did not know anything about this man. I did not know, for example, that he plays for the Houston Rockets, is described as the NBA's "Most Valuable Beard," and has a collaboration with Adidas. But now, I can confidently say that I like Mr. James Harden. I really like him! And his glitter shorts.
We've actually seen these glitter shorts before. They first walked the Comme des Garçons Homme Plus runway back in January, provoking a Jared Leto meme type of reaction from the menswear community at large. Petra Collins then photographed Frank Ocean wearing a blue version of them for 032c magazine this winter, giving us a reason to swoon once more.
But there's something special about James Harden and his pink glitter shorts. Photographed by Erik Madigan Heck and styled by Simon Rasmussen, he wears them with a sense of nonchalance that makes them seem totally normal. His pink hoodie and black sneakers help; this is a look men everywhere can and should try, without fear of threatening their masculinity.
Harden himself describes the look as one of those outfits where, you know, "it'll go on Instagram and guys will be like, 'What the heck is he wearing?'" Most guys wouldn't dare to wear a pair shorts like that, Harden explains. "Most guys don't want that attention."
Guys: We're here to tell you that it's okay to want some attention. In addition to wearing Call Me By Your Name short-shorts this summer, we suggest a pair of glitter bottoms, too.