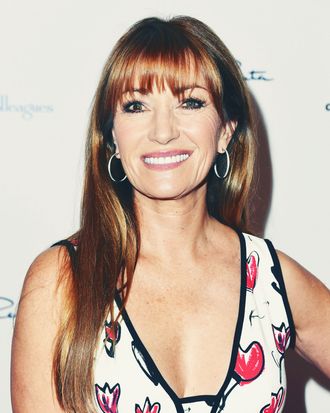 Jane Seymour.
Photo: Jon Kopaloff/Getty Images,
How you relate to Jane Seymour says a lot about your age. Know her as a Bond girl? Congratulations, you're over 40. Recognize her from Dr. Quinn, Medicine Woman? You're either a millennial or a part of Generation X. Do you associate her as that sexually voracious woman from Wedding Crashers? Well, actually a lot people do.
A more recent role centers the actress in the world of skin care. She's a spokesperson for Crepe Erase, and while promoting the brand, Seymour spoke with the Cut.
Why did you partner with Crepe Erase?
I don't do any treatments, I don't go to a dermatologist, I don't have any of those things done. No peels, no nothing. The first time I used Crepe Erase, I didn't think it was going to work. I had immediate results, and I went to work out and my trainer said to me: "what have you done? You must have had a peel because your skin looks amazing." My massage therapist said the same thing. He massages all of the famous people who are half my age and he said their skin isn't as good as mine. I told him about Crepe Erase, and then he took a tub of it and started using it on very famous people who I can't mention. All I can say is that it works. I've been using it for about five years now.
What's your daily beauty routine like?
I get up and I stumble to a cup of coffee. And then I jump in the shower and I scrub myself all over. I find you have to be completely dry to put the cream on, so I dry myself completely and put the cream on everywhere. After that I put my bathrobe on, and then I exfoliate my face, put on some moisture cream on my face, and then I do my own makeup in about ten, 15 minutes. I wash and condition my hair every single day. I put some leave-in conditioner from Phyto on my hair and blow it dry to get it sort of straight.
Do you always do your own makeup?
When I got ready for the Oscars [this year], I got ready completely by myself in half an hour. I'm a painter and I love color. Because I paint portraits I know what to look for. I know how to get rid of blue circles under the eyes, I know which bits to accentuate and which bits not to.
I wanted to ask you about painting! Why did you start, and have you seen Britney Spears's paintings yet?
I didn't know she painted! I started painting for my mental health. It was a way for me to process unbelievable fear, and pain, and hurt from betrayal. I started 27 years ago. Painting and creating was very healing for me, so I'm not at all surprised that she would be doing that. I know she's been through her ups and downs.
You're really active on Instagram. What's your posting process like?
I never do more than one take. I don't even think about what I'm going to say. I'll record something, and then I will change tops and go and sit in another chair and do another video. I have someone who puts up the photos and videos, but I provide all of the content, and I'm afraid it is rather random.
You know a lot of famous, accomplished people. Who are you still dying to meet?
I meet a lot of athletes. I was friendly with A-Rod before he met J. Lo, and I'm thrilled they are happy! I meet extraordinary people all the time. Lady Gaga! Oh my God. I'm a huge fan of hers, and I happened to be backstage for the rehearsals for the Grammys. She came off stage and she said she loved me! Now she lives around the corner from me, but I haven't had the guts to call her up and ask if she wants to come over for a cup of tea.
I knew Justin Bieber before anyone had really recognized him. I was on a talk show with him, and like an idiot I said: "you might want to come over to my house and play music with my kid." And then he showed me one of his videos with 100 million views. Oops! Alice Walton is the richest woman in the world and a really good friend of mine. I go to her house and she gets up with her bad foot and makes me a cup of tea. We'll talk for hours. She's amazing.
Around the start of the #MeToo movement, you came out with your own story of sexual harassment. Are you at all surprised by the momentum behind #MeToo?
I'm encouraged by it; I think it's great. The bad news is that I have a Weinstein film waiting to be released.
I spoke up on it early on because I had a story to tell. Just how I don't say, "Don't do plastic surgery" and instead say, "You should do whatever you want to do," I say if you were sexually harassed and you feel like it was worth it to you, that's your private business.
My "me too" was about the people around me. I'm not a moralist here, but if you are doing what I was: You were doing a movie, you'd been rehearsing, and another major producer and your agent know you're going to this guy's house … They both knew he had this reputation and they didn't tell me. It was a no-win situation.
Do you think a reason sexual harassment is so prevalent in Hollywood is because of a lack of protective barriers for potential victims?
All anyone cares about is if you get the job. They don't get their 10 percent unless you get the job. I'm sure it's worse in modeling. I haven't found a profession where people don't look at me quietly and say "yeah, me too." It happens to men, too. It happened to my son. When he was younger, somebody tried to drug him. It happens to men and women, and it's been happening forever. I don't know if things will completely change, but at least people are aware of it.
What do you know now that you wish you would have known at a younger age?
When I was young, I had been bullied a lot. I didn't understand jealousy. I always wanted to be part of the team, but I was never allowed to be. Abandonment issues, if you want to get psychiatric, and guess what happens to people who fear abandonment? They get abandoned. For my marriages, maybe I wasn't a good picker, or maybe after a while relationships change or maybe celebrity is very hard for other people to stand next to. I try to be as equal with anyone I am with, and I am really lucky to have someone who isn't jealous of me, who is enthusiastic about what I'm doing, who is very successful in his own way. If I had known I could have had that kind of relationship, I would have had it earlier.
Have you ever done something in the pursuit of beauty that you now regret?
Botox. I tried it about 20 years ago. I think it's great for lots of people, but I lost all of my expression. Even if you only get a little Botox, you don't have enough expression to be an actress. It also gave me a ridge on my forehead. I may change my mind, but I'm already 67, what am I trying to pretend? That I'm 30? I don't want to spend forever obsessing over my look.
You were just featured in Playboy. How does this latest feature compare to the two other times you appeared in the magazine?
The first time they put in a photograph of me from the Bond film. The second time I said I would do it clothed. They said they wouldn't pay me and I said that's fine. I wanted to prove that you can be sensual and sexy while partially clothed and I became the first person ever to do Playboy with clothes on. It sold like crazy because women were buying it as well. This third time I thought it was ridiculous. I said "are you serious? I'm a 67-year-old woman." They said they weren't interested in me being naked, so I went along with it. They took the most beautiful photographs. They are some of the best photographs ever taken of me, better than when I was 20.
This interview has been edited and condensed.