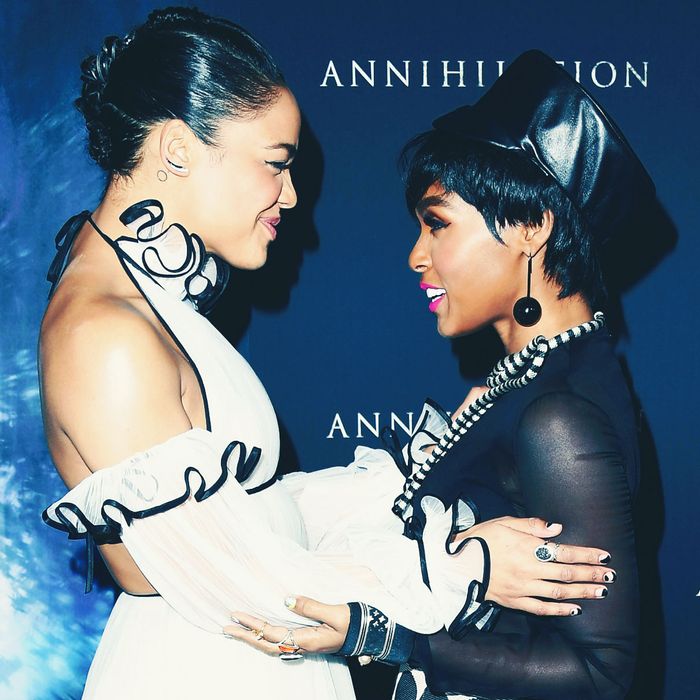 Tessa Thompson and Janelle Monáe.
Photo: Jon Kopaloff/FilmMagic
Earlier today, singer and multi-hyphenate Janelle Monáe came out in a Rolling Stone interview, saying she has "been in relationships with both men and women," and that she currently identifies as pansexual. Monáe's sexual orientation has long been a source of speculation, with many wondering if her close friendship with actress Tessa Thompson is actually a secret romance. While the pair has been spotted in public together for years, speculation about the nature of their relationship reached fever pitch in early 2018, largely due to a series of erotic new music videos in which Thompson plays Monáe's lover — and at one point climbs through the legs of her pink "pussy pants." Join us as we consult the archives and speculate about the nature of their beautiful, maybe-more-than friendship (thanks to Autostraddle and Twitter user @hayejunt for serving as the definitive historical record on this).
It begins! Long before the days of vagina-shaped trousers, Tessa Thompson had a cameo in one of Janelle's videos: as a backup dancer in the music video for her song "Yoga."
Janella and Tessa are photographed together at the 2015 MOCA gala, in color-coordinated outfits. This appears to be the first time they are photographed out together in public, and they look gooood.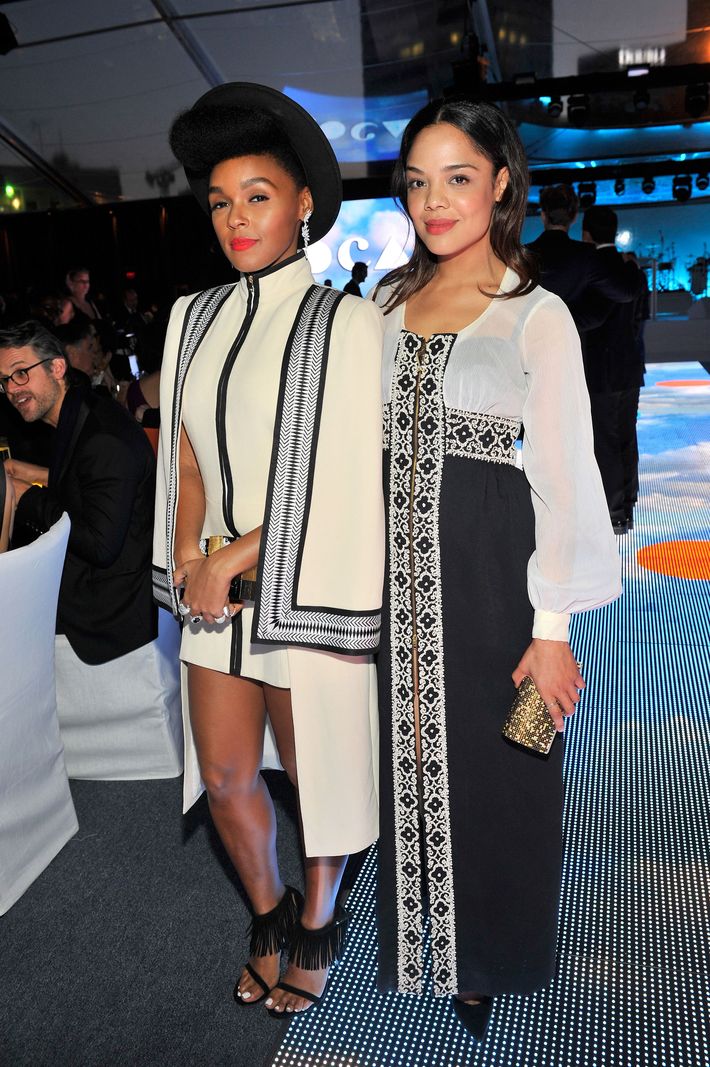 Monáe, long an advocate for the queer community, receives the "equality award" from New York's LGBT community center; Tessa is the one who presents it to her. Later in the month, Monáe surprises Tessa at the Creed premiere.
And then time for a Mexico girls trip!
After a quiet 2016 (at least on the #Janessa front) the pair is reunited — at least publicly — at Alfre Woodard's "Sistah's Soiree." They also bequeathed us this cute photo:
The pair get cozy twice in a week, first at the Equality California Awards and then at HBO's Emmys after-party.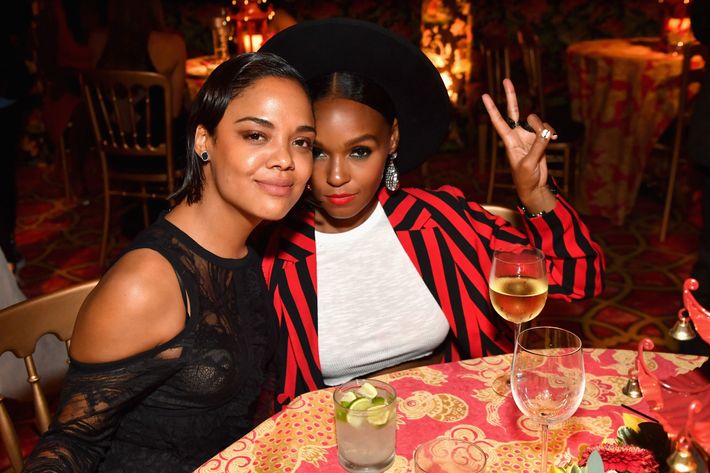 The pair is spotted together at Issa Rae's house party, alongside a cool crowd including Donald Glover and Yvonne Orji.
After Janelle gives an empowering #TimesUp speech at the Grammys, Tessa hails her queen:
Meanwhile, the photo ops continue; at the Black Panther premiere …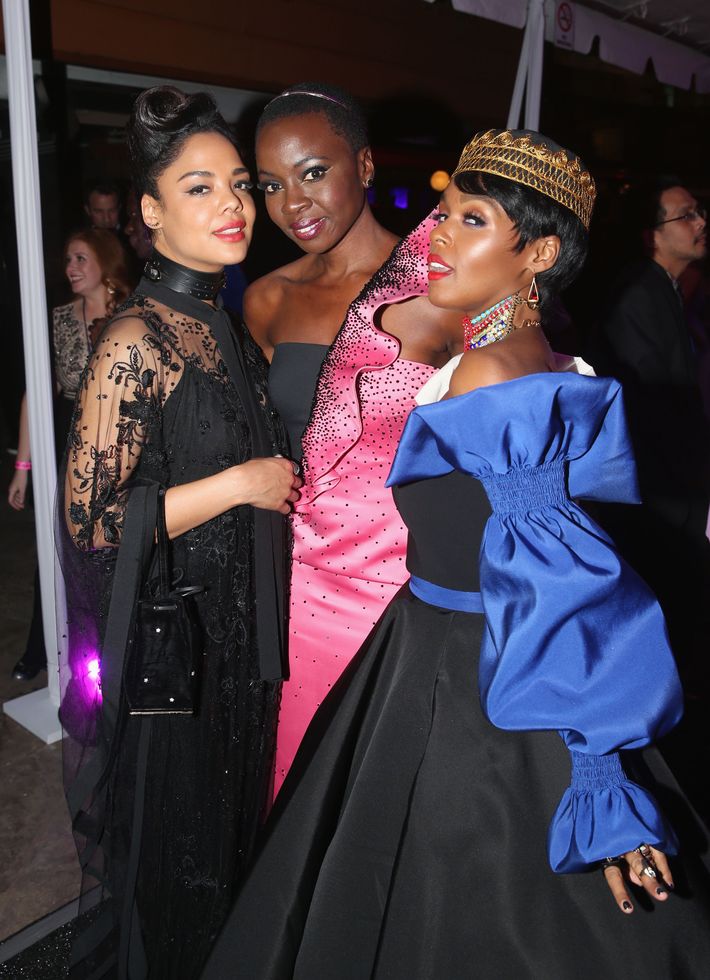 … and on the Annihilation red carpet, which could be considered their official red-carpet debut.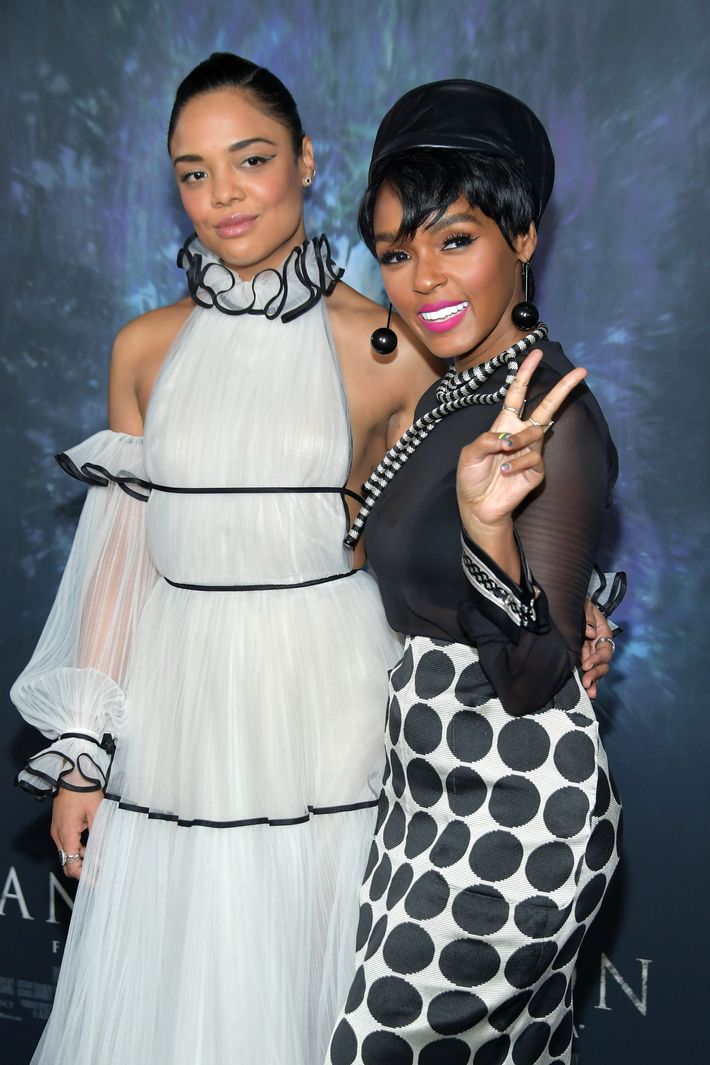 Meanwhile, in a rare peek behind the scenes, the pair also get really cute on Instagram live together.
But things don't really heat up until mid-February, when we are gifted the trailer for the 50-minute video that will accompany Monáe's forthcoming Dirty Computer album, in which the pair play lovers in a totalitarian dystopia.
Soon after, Monáe releases the video for her bisexual anthem "Make Me Feel," which features her and Thompson dancing and canoodling in the club. Speculation roars into overdrive, with everything down to the lighting cues being analyzed for subtext.
When Tessa is asked about fans who ship them, she demurs: "Janelle and I have been really close. We've been really good friends at this point for about three and a half years," Thompson continued. "I'm so lucky to have her in my life." Of collaborating on Monáe's "bisexual anthem," she proudly declares: "If it makes people feel liberated in their skin and feel closer to who they are, then I think we did our job."
In a role reversal, Monáe presents Thompson — now one of Hollywood's biggest stars — with an award at the Essence Black Women in Hollywood Oscar luncheon.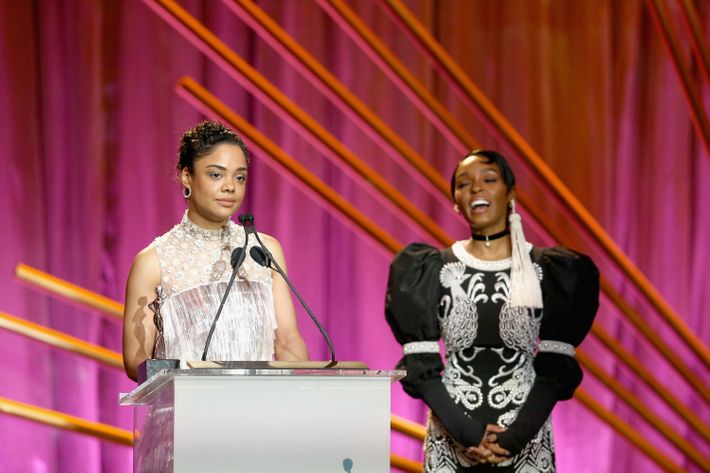 … and hosts her, and other friends, at a power brunch for her Fem the Future organization.
April showers bring … another erotic video featuring Tessa and Janelle. In what appears to be a particularly unsubtle nod to their shippers, the video features Janelle wearing vagina-shaped pants and Tessa crawling joyously through them.
Meanwhile, a few weeks before coming out in the Rolling Stone piece, The New York Times Magazine's Jenna Wortham asks Monáe about her rumored relationship with Tessa. This is how she responds:
I asked Monáe what she thought of the internet's speculation about her romantic relationship with Thompson. Watching her as she decided on a response was like watching a mathematician working out Fermat's Last Theorem. Gears were churning; calculations were being made. Finally, she laughed, raised her eyebrows and deflected: "I hope people feel celebrated," she said. "I hope they feel love. I hope they feel seen."
Amen!