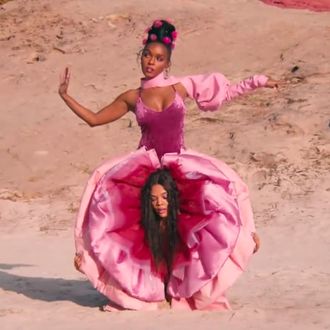 A still from Janelle Monae's "Pynk" directed by Emma Westenberg.
Somewhere in the desert, Janelle Monáe has found a perfect pair of pants.
On Tuesday, Monáe dropped the music video for "Pynk" — a new single featuring Grimes off Monáe's upcoming album, Dirty Computer — and it's four minutes and 28 seconds of lyrical and sartorial sexual innuendos. "Pink like the inside of your …" Monáe hints the opening line. "Pink like the tongue that goes down, maybe."
Directed by Emma Westenberg, the video opens with Monáe and a line of backup dancers wearing pink leotards and what can only be described as pussy pants. (They make pussy hats and pussy bows look abstract.) Just when you thought these ruffly feminine bottoms couldn't get any better, though, surprise! Actress Tessa Thompson's head pops out from the middle of them.
Naturally, Monáe and her crew wear pink throughout the video. But in addition to the pussy pants by designer Duran Lantink, Monáe also wears a geometric, Comme des Garçons-esque dress with boob embellishments and suggestive folds, as well as petal-shaped shorts, cone bras, and underwear with slogans like "Sex cells" and "I grab back."
See all the best, most suggestive looks from "Pynk," below.